Immortal Hulk to Solve Hormone Replacement Therapy (HRT) Shortage? (Spoilers)
It began in the autumn of 2018, that some women in the UK were unable to get the brand of hormone replacement therapy they had relied upon from their local pharmacies and had been prescribed by their doctors. With many switched to a less-than-ideal alternative, the issue has only grown since, with sporadic shortages of HRT across the UK and into Europe.
FemSeven made for Theramex by Mylan was an early casualty, then Elleste Duet pills, also made by Mylan, followed by Evorel, made by Janssen – whose shortages were as a result of women being switched onto their products. By the summer of last year, shortages were common. My family were affected – though in our case it just meant switching chemists. Not everyone was so lucky.
The reasons for the shortage across the board were blamed on many issues. The Association of the British Pharmaceutical Industry blamed Brexit, the crashing pound against the dollar and Euro making it more profitable to supply such treatment elsewhere, and keep the product from the UK. And certainly no other European country is as similarly affected as the UK.
There are also supply issues with China being blamed, an innocent bystander of the ongoing trade wars with the USA, as the UK imports a lot of HRT products from the USA – even if the ingredients were originally manufactured in China. That trade has significantly dropped, but is seems like it is the UK that is overly affected.
It could be down to the UK government also changing the purchase prices of drugs for the NHS, dropping the amount the NHS was willing to pay for HRT treatment, from one category to another, where it was far less profitable to supply for such manufacturers. And they simply stopped supplying the UK – and after UK stocks diminished, the shortages began.
Add the plunging pound, and the reduction of imports from the US, and you have a kind of perfect storm. It's something for which the UK government has yet to be held to account over. But in today's Immortal Hulk #31 from Al Ewing and Joe Bennett, there may be another solution – at least for the Marvel Universe version of the UK. With a science researcher, happy to work for any side who pays her, working on the Marvel narcotic Mutant Growth Hormone, paid for by the Kingpin.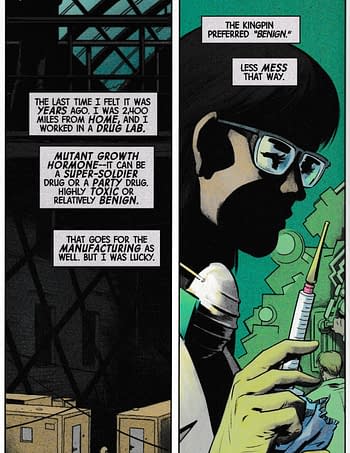 Who was extracting ingredients from a caged young mutant called Glowboy.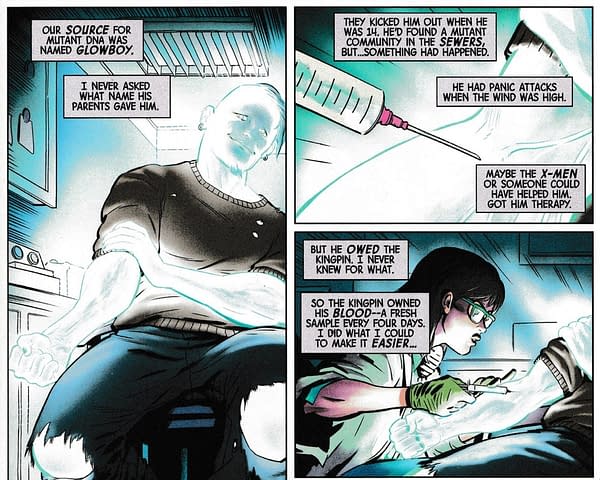 She has a moral side to her – but not enough to quit and seek employment elsewhere. But also getting the chance to do something else with her research.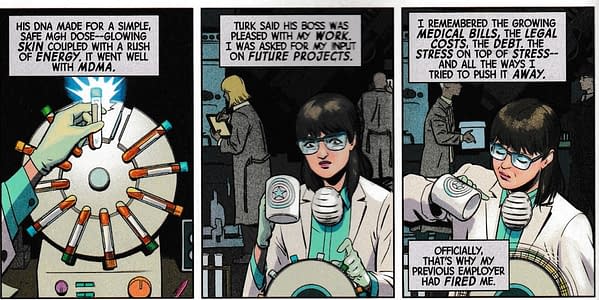 Black market Hormone Replacement Therapy.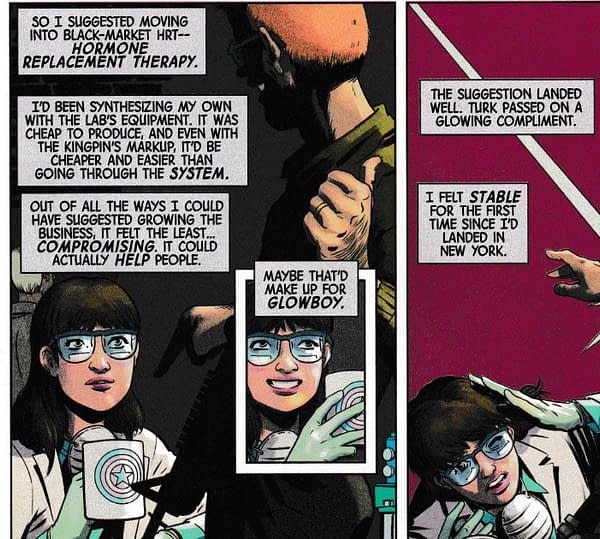 Created by Marvel's supervillain and organised crime network, avoiding the ire of superheroes like Daredevil – and probably being pumped into the UK to cover their shortage. And also, in the UK headlines enough for British writer Al Ewing to notice…
Any chance of a bunch of mutant-gamma-menopausal super-heroes to come as a result?
IMMORTAL HULK #31
(W) Al Ewing (A) Joe Bennett (CA) Alex Ross
• There's a new monster in town. He's cuddly. He's lovable. He's down with the kids. And he's available for your corporate retreat.
• Yes, there was another Hulk, once – the one who made all those nasty threats to end the world. But who needs him?
• THE LIVING HULK is here. And he's going to save us all – or your money back.
Rated T+In Shops: Feb 12, 2020 SRP: $3.99
Immortal Hulk #31 is published today from Marvel Comics. I bought mine from Piranha Comics in Kingston-Upon-Thames. Piranha Comics is a small south London comic store chain with a small south-east store in Kingston-Upon Thames's market centre, which runs Magic The Gathering nights on Fridays, and a larger south-west store in Bromley, which also runs Magic nights and has an extensive back issue collection and online store. If you are in the neighbourhood, check them out.