Infidel #1 Review: An Intimate and Unnerving Horror in the Same Vein as Get Out
Aisha is an American Muslim living with her husband, step-daughter, and mother-in-law in an apartment building in New York. Aisha trusts her mother-in-law, Leslie, but Aisha's husband isn't convinced that his mother has lost her bigoted attitude.
Aisha has been having nightmares too, and she believes that they're motivated by the apartment building's grisly history. What if it's something more?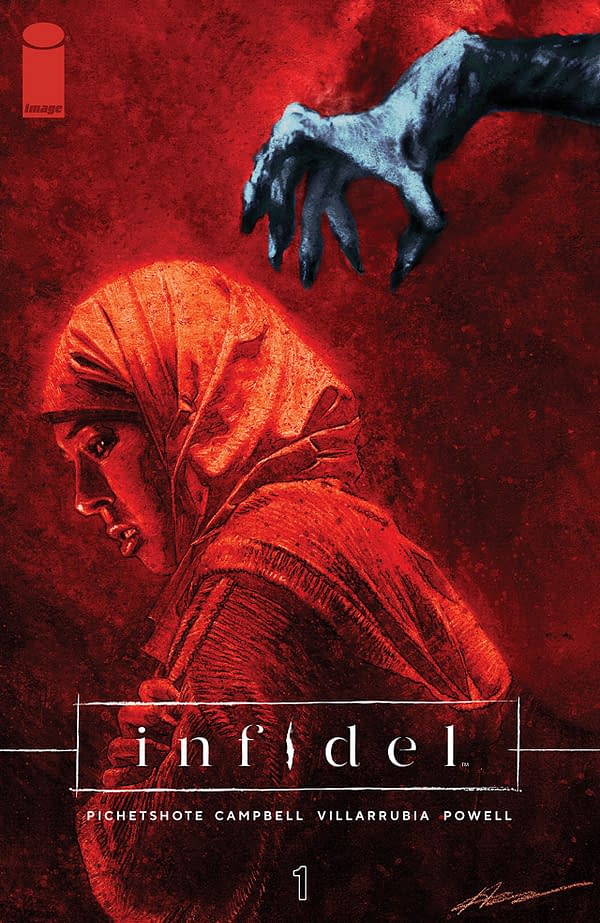 What makes for good horror comic? How do you, when you're still a visual medium, scare an audience who has direct control of the pacing of your story?
Infidel #1, and other successful horror tales, use outright disturbing imagery that can unnerve a reader without jumping out at them on a screen. That's only have the battle though, and Infidel makes up for the other half in visceral all-too-real fear of the unknown.
A lot of the terror that comes from this comic is the fear that Leslie thinks Aisha is a danger to Kris, Leslie's granddaughter. Aisha wants to trust Leslie to an almost naïve degree, but Leslie is friendly towards her. You can't know a person's inner thoughts though, and that's where the rest of the fear comes in. It's personal, intimate, and inescapable. It's all around Aisha. It's all around you. It's reminiscent of Get Out, and it feels like it could turn into a racialized version of the Shining at any moment.
Aaron Campbell's artwork brings a realistic yet faded aesthetic. The world looks hyper real, but it feels disconnected in a way. More distorted are the entities that pop up throughout. They look not of the same world and yet similar enough to look like they're next to the characters. Jose Villarrubia's color work is similarly cold and faded but balanced out by the occasional sparks of life in the clothing of our main characters.
Infidel #1 is a tense and gripping horror tale. Aisha is a compelling lead, the characters are believable, and the horror is all-too-real. Pornsak Pichetshote makes a brilliant writing debut with this book. Infidel #1 comes highly recommended. Give it a read.