Infidel #3 Advance Review: Another Daring and Haunting Chapter
[rwp-review-recap id="0"]
Aisha and Kris are in the hospital. Tom has returned to find this transpired tragedy, and Medina is trying to come to grips with all of it. Worse yet, a neighbor is spreading that Aisha pushed Leslie and Kris down the stairs, and Medina plans to confront this woman. The Grace, Ethan, and Reynolds meet up to talk about this and share their own thoughts.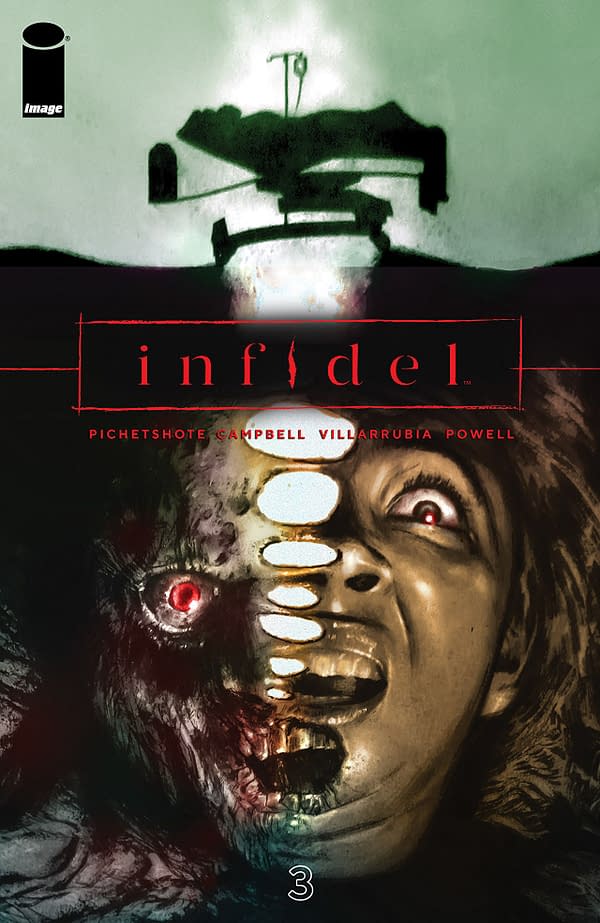 Infidel shifts its attention away from Aisha in this issue, focusing more on Medina and the rest of their friends. Whether Aisha will recover is something Infidel manages to keep up in the air.
While Medina is seeking retribution for the rumors spread about Aisha, the other friends serve to bounce the usual thoughts and conversations that happen in the shadow of such a tragedy come up. Racism and its definition are discussed at length, and the "I'm not racist, but…" concept appears.
It even touches on the idea that racism is so ingrained in American culture that its hard to navigate the concept even when a person of color may have done something bad. It's a sticky concept, and the comic navigates it well.
I am left missing Aisha, and I'm not sure if any character outside of Medina could replace her as the principal protagonist, but that is a question that is left for the next issue.
Aaron Campbell's artwork continues to dazzle and amaze with its ability to convey horror and emotionality in equal measure. The comic has plenty of chilling panels that play with the layout well. There is a child-drawn section towards the beginning that works quite well too. Jose Villarrubia's color art is dark, ominous, and looks great too.
Infidel #3 is another chilling and thought-provoking issue in the series. It pulls the gambit of shifting away from its principal protagonist, and it succeeds in remaining compelling. Campbell and Villarrubia continue to provide amazing artwork, and the comic earns another recommendation. Give it a read this Wednesday.
[rwp-review-ratings id="0"]
[rwp-review-form id="0"]