An Infinite Marvel Comic With Issue 9 As Well As Issue 6 Of Avengers Vs X-Men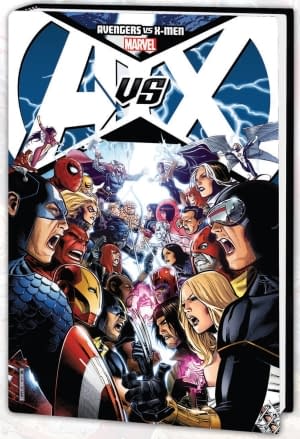 Axel Alonso recently confirmed another Infinite Marvel comic for #6 of Avengers Vs X-Men to follow up on the Nova webcomic with AvX #1.
The second Infinite Comic will be released concurrent with "Avengers Vs. X-Men" #6, the beginning of the second act of the series—and while we can't yet tell you which character it focuses on (it's not Nova in this case), it is somebody absolutely central to the "AvX" storyline, and the story will give you new insights into their mindset and point of view—while also providing fans for one or two of the things they've been asking for in "AvX" the most!
But, according to the Amazon listing for the Avengers Vs X-Men hardcover, there will also be an Infinite issue with AvX #9 as well…
The Avengers and the X-Men-the two most popular super hero teams in history-go to war! This landmark pop culture event bringing together Iron Man, Captain America, Thor, Hulk, Black Widow, Spider-Man, Wolverine, Cyclops, Storm, Magneto and more in the story that changes them forever! And in AVX: VS, experience larger than life battle too big for any other comic to contain! Iron Man vs. Magneto! Spider-Man vs. Colossus! Captain America vs. Gambit! And more! Plus, for the first time ever in print, Marvel's groundbreaking Infinite Comics are collected, revealing key events through the eyes of Marvel's major players. It's the biggest event in Marvel history-but is it the Avengers or the X-Men who emerge triumphant?

Collecting Avengers vs. X-MEN #0-12, AVX: VS #1-6, AVENGERS VS. X-MEN INFINITE COMICS #1, #6, #9 and material from POINT ONE.