Infinity Countdown #3 Review: Sax the Destroyer, or the Draxophone
[rwp-review-recap id="0"]
Adam Warlock confronts Ultron, whom sends a possessed Silver Surfer to kill Warlock. Adam Warlock manages to free Surfer, but the herald flees immediately. Now it's just Adam and Ultron, and things aren't looking good.
Across the universe, the Guardians of the Galaxy and the Nova Corps try to hold their own against the Chitauri and the Shi'ar Talons. This battle isn't looking good for the Guardians and Nova, and the Corps decides to pull out of the conflict.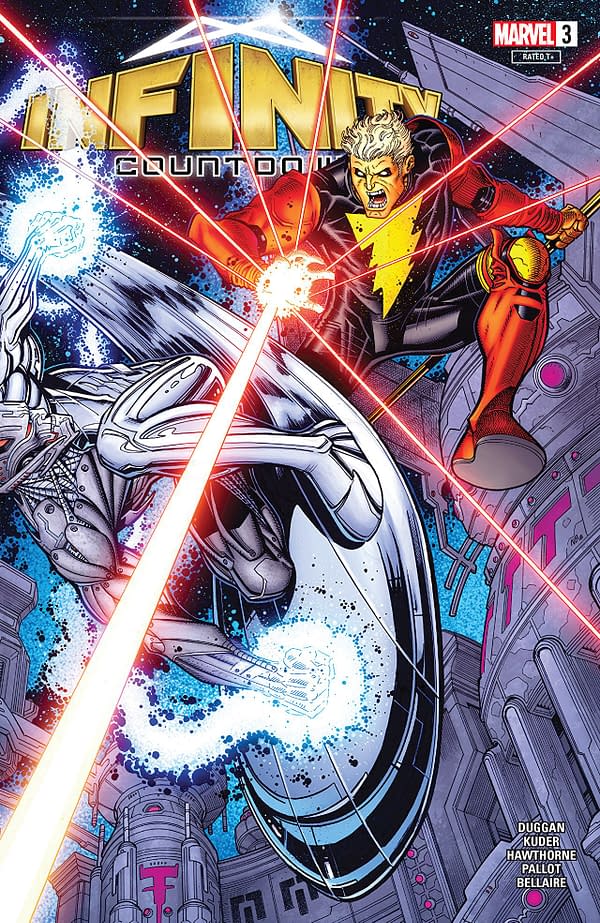 Gerry Duggan is widely known as a comedy writer thanks to, most recently, Deadpool. He brought some of these comedic instincts to his Guardians of the Galaxy, but they seemed somewhat restrained with Infinity Countdown.
The comedy and its restraint seem to be actively battling on the page. This became apparent to me when the day is saved (spoilers) by Drax the Destroyer putting the Power Stone in his saxophone and literally blowing the Talons and Chitauri away with his music.
That is objectively goofy, but the string of events which lead to that are played seriously. This act in itself is played straight. The Guardians have accepted that they will probably die. Drax pulls out his instrument to play one last time. Richard Rider gives Peter Quill pertinent information which allows him to wield the Power Stone, and his first instinct is to toss it in Drax's sax.
The comic tries to make this meaningful—I think—but it's still just so goofy and tonally dissonant.
That's before we even get to the (spoiler) fact that it's implied this could all be a simulation.
Complaints aside, the scene with Warlock, Surfer, and Ultron is mostly quite enjoyable, even if Ultron does the evil laugh far too often.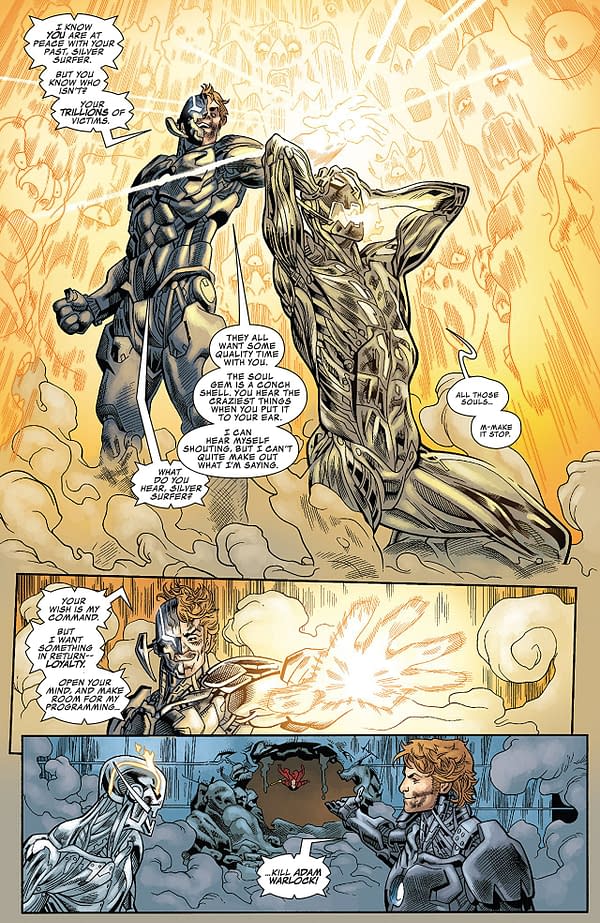 Mike Hawthorne and Aaron Kuder do some solid work in this comic with Hawthorne's art especially standing out with some good texturing and detailing. Kuder's work holds together well too, with his battle scenes given a good level of focus while maintaining the sense of chaos. Jordie Bellaire's color art is once more fantastic in this book, and each panel is filled to the brim with contrasting shades.
Infinity Countdown #3 is almost a decent comic. It comes close until it starts pondering simulations and power saxophones. The overall book isn't awful, and the art team does their best to salvage this bizarre narrative. However, I can only recommend it to the people thoroughly invested in this series and can handle a bit of Drax's sax.
[rwp-review-ratings id="0"]
[rwp-review-form id="0"]