Infinity Countdown Adam Warlock #1 Review: A Refresher and a Small Glimpse of Things to Come
Adam Warlock is pulled to the end of time to confer with Kang the Conqueror. Kang reminds Adam who he is and what he must work to stop from happening soon. Adam is given a horrific vision and then is sent back in time to the time of Kang's previous identity, Rama-Tut, to prepare for things to come.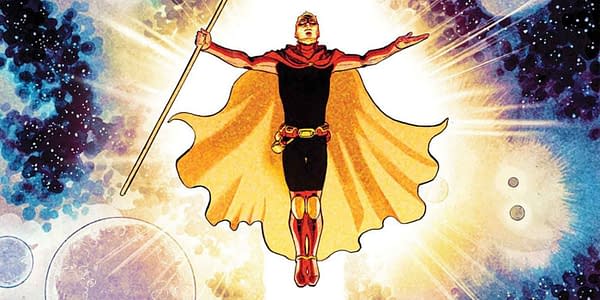 Infinity Countdown: Adam Warlock #1 is something of a waypoint for Marvel's cosmic sector of heroes. It gives the reader a rundown of who and what Adam Warlock is for those unfamiliar, and it reminds you that a big bad is coming that will wreck everything with the Infinity Gems in a manner similar to the Infinity Gauntlet story.
Gee, I wonder why Marvel is trying to follow up that story right now… Also, what's up with all the Black Panther minis. It's such a mystery…
Thinly-veiled contempt for vertical integration and corporate synergy aside, it is cool to see Adam Warlock getting the focus of a mainline Marvel comic once more. He's always been a weird one and seeing him and Kang the Conqueror browbeat one another is a welcome read. Kang is either truly desperate or playing his cards close to his chest — or a bit of both. In any case, it is intriguing trying to figure out what his long-term play is. Kang always has an angle.
It's also cool to see the old Captain Mar-Vell in the flashbacks. I mean, he was there for most of this of course, it's just nice to see him again at all.
Does it really give anything significant away about Infinity Countdown? No, it doesn't. It's frustratingly vague like the Dark Days opening salvos of Metal, though this comic is undoubtedly better than The Forge and The Casting.
Gerry Duggan shows a good understanding of Adam's character, and that, as well as Kang, are what make this comic gel. Adam is suspicious by nature, mostly a pacifist, a bit aloof, and prone to grand ponderance. He also gives this the language of a Jim Starlin book, which makes sense given Starlin's love of Adam and the fact that he's been writing Infinity graphic novels since the early 1990s by this point.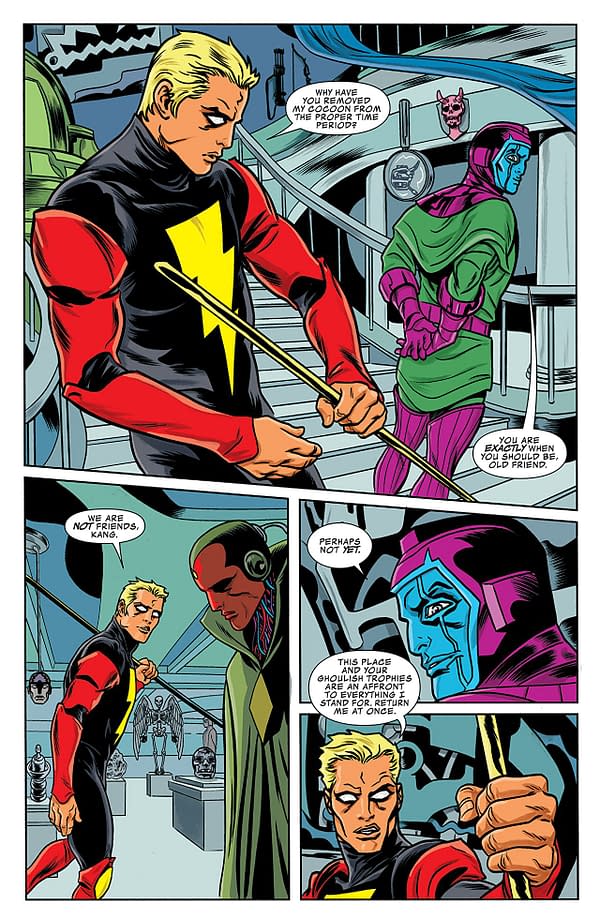 Mike Allred's artwork, which was already a mixture of Kirby-esque figure design and ethereal detailing, was a great choice for this comic. He gives the world we are shown a cosmic feeling to it, and Laura Allred's colorwork is appropriately bright and contrasting. Appropriately, the two Allreds complement one another perfectly.
Infinity Countdown: Adam Warlock #1 is a solid if not especially informative opening chapter to the latest Marvel cosmic crossover. It is promising in some ways, and it is a bit of fun seeing Adam and Kang square off. In any case, this one does get a recommendation for its character work and solid art. Check it out.