I think someone's been reading Ed Piskor's X-Men: Grand Design and as the connective tissue gets unraveled, tomorrow's Invaders #1 looks to rewrite the history of Namor, The Sub Mariner. The first created comic book character of the Marvel Universe is already having one part of his wartime history rewritten in today's Marvel Comics Presents #1 (spoilers) and he is getting the same in today's Invaders #1. He has a new power set including the Mera-like control of water, he has a new relationship with the world below and above, and he may have even picked up a few pointers from Jason Momoa.
But there is also his history. Discovered by the Fantastic Four's Human Torch as a homeless man with amnesia…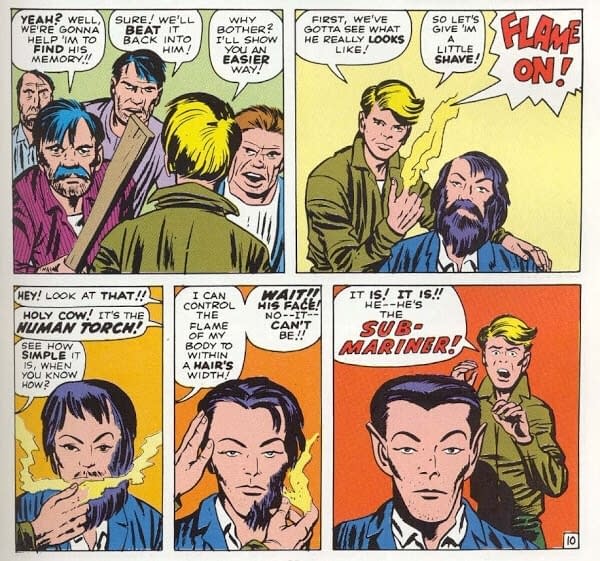 …it was later revealed that Paul Destine had used Set's Serpent Crown to cause earthquakes threatening Atlantis, and to turn Namor into an amnesiac.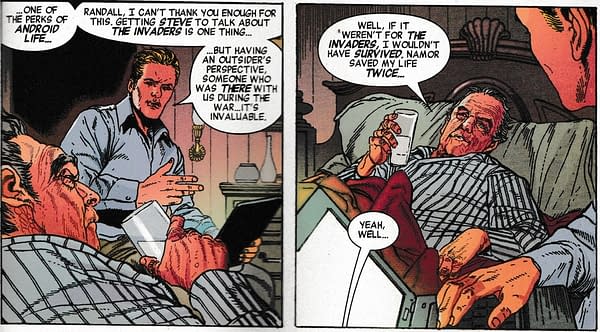 But in today's Invaders, as stories from the past are targeted at the present, the original android Human Torch of the Invaders is uncovering a new history. And, while visiting an Invaders army colleague of theirs, Randall Peterson (named after Bull Everett's wife Gwenn Randall maybe?), finds a photo…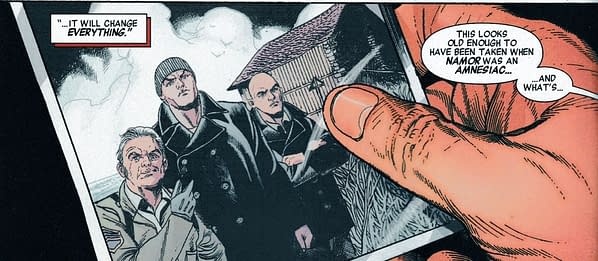 …indicating that Namor spent time with Randall when he was an amnesiac, rather than floating from flophouse to flophouse? And also in that photo…

Professor Xavier. Sub Mariner appeared in early X-Men, defined as a mutant Atlantean…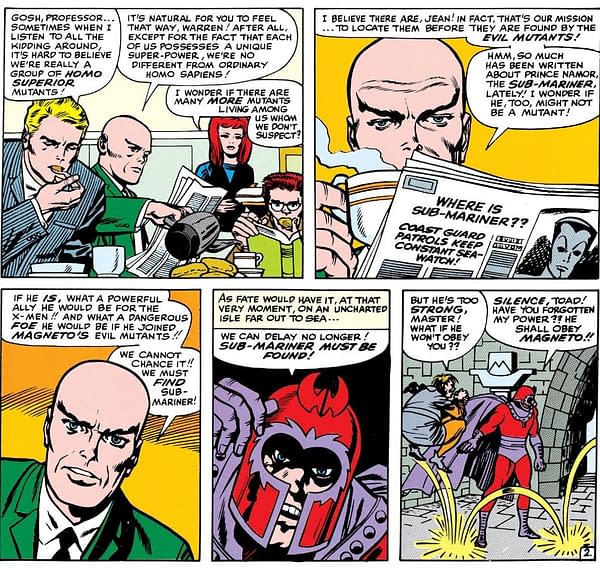 …but in that comic it was meant to be the first time they had met. Is there even more amnesia left on the cards? Time to rewrite even more of Namor's history…
INVADERS #1
(W) Chip Zdarsky (A) Carlos Magno (A/CA) Butch Guice
THE GREATEST GENERATION OF MARVEL HEROES IS BACK – TO STOP ONE OF THEIR OWN!
In commemoration of Marvel's 80th anniversary and springing from events in the pages of AVENGERS and THE BEST DEFENSE, the Marvel Universe's first super-team is back! CAPTAIN AMERICA. THE HUMAN TORCH. THE WINTER SOLDIER. NAMOR. They fought in WORLD WAR II together as THE INVADERS. But now NAMOR is the enemy, a global threat more powerful than ever. His deadly plans are as deep and far-reaching as the ocean and REVELATIONS about his past could THREATEN the MARVEL UNIVERSE! It's up to his old teammates to stop him, but what chance do they have against the man who knows their every move? "War Ghost" begins here!
Rated TIn Shops: Jan 16, 2019
SRP: $4.99
Enjoyed this article? Share it!