The Road to Iron Man 2020 Continues in Tony Stark: Iron Man #14 – Will Jocasta Be The Key? (Spoilers)
Is he life or is he Memorex? For Jocasta, artificial lifeform created as a bride of Ultron, there's no distinction. And for Tony Stark, now officially an electronic memory of the original Tony Stark imprinted into a clone of his body, that distinction has gone as well, and having all sorts of impacts on the Tony Stark: Iron Man comic book, now that Dan Slott, Jim Zub and Valerie Schiti return to the book after a War Of The Realms-size break. Which means it's back to preparing for Iron Man 2020, picking up the plot threads originally seen in the eighties mini-series Machine Man 2020 by Tom DeFalco, Herb Trimpe and Barry Windsor-Smith. Something we've been following from some time.
Machine Man 2020 featured the elderly Sunset Bain of Bain Industries, the grand nephew of Tony Stark, Arno Stark – Iron Man 2020 and Jocasta all working together in a Blade Runner-style far-flung future of 2020.
Since then Arno Stark was introduced as Tony Stark's adoptive brother Baintronics began opposing and rivalling Stark Industries. And Jocasta started running Stark's AI division, introducing sentient rights for artificial intelligences. And Tony Stark creating a familiar-looking armour using Baintronics technology.
And in today's Tony Stark: Iron Man, Jocasta switches sides. Knowing all that she does.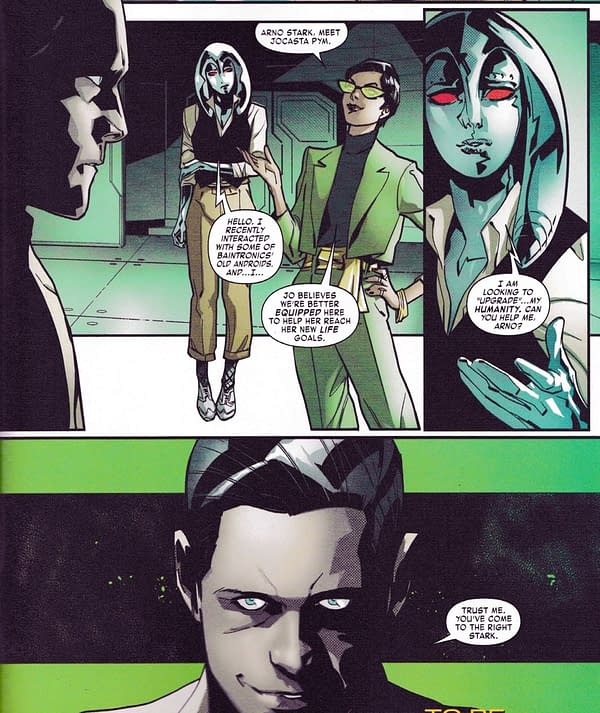 And with Tony Stark not even the real Tony Stark anymore and, as we have seen in House Of X #1, Damage Control taking advantage of Tiny Stark's 'death' to get all his stuff in the very near future, could it be that Arno will insist he is the rightful heir of all of Stark Industries? And will Jocasta really go along with that? Will she have a choice??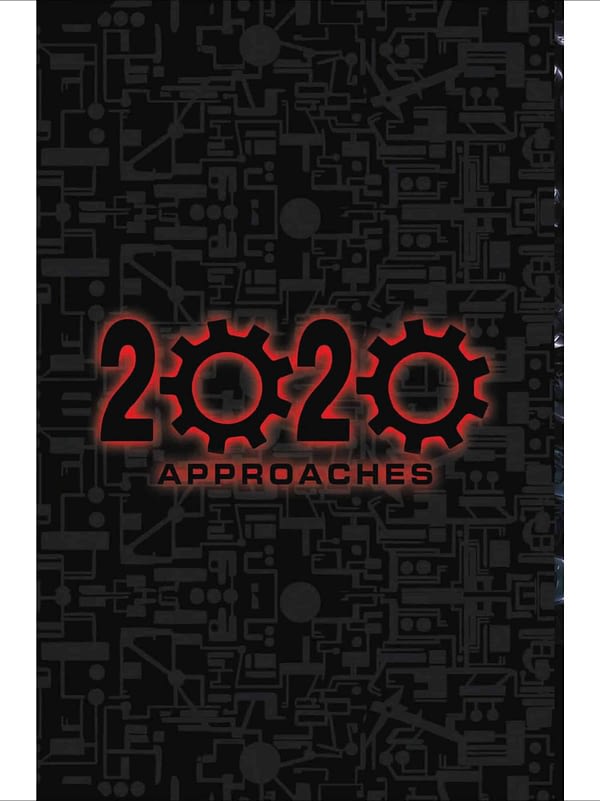 Five months to go…
TONY STARK IRON MAN #14
(W) Dan Slott, Jim Zub (A) Valerio Schiti (CA) In-Hyuk Lee
"THE ONE-STEP PROGRAM"-When Iron Man tells Captain Marvel that he can't be her sponsor because he may or may not have fallen off the wagon, Carol doesn't it take it well. What is Tony Stark's new high-tech solution for sobriety? Find out why this might be his worst idea yet. Featuring the villainy of the all-new Spymaster. And follow Jocasta as she decides to go all in for "the ultimate upgrade."
Rated T+In Shops: Jul 24, 2019
SRP: $3.99