Is Bad Idea Planning A New Comics Industry Shake-Up?
For months, there's been rumours –
and some not so subtle teasing
– that former Valiant Comics executives
Dinesh Shamdasani, Warren Simons, Hunter Gorinson
and
Josh Johns
have been building something new and disruptive to mount their return to comics publishing.
And now we know when Bad Idea's official announcement will finally be arriving… In Bleeding Cool's inbox this morning, we have received the first Bad Idea communique from
Hunter
Gorinson himself – a teaser image indicating that the company will be revealing complete details about its impending 2020 launch tomorrow afternoon.
Said teaser includes some pretty, pretty artwork by none other than Doug Braithwaite (Justice, Journey into Mystery), Tomas Giorello (X-O Manowar), Lewis LaRosa (Punisher MAX, Bloodshot Reborn) and Adam Pollina (X-Force):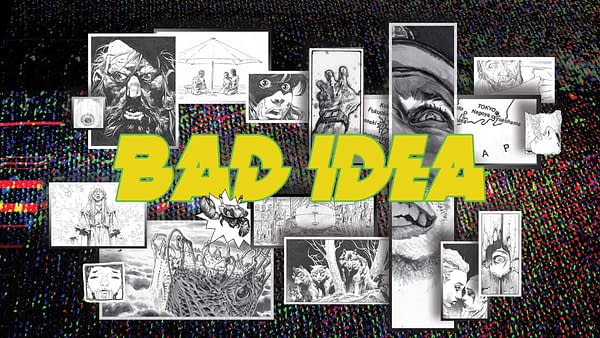 With the following caption:
YOUR NEW FAVORITE COMIC BOOK PUBLISHER.

ANNOUNCEMENT TOMORROW.

ART BT DOUG BRAITHWAITE, TOMAS GIORELLO, LEWIS LAROSA, AND ADAM POLLINA

(NICE, RIGHT?)
Former Valiant CEO Dinesh Shamdasani has also confirmed the date with a corresponding set of images earlier this week:
Whatever shape Bad Idea takes, it's likely to be a formidable addition to the current comics marketplace. Shamdasani, Simons, and Gorinson were the chief architects of Valiant's hugely influential and bestselling relaunch, where they created the playbook that every indie comics start-up, from Aftershock to Vault to AWA, has run for the past decade, and certified their spot as one of the leading comics success stories of the 21st century.
With Shamdasani as CEO & Chief Creative Officer, Simons as Editor-in-Chief, and Gorinson as Vice President of Marketing & Communications, Valiant rehabilitated the company's library of superhero characters into the third-largest comics universe behind Marvel and DC. After nearly a decade at the helm, all three – along with many other Valiant staffers – departed
following DMG's controversial full-acquisition of the publisher
in 2018… But not before putting Sony Pictures' upcoming Bloodshot feature film starring
Vin Diesel
and
Guy Pearce
into motion and shepherding the project through production in South Africa and Montreal.
(Hivemind is wholly unrelated to Bad Idea, we're told, save for Shamdasani and Gorinson's participation in both.)
Meanwhile, we understand that Simons has been secretly accruing a war chest of talent from his days as both Valiant EIC and as a decorated Marvel Executive Editor, where he edited titles including
Fraction & Aja
's Immortal Iron Fist,
Brubaker & Lark
's Daredevil, and
JMS & Coipel
's Thor. There's a big reason he made it
onto the Bleeding Cool Power List this year.
Get ready because, starting today, we're likely to be hearing a lot more about Bad Idea for the foreseeable future…