The Jim Shooter Files: When Venom Creator David Michelinie Snuck Foreign Swear Words Into Marvel Comics
Last month's MCM London Comic Con had Jim Shooter as a guest, and at his table were a number of folders, binders, full of memos, sketches, artwork from his long career at DC, Marvel, Valiant and more. He graciously allowed Bleeding Cool to take shots of a few of them, but these are just the tip of the iceberg of the folders he often brings to shows. But for Thanksgiving, Bleeding Cool will be sharing a few of them, and you can check the rest with this handy dandy tag.
We just read a memo from Stan Lee to Jim Shooter about Kyle Baker. And a rather pointed one from Jim Shooter, when he was Editor-In-Chief of Marvel Comics, to its editors. Well here's another, with some more specific notes.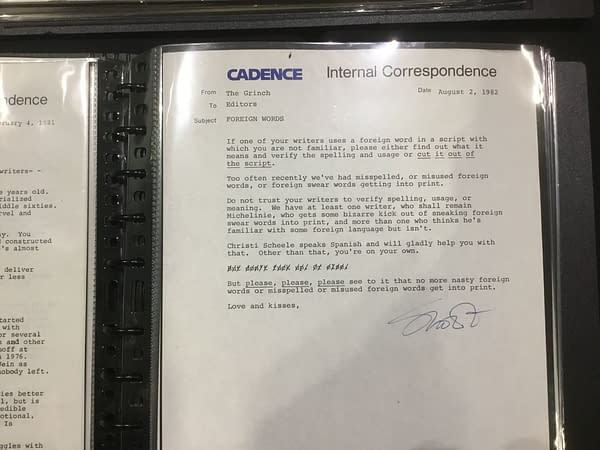 Sent from Jim Shooter (dubbed The Grinch in this memo) to his editors on August 2nd 1982, with the headline FOREIGN WORDS, it reads;
If one of your writers uses a foreign word in a script with which you are not familiar, please either find out what it means and verify the spelling and usage or cut it out of the script.

Too often recently we've had misspelled, or misused foreign words, or foreign swear words getting into print.

Do not trust your writers to verify spelling, usage, or meaning. We have at least one writer, who shall remain Michelinie, who gets some bizarre kick out of sneaking foreign swear words into print, and more than one who thinks he's familiar with some foreign language but isn't.

Christi Scheele speaks Spanish and will gladly help you with that. Other than that, you're on your own.

But don't fuck up or else.

But please, please, please see to it that no more nasty foreign words or misspelled or misused foreign words get into print.

Love and kisses,
Michelinie would be David Michelinie, best known for writing Action Comics, Iron Man and Amazing Spider-Man, where he co-created Venom as well as War Machine, Taskmaster and Scott Lang – Ant Man. He would later work with Shooter at Valiant Entertainment, on Rai, H.A.R.D. Corps, Turok: Dinosaur Hunter and Magnus, Robot Fighter.
Marvel Comics had a number of non-US characters that spoke foreign words in that period, especially the likes of Nightcrawler and Colossus in X-Men. But if anyone can find – and share – any such examples that made it to print, I'd love to see. Aside from this one of course…