At the end of last month's Fantastic Four #2, Reed Richards, facing off against the powerful Griever and hoping to prevent her from destroying Franklin Richards' multiverse, tricked the Griever into allowing him to summon the rest of the Fantastic Four to his aid. What he didn't tell her was that he planned to summon everyone who's ever been a member of the team, which is quite a lot of Marvel heroes. It's a gathering Johnny Storm dubs… Fantastic Four-a-Palooza.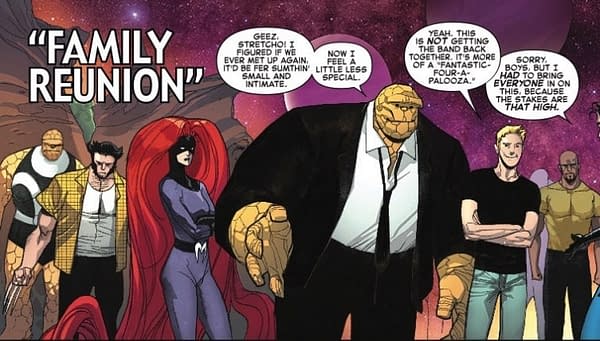 Way to stay current with your references, Johnny. Wouldn't Fantastic Fourchella have been more appropriate?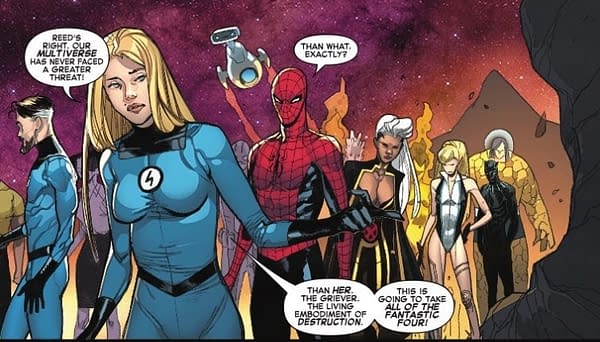 But will even this veritable buttload of superheroes be enough to prevent multiversal destruction? Well, it's going to have to be. Everyone's got a wedding to get back to Earth for, after all! And mustn't this all be very confusing for Wolverine, who isn't "back" yet and still has no memories of his past, at least according to the Return of Wolverine series? Oh, Marvel continuity!
All of that, plus the most highly-anticipated group hug in comics!
Fantastic Four #3 hits stores next Wednesday.
Fantastic Four #3
(W) Dan Slott (A) Sara Pichelli, Nico Leon (CA) Esad Ribic
FREE-4-ALL!
• The Fantastic Four is more than a team. It's a family. And when the fate of the very Multiverse is at stake, that means it's time for the ENTIRE family to have a reunion.
• Everything you've been waiting for? It's in THIS issue.
• Guest-starring: Spider-Man, Wolverine, the Hulk, Ghost Rider, Medusa, Crystal, Luke Cage and MORE.
Rated T
In Shops: Nov 14, 2018
SRP: $3.99
Enjoyed this article? Share it!