It was announced recently that Dan Abnett (Guardians of the Galaxy) was going to be writing a new series for Dynamite, focusing on the death of a major character. The series is Battlestar Galactica: Death Of Apollo and Byron Brewer caught up with the author to talk about the new project.
BYRON BREWER: Dan, has there been any time period or iteration of the Battlestar Galactica franchise now you HAVEN'T written? (laughs)
Dan Abnett: The reimagined version… (smiles)
BB: How did this book come about? Was it something you yourself pitched?
DA: Dynamite asked me to approach the idea, and see what I could do with it. It's a great piece of BSG continuity that exists … but has never been related or explored. I was excited by the prospect.
BB: So tell us about this new BSG event. What time period are we exploring?
DA: It's ten years into the quest for Earth, the fleet presses on, the Cylons have been mysteriously quiet for several years, and hopes are beginning to fade of ever finding a solution. Then, out of nowhere, a flash of possibility…
BB: Now in the BSG 1980 TV series, Apollo was dead. Does this story take any threads from that show or from the original series continuity? Is it in regular Battlestar continuity?
DA: It's set in classic BSG continuity, and it acknowledges that by BSG 1980 Apollo is dead. I'm more concerned with what has gone before in BSG continuity, and also in building on the continuity I've been establishing over the last 12 issues of the comic series.
BB: How big a threat are the Cylons in this story?
DA: Well… big. It's BSG, after all. The Cylons may have been quiet for a while, but they haven't gone.
BB: Can we get any hints at a big-bad other than the Cylons? What can you, without spoilers, tell us anything at all about the "voice from the past"?
Dan: Not every colonial survivor joined the fleet. This isn't necessarily the return of an old character, nor a "big bad", but it is something the Galacticans need to approach with care.
BB: How does artist Dietrich Smith fit into your cosmic saga?
DA: I adore his work. I think he's the perfect BSG artists. He handles the characters, tech and material so well, and the story-telling is so strong. I'm delighted he's handling this event.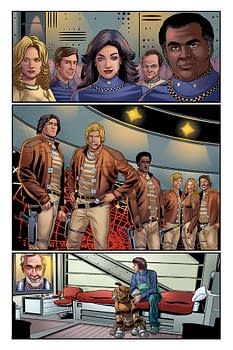 BB: Can you make any comparisons at all about the cosmic worlds of Battlestar Galactica and Guardians of the Galaxy?
DA: Character-driven, strong stories, ensemble casts, cosmic, fast-paced, deadly aliens, some character-based humor (I guess more in GOTG)… high adventure and proper entertainment!
Enjoyed this article? Share it!