Hellboy is dead. Liz Sherman kneels over his shattered body, the world shattered around her.
Hellboy is not dead. Or maybe he is. Regardless, he comes across the horrors the Ogdru Hem are inflicting as they rampage across the globe.
Then, everything goes white, the Ogdru Hem, and every living thing on the surface of the earth, blasted into oblivion.
It's a rather bleak affair, but a fitting end to a story that has taken a quarter of a century to tell.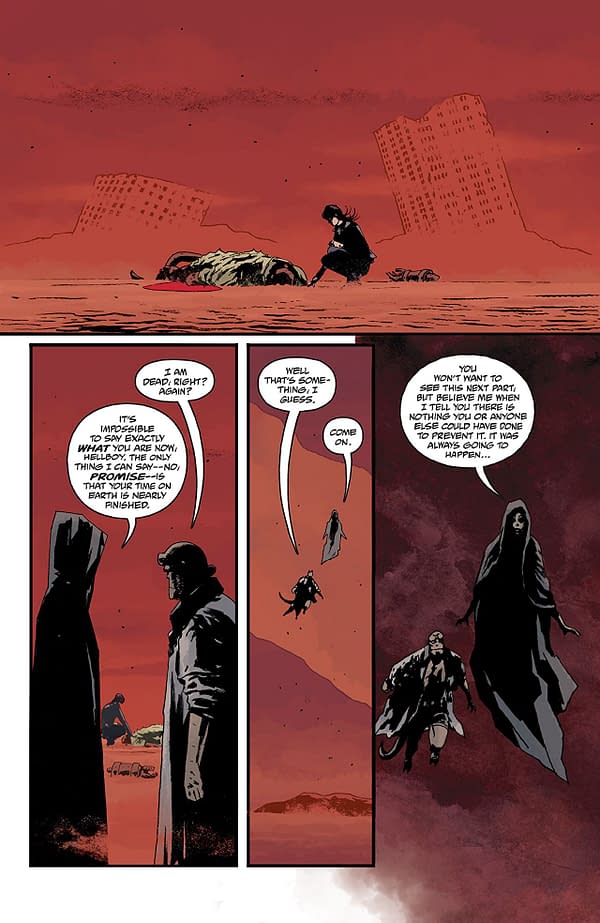 The entirety of "The Devil You Know" has been a bit of a gut-punch, with characters we've grown to love dispatched with little fanfare, at times without a moment given before the next character falls.
Now, we see what Ragna Rok was all about from the beginning. It's a story that follows the Kali Yuga of Hinduism to a degree, with the destroyer of worlds being a necessary instrument to bring about the rebirth of a new world, a new cycle of humanity.
Sure, this humanity looks more amphibian that the old one, but they do have a shiny new god, enveloped in amber.
B.P.R.D.: The Devil You Know #15 feels pretty sparse with the majority of the story told in images instead of words. Scott Allie and Mike Mignola tell a fine story of appropriately apocalyptic endings, one in which the world ends with more of a whimper than a bang.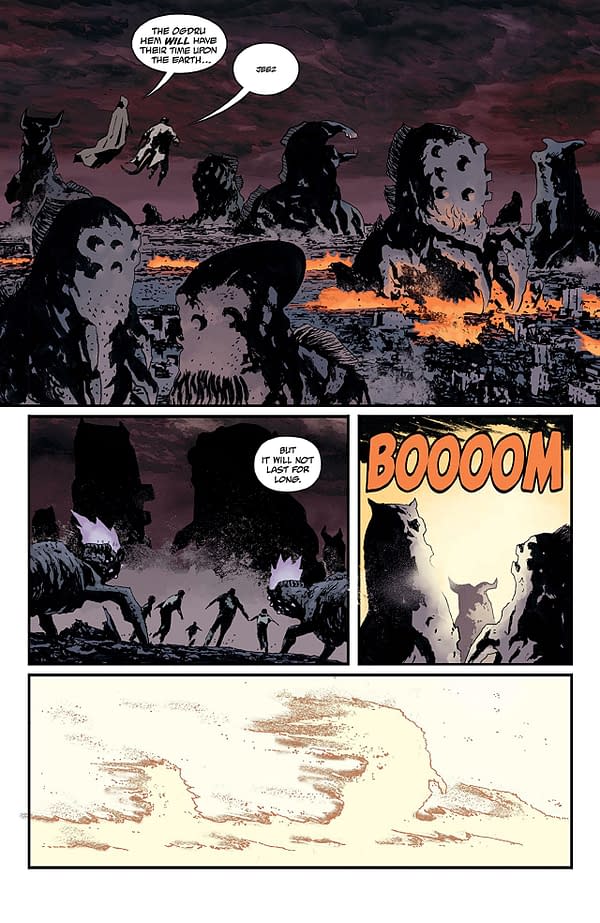 The first half of the book is drawn ably by Laurence Campbell, who portrays the last stand of humanity nicely. The transition on page 11 is pretty well done, too, otherwise the artist shift might have been jarring.
Then Mike Mignola steps in and finishes the last half of the book, with Hellboy learning his final fate. It's a fitting close to the series, which concludes with 162 issues.
I'm kind of torn on this whole series, since it feels like the story was just a little rushed, but that it may be the only way it could have been concluded, too. Long, drawn out goodbyes are never fun, and there is very little sentimentality evidenced here.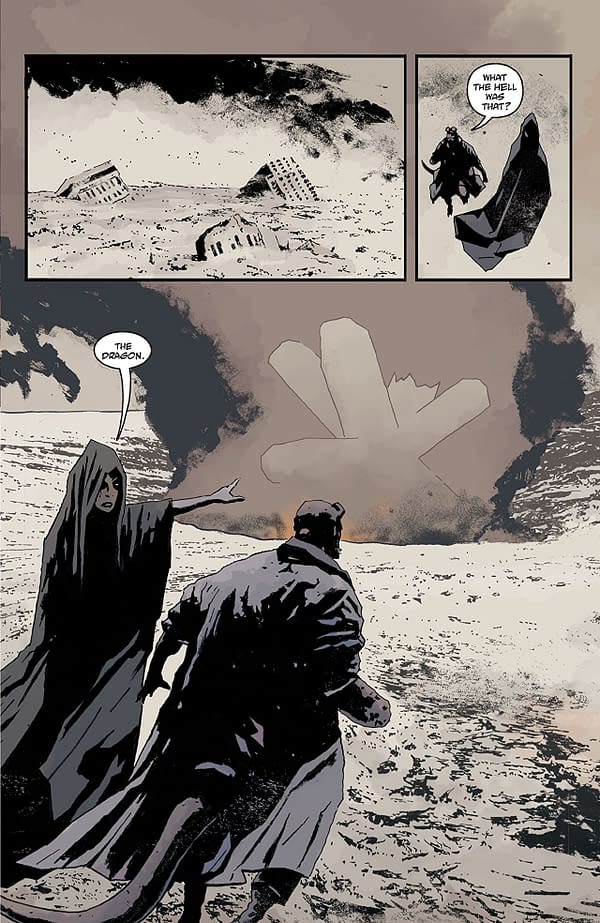 Still, it's always nice to see Mignola creating in this universe, and the conclusion was just a little emotional for me.
Mignola, at the end of the book, says that this is not the end of the road for this universe, but I will be honest: It's okay if it is. The stories told have been rich and vibrant, if not always wonderfully rendered, and sometimes we should just be happy with what we have.
It's been a hell of a ride, and Mignola and company have my thanks for that.
What we are left with, at the end of the day, is an enjoyable, yet fleeting end-cap of a long-form story, which might work better in the inevitable collected volume than the single issue.
Recommended for fans of Hellboy and the B.P.R.D., for all others, I would suggest holding off for the graphic novels or library edition.
SUMMARY: Story: Scott Allie & Mike Mignola; Art: Laurence Campbell & Mike Mignola; Colors: Dave Stewart; Letters: Clem Robins; Editor: Katii O'Brien; Published by: Dark Horse Comics; Release Date: April 17, 2019; Cover Price: $3.99; 29 pages.
Enjoyed this article? Share it!