Dave Wallace writes for Bleeding Cool;
Welcome to BleedingCool's premier (read: only) tradewaiting column, Jack of All Trades.
This week, I want to talk a little bit about the various trade programmes operated by different publishers. Since the rise in the importance of collected editions over the last decade or so, we've seen various different approaches adopted by the comics industry's biggest publishers, but I'm still not convinced that any of them have settled on the ideal approach yet.
It's received wisdom that publishers just about manage to recover the costs of production and marketing through sales of individual floppy issues, with profit only really starting to kick in with sales of the collected editions. I'm not sure how true that is–but if there's any truth in it, it seems odd that it's taken so long for the likes of Marvel and DC to settle on a single, workable trades programme.
How do I know that they haven't settled on one yet? Because their approach to trades is so arbitrary and unpredictable. Take Marvel as an example. Their most common model is to put out a regular-sized hardback edition of a story arc within a few months or so of its completion, with a similar paperback edition following a little further down the line. Then, for the most popular series, you can expect more luxurious oversized hardcovers even later than that.
However, this pattern doesn't hold true for every series Marvel publishes–and even a single series can find itself being collected in different ways for different story arcs. (To pluck an example from the top of my head, fans who have tradewaited Ed Brubaker's Captain America have had to deal with Marvel putting out "premiere" hardcovers for certain arcs before switching to straight TPBs for others, only to go back to hardcovers for later storylines).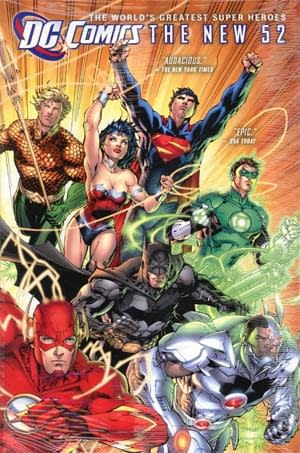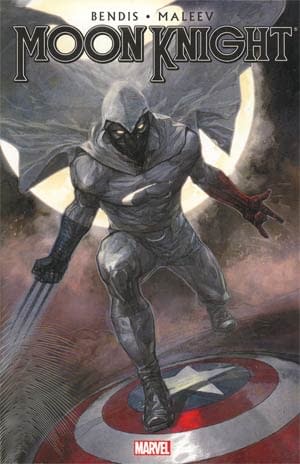 And DC is even more unpredictable: not only do their collections take substantially longer to come out (meaning that it's impossible to ever catch up with and get on board an ongoing series by checking out the collected editions), but there seems to be very little rhyme or reason as to what gets a hardcover, what gets a softcover, and when we can expect to see collections appear.
(And things don't seem to have improved with the "New 52" relaunch–but that's a subject for a whole different column next week).
Image and Dark Horse seem a little more consistent, but perhaps that's because they're dealing with a smaller stable of titles. And even then, there's a definite hierarchy for certain high-profile books which are collected in a completely different way to lower-tier titles.
We can assume that economic factors play a pretty big role in deciding how to collect a book. For example, it's fair to say that the latest big crossover event by the most popular talent can be expected to receive a fancier treatment than a D-list title by unknowns, because it'll sell.
But even if this is the case, it doesn't account for the variations in the type of collected editions we see for different works by the same writers or artists. (Another example is Grant Morrison's Batman run, which has received various different shapes and sizes of hardcover collected editions over the past few years, in an apparent attempt to frustrate anyone seeking a consistent collection).
As with so many subjects around tradewaiting and collected editions, it's something that publishers don't comment on very often. And perhaps that's because it's not an exact science, with trades departments apparently making their best guess as to what will sell well in what format, without ever really knowing for sure.
But for the sake of consistency if nothing else, it'd be nice to see the biggest comics publishers adopting a more ordered and predictable trades programme so that tradewaiters will have some idea what to expect from forthcoming collected editions.
OK, enough moaning. Onto this week's new releases.
New Release Round-Up: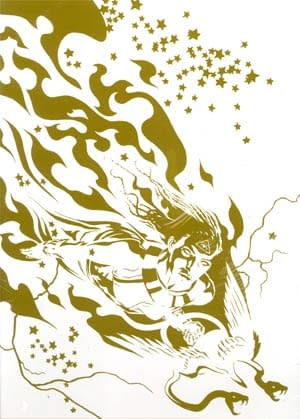 Absolute Promethea volume 3: The third and final Absolute edition of Alan Moore and JH Williams III's sublime series collects issues #24-#32 of the main book, along with the Chris Sprouse-illustrated Tom Strong #36, which shows the events of the series' finale from a different perspective. But as much as I love the title, it's not one of the occasions that I've been tempted to upgrade from my existing TPBs: the relative slimness of these volumes compared to the likes of Absolute Sandman, combined with the fact that they contain little in the way of extra material (from what I hear, anyway), means that there isn't much in the way of added value to entice me to lay down the extra cash for them. Still, I'm sure the artwork looks glorious in the oversized format.
Tales of the Batman: Don Newton volume 1 HC: An interesting collection, this. Newton's work is probably not as well-known as it should be, and it's nice to see DC going back into the archives to give these old stories a deluxe reprint. This contains Batman #305 and #306, Detective Comics #480 and #483-492, and The Brave and the Bold #153-165. And the title of this collection suggests we may see more in future.
DC Comics The New 52 HC: I'm not sure if I've ever heard a stupider idea than this. This gargantuan hardcover–which I can only assume is intended more as a marketing tool than anything else–collects every single one of DC's 52 debut issues from the recent relaunch, for the entirely reasonable cover price of $150. So that's the first chapters of 52 completely separate stories, collected together in a single oversized hardcover. Right. Unless this signals a bold new trades strategy for DC, and we can expect a similar omnibus collecting all 52 of the #2 issues next month, I really can't think of any reason to pick this oddity up.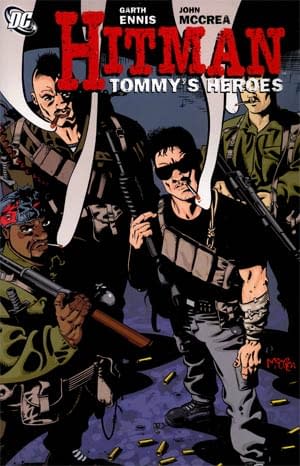 Hitman volume 5: Tommy's Heroes: It's nice to see DC really committing to this series of reprints of Garth Ennis's and John McCrea's Hitman, rather than pulling the common trick of releasing one or two volumes of an older title and then leaving the series incomplete due to low sales or a change of trades policy. This latest volume collects issues #23-28.
Spider-Man by Mark Millar Ultimate Collection: The oversized hardcover collecting all 12 issues of Millar's Marvel Knights Spider-Man has been out-of-print for a while now, and as far as I know the run has thus far only been otherwise available in three separate 4-issue TPBs. That's no way to collect a single story like this one, so well done to Marvel for putting out a more comprehensive book (and milking Millar's past work for as much as it's worth. Quite right, too).
Moon Knight HC: I have a grudge against the new Moon Knight series for one simple reason: it's denied us any new issues of Brian Bendis and Alex Maleev's excellent series Scarlet for several months now. But on the other hand, it's difficult to pass up any collaboration between these two creators. Their Daredevil work remains one of my all-time favourite superhero runs, and if this can even come close to that, it should be worth checking out.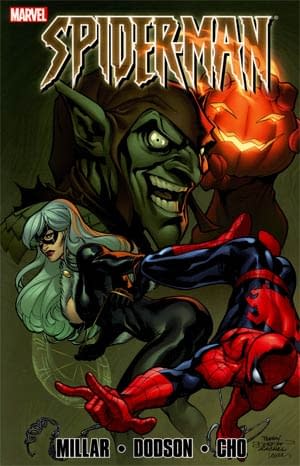 Secret Wars and Secret Wars II TPBs: "I am from beyond! Slay your enemies and all that you desire shall be yours! Nothing you dream of is impossible for me to accomplish!". If that quote means anything to you, you'll be as keen as I am to know that Marvel is reprinting its 12-issue collection of the original Secret Wars, along with a TPB of its lesser sequel. Other readers' mileage may vary.
The Red Wing TPB: Jonathan Hickman's recent series for Image got pretty middling reviews when it appeared in singles, although I have to admit I haven't actually checked it out myself yet. But one of the industry's biggest current names, combined with some impressive-looking art from Nick Pitarra (as well as my Achilles' heel of it being a time-travel story), means that I'll definitely be looking into this collected edition.
The Walking Dead v.15: We Find Ourselves TPB: The Walking Dead keeps shambling onwards, to the point where it's now starting to feel like the comic has never not existed. If you've never read it before (is there still anyone left?), you're probably not going to start here, as this TPB collects issues #85-90. However, regular followers of the series in TPB form will be glad of their latest instalment of Robert Kirkman's zombie epic.
Review:
Batman: The Black Mirror
I've become a fan Scott Snyder's writing as a result of his recent work on Batman and Swamp Thing, but this hardcover collects his entire run on the pre-DC-relaunch incarnation of Detective Comics. And if anything, it's even better than his 'DCnU' work.
Taking place in that odd continuity space where Dick Grayson is still Gotham's protector despite Batman having returned from the "dead", it's a surprisingly accessible standalone story that mixes short super-criminal-based stories with an overarching plot about a far more grounded and sinister antagonist who also has close links to a longstanding member of the book's supporting cast.
Snyder writes a great Dick-as-Batman–possibly even better than Grant Morrison did (heresy?)–and brings in Jim Gordon and his extended family in a very smart and effective way, too. It all makes for a perfectly fitting take on Batman that, like Morrison's run, incorporates several different facets of the character. It's very understatedly disturbing in places, with an overarching story that explores some very dark places, but Snyder manages to make each of the smaller stories a good knockabout superhero yarn too.
The art supports the story brilliantly, with the stark angularity of Jock's work competing with the more seductive, classical curves of Francesco Francavilla's satisfyingly traditional style, which drips with heavy blacks (which are perfect for the book's darker moments). My only criticism is a slightly forced overly-convenient plot twist towards the very end of the story that allows Dick to turn the tables on his enemy, but I wonder whether the schedule changes dictated by DC's relaunch had something to do with that.
This regular-sized hardcover edition contains 11 issues (#871-881), as well as some great extra material including sketches, alternate covers, and a full script by Snyder for Francavilla's first story.
BleedingCool's Most Wanted:
I'm going to end by listing a couple more nominations of much-demanded but as-yet-uncollected runs. As ever, if you have any further suggestions, stick 'em in the thread below!
Deadpool/Agent X by Gail Simone: This was a run suggested by Adgy in the comments thread of my first column, and whilst I haven't read it myself, it does seem surprising that Marvel would leave this run uncollected. Simone is a high-profile creator (albeit at DC these days), and Marvel have been pushing the character of Deadpool for ages now. Can we expect to see a collection in the near future?
Flex Mentallo: OK, a bit of a cheat this one, since we know a hardcover collection of Grant Morrison and Frank Quitely's mind-bending superhero masterpiece is imminent. But it's been a long wait for those of us frustrated by the series' unavailability due to slightly spurious legal issues that I won't get into here, and I can't wait for the collected edition of this series to finally arrive in February.
Fantastic Four Omnibus volume 3: One of Marvel's earliest Omnibus editions was a collection of a huge chunk of the earliest Lee/Kirby Fantastic Four run. Later, a second volume was printed–including the original Coming of Galactus storyline and beyond–although it's now out-of-print and pretty hard to come by. So I don't think it'd be out of the question to hope that Marvel might put out a third volume, possibly collecting the final Lee/Kirby issues of the book. And maybe, just maybe, a reprint of volume 2, too?
To Be Continued…
Next week, I'm going to take a look at DC's plans for collecting the 'New 52', in which their apparently arbitrary approach to collecting different books in different formats continues…
Enjoyed this article? Share it!