Jay Garrick Was Now Inspired By Wonder Woman in 1940 – Flash #750 Spoilers
The new Flash #750 – just like Wonder Woman #750 – places the characters upon a timeline. Just as Wonder Woman now first emerges in the DC Universe in 1939, working with the US President as the country dithers over joining World War II…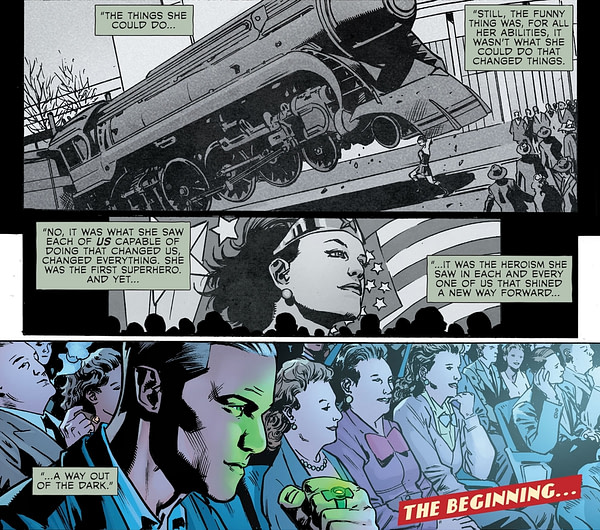 … and just as we saw the original Green Lantern Alan Scott receiving such inspiration…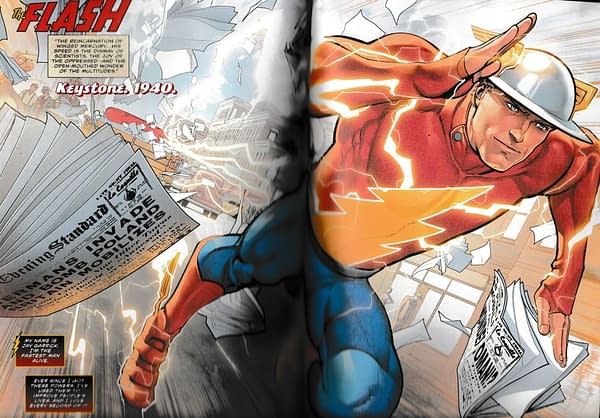 …so in 1940 we have Jay Garrick, the first Flash, now part of the DC Universe again, and talking about the inspiration that Wonder Woman gave to emerging heroes.
As part of the new DC Timeline, the use of dates may be going away after the departure of Dan DiDio as Publisher, but it will be hard to get rid of the specific dates and events if World War II when it comes to DC's Golden Age. Will the future Anniversary volumes skip tying things down as much as DiDio planned, as Bleeding Cool recently reported?
This is how the timeline was originally planned…
Year 1 Krypton explodes. Rocket crashes in Smallville. Wonder Woman debuts, Steve Trevor crashes on Themescyria

Year 2 Jay Garrick debuts as The Flash. Alan Scott debuts as the Green Lantern. Zatara debuts as a stage magician. Dan Garrett debuts as Blue Beetle. Blackhawk assembles Crew.
Let's see what it ends up as, shall we?
FLASH #750
(W) Francis Manapul, Geoff Johns, Michael Moreci, Mary Wolfman, Various Others, Joshua Williamson (A) Rafa Sandoval, Jordi Tarragona, Scott Kolins, Stephen Segovia, David Marquez, Bryan Hitch, Francis Manapul, Riley Rossmo, Various Others (CA) Howard Porter. Beginning: "The Flash Age"! The story we've been building toward since issue #50 comes to a head! While a supercharged Speed Force wreaks havoc on Barry Allen's life, a new threat appears on the horizon in the form of the deadly Paradox. Destined to destroy the Flash's legacy, Paradox sends his herald, Godspeed, to trap the Flash family! Plus, in this special anniversary issue: tales from across the generations of super-speedsters by an all-star lineup of writers and artists! In Shops: Mar 04, 2020 SRP: $7.99
Flash #750 is out today from DC Comics… I bought mine from Piranha Comics in Kingston-Upon-Thames. Piranha Comics is a small south London comic store chain with a small south-east store in Kingston-Upon Thames's market centre, which runs Magic The Gathering nights on Fridays, and a larger south-west store in Bromley, which also runs Magic nights and has an extensive back issue collection and online store. If you are in the neighbourhood, check them out.