Jim Lee Addresses THOSE Rob Liefeld DC Tweets Tastefully… Mike Zapcic, Not So Much
This summer I had the opportunity to enjoy a very low key but unique comic convention in Puyallup, Washington. Washington State Summer Con was a two day focus on comic book, comic book creators, and a few genre actors. (Please note the video has only now been able to retrieved and was broken up in several parts.) The main draw for the convention though was Jim Lee signing on Sunday and most of the attendants were there for that. He held a panel at the end of the day that was to be hosted by Ming Chen from Comic Book Men, but fellow Comic Book Man Mike Zapcic followed along and ended up doing most of the questioning. (Also if you watch all the videos in their entirety Mr. Zapcic takes over the panel … a great deal.)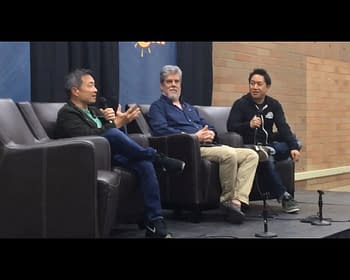 Starting the panel by covering Jim Lee's history in the comic industry, from the best-selling X-Men #1, "7.7 million copies" according to Lee himself, starting with Punisher War Journal, then Alpha Flight, X-Men, Wildstorm, and now Co-Publisher and Chief Creative Officer of DC Comics.
Jim Lee spent the first couple minutes of the panel trying to figure out a way to sketch that the audience could watch while answering questions, but the room was not set up for it.
Jim Lee spoke of how he is not used to being a superstar, and prefers to be almost like a hermit. Jim Lee, Ming Chen, and Mike Zapic spoke of how comic culture has changed, especially looking at old school Marvel movies vs today's MCU.
Diversity in comics is improving and Jim Lee spoke to the first Asians he saw in comics like Ernie Chan on Conan The Barbarian. Jim Lee considers growing up before video games being predominant in the home to be beneficial to his creativity, as having only a few forms of entertainment really helped him grow and want to create. Before and during college, Jim Lee had a few "crappy jobs" such as delivering pizza, working at Six-Flags, working in a lab, digging ditches, and working in a warehouse.
Jim Lee details the great effort Scott Williams, Whilce Potarico, and himself did Uncanny X-Men #267 in 9 days, working almost non-stop. For portfolio review, Jim Lee wants to see 3 pages of panel work telling a story, understanding 3-point perspective, people in normal and superhero clothes, and backgrounds. Alien monsters are the easiest to draw, normal animals, especially rats, are the hardest for Jim Lee to draw.
The inspiration for Gambit's card throwing came from Jim Lee seeing that in real life where cards could be thrown and able to cut fruit that way, so making cards his weapon seemed interesting. Gambit's mutant power though actually came from Jim Lee's interest in real science and the idea that Gambit's mutant power is he "excites valance electrons" to the point they explode. "He's basically a human microwave."
When asked about Rob Liefeld's comments about DC comics collapsing in a year, and how he responds as one on DC's top people, does Jim Lee take it personally? Jim responded he doesn't take anything on Twitter seriously. "When I see some of the stuff I see online… I think it, deep down, if I can get really like philosophical, I think that we all want to be loved, right? We all want to be heard, and when that doesn't happen sometimes people get frustrated. And so that's how I interrupt a lot of the stuff I see because otherwise it gets me kind of depressed thinking that all of these people that supposedly love comics or movies go out of their way to troll or say such negative things has to come from a different place then hatred, has to come from something else … if you look at that from lens, maybe it's a positive thing."
From there Mike Zapcic took over to … downplay Liefeld's comments and reiterate DC isn't going anywhere.
Asked about his visit to Kuwait to visit the troops Jim Lee commented the event was very emotional and he appreciated how into comics so many of the troops were.
Thirty years from his celebrated X-Men run does Jim Lee feel any desire to return to the X-Men? He does miss some of it but he worries if he ever returns to X-Men it will not be viewed as being as good as his first run and will be a letdown.
While Jim Lee still draws on paper mostly he enjoys some digital tools a lot, like for painting, but working on the computer feels more like work to him and he doesn't like not having an "original" when he finishes a drawing.
Twitch streaming his art was an effort to replicate when he was drawing at panels or conventions the social aspect, and Jim Lee has really come to enjoy drawing in front of an audience and gaining fans and friends off Twitch. It also allows him to teach and show art tips that can't be shown except through just drawing.
John Byrne, Chris Claremont, and Dave Cockrum's run on Uncanny X-Men from #97 to #121 is Jim Lee's favorite run of comics because of the frantic energy of going from one adventure to another, and served as the inspiration for his run on X-Men.
How did Hush come about? The main inspiration came from Paul Levitz telling Jim Lee and Jeph Loeb that if they are going to play with Batman's toybox, they need to leave a new toy behind. Jeph Loeb had the name, and that the character might be a surgeon. Phantom of the Opera and the idea of a surgeon led Jim Lee to think bandages, and no other Batman character had a bandage motif.
Jim Lee has no idea how influential or great any comics he has worked on will be to fans until years after he's finished the work. His pages in Strangers In Paradise came from the Image desire at the time to expand into other genres and Lee offering to do art to help sell the book. He wrapped up the panel by thanking his wife's family who drove 4 hours from Bellingham Washington, and the fans for coming.