By Abdulkareem Baba Aminu BleedingCool had a chat with J.M DeMatteis and some odds and ends jumped out. When I asked him if he was doing anything notable for TV and film, he answered…
I've written several episodes of Teen Titans Go! and I've got another one in the pipeline. Wrote a (top secret) animated movie recently, which should be out either late this year or early next year, and I'm about to start another. Also working on a live-action TV project and other things, none of which I can talk about. (Frustrating, isn't it?)
Yes, J.M, very frustrating.
Then I asked something I've been dying to know for years and years now after Batman punched Green Lantern Guy Gardner out, spawning a cultural meme of sorts: "Who wrote the (in)famous 'One punch!' line in your now-classic Justice League run – you or Keith [Giffen]?"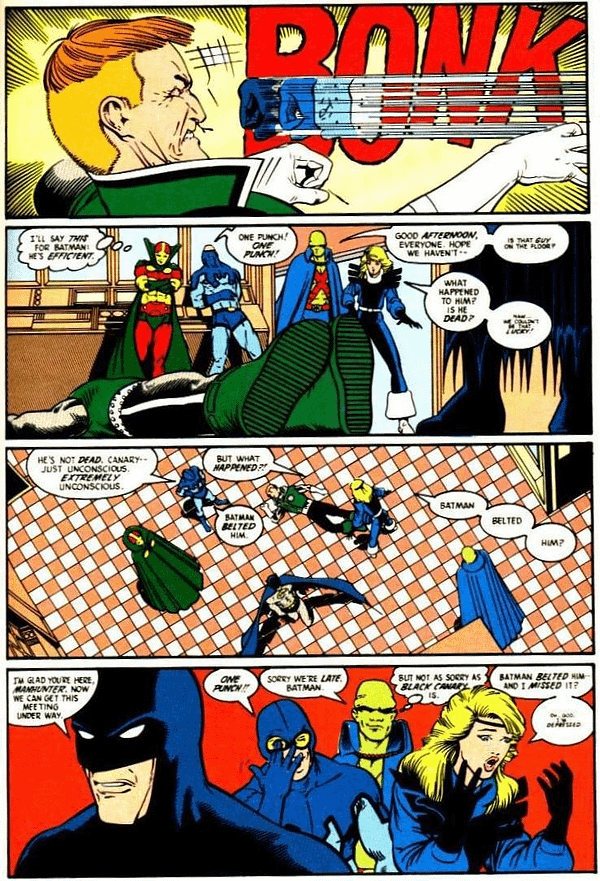 And he replied:
The "one punch" set-up was right there in Keith's plot. All I had to do was play around with the characters' reactions in the script.
Bam! There you have it!
*Stay tuned for Abdulkareem Baba Aminu's full interview with J.M. DeMatteis here on Bleeding Cool
Abdulkareem Baba Aminu is a BleedingCool contributor, award-winning journalist, cartoonist, comic book creator, painter and poet. The Nigeria-based writer has reviewed comics, novels, movies and music for a variety of platforms, including Komikwerks.com, where he worked as Special Features Editor. He is currently the Creative Editor of Daily Trust, the most influential newspaper in his country. You can follow him on Twitter @KareemReal
Enjoyed this article? Share it!