John Byrne She-Hulk, Power Pack, Uncanny X-Force, Black Widow Get Omnibuses – and Other Marvel Big Books For 2020
A few more big books coming through from Marvel Comics for 2020… and we begin with the Omnibuses.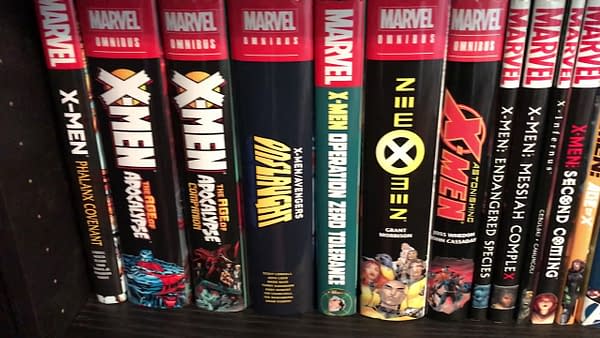 Sensational She-Hulk By John Byrne Omnibus
April 28, 2020 Pages: 752
After making her a front-and-center star in his acclaimed FANTASTIC FOUR run, writer/artist John Byrne took She-Hulk solo in a classic graphic novel and an outrageous ongoing series! Now, Byrne's complete adventures of "Shulkie" are collected in one sensational Omnibus, as Jennifer Walters smashes the glass ceiling – and the fourth wall – in hilarious fashion! See She-Hulk targeted by S.H.I.E.L.D.! Battling Spider-Man! Beheaded! Facing Dr. Bong's wrath! Alongside Santa Claus! On her own Star Truck! Hosting her own Golden Age guest star! Taking on Spragg the Living Hill! And heading on a puntastic Jenny to the Center of the Earth! But will She-Hulk say "I do" to the Mole Man? And is her greatest nemesis Xemnu the Titan…or John Byrne himself?!
COLLECTING: MARVEL GRAPHIC NOVEL (1982) 18; SENSATIONAL SHE-HULK (1989) 1-8, 31-46, 48-50; MATERIAL FROM MARVEL COMICS PRESENTS (1988) 18
Timely's Greatest: The Golden Age Sub-Mariner By Bill Everett – The Post-War Years Omnibus
April 28, 2020 Pages: 568
Marvel proudly presents TIMELY'S GREATEST, a series of once-in-a-lifetime volumes presenting the greatest stories of the Golden Age, when Marvel was known as Timely Comics! After his service in World War II, Bill Everett returned to the Sub-Mariner without missing a beat. In fact, Everett's art and storytelling was better than ever. Never before reprinted, his post-war Sub-Mariner and Namora tales are anarchic, energetic and utterly endearing! This volume also features Everett's fan-favorite 1950s Sub-Mariner revival during Marvel's "Atlas Era." Alongside Namora, Princess Fen and intrepid love interest Betty Dean, Namor faces off against the nefarious Prince Byrrah, his own doppelganger, giant crocodiles and Communists aplenty! These stories defi ne the Sub-Mariner in a way never captured in any comic series before or since!
COLLECTING: SUB-MARINER COMICS 21-24, 26-30, 32-42; NAMORA 1-3; MARVEL MYSTERY COMICS 84-86, 90-91; HUMAN TORCH 28, 30, 37-38; BLONDE PHANTOM 17; YOUNG MEN 24-28; MEN'S ADVENTURES 28
March 17, 2020 1160 pages
Alex, Julie, Jack and Katie Power have an amazing secret – with abilities gained from the alien Kymellians, the young siblings are Power Pack! But can they save their parents- and Earth – when the evil Snarks attack? Power Pack will be targeted by the Morlocks and the Bogeyman, battle Kurse and the Marauders, and face the horrors of homework and chores! But they'll make friends along the way, including Spider-Man, Cloak and Dagger, the Warriors Three and the X-Men! And they'll even gain a new teammate in young Franklin Richards! But can the kids triumph when they're caught in the middle of the Snark/ Kymellian War?
COLLECTING: POWER PACK (1984) 1-36, UNCANNY X-MEN (1981) 195 AND 205, THOR (1966) 363, X-FACTOR ANNUAL 2, MARVEL GRAPHIC NOVEL: CLOAK AND DAGGER/POWER PACK – SHELTER FROM THE STORM AND MATERIAL FROM STRANGE TALES (1987) 13-14
March 17, 2020 928 pages
Killing to save a world that hates and fears them – this isn't the X-Men, this is uncanny X-Force! Rick Remender puts the Uncanny into X-Force in an epic, critically acclaimed run! Psylocke, Archangel, Deadpool and Fantomex sign up for Wolverine's secret squad of assassins, but their first mission – to find and deal with the reborn Apocalypse – casts a long shadow. As the members of X-Force struggle to come to terms with their actions, one among them unravels in what could only be called the "Dark Angel Saga." Startlingly familiar Deathloks; a return to the Age of Apocalypse, a warring Otherworld, and the all-new, all-deadly Brotherhood of Evil Mutants await in Remender's extraordinary exploration of the ethics of execution.
COLLECTING: UNCANNY X-FORCE (2010) 1-35, 5.1, 19.1; MATERIAL FROM WOLVERINE: THE ROAD TO HELL (2010) 1, ALL-NEW WOLVERINE SAGA (2010), X-MEN SPOTLIGHT (2011)
March 31, 2020, 1136 pages
J. Michael Straczynski concludes his amazing run – and everything changes for Spider-Man! First, Spidey gets some new digs – but can he stand living with the New Avengers? In the shocking storyline "The Other," the vicious Morlun takes Spider-Man to the brink of death- and beyond! If Peter Parker has any hope of surviving, he has two choices: evolve or die! Then, Civil War erupts – and things really get wild! Spidey in red-and-gold armor! Spidey back in black! And Spidey unmasked in front of the world! But brace yourself for the big finish- as Aunt May lies dying, what would Peter and MJ give for One More Day…?
COLLECTING: AMAZING SPIDER-MAN (1999) 515-545; FRIENDLY NEIGHBORHOOD SPIDER-MAN (2005) 1-4, 24; MARVEL KNIGHTS SPIDER-MAN (2004) 19-22; SENSATIONAL SPIDER-MAN (2006) 41; SPIDER-MAN: THE OTHER SKETCHBOOK (2005) 1; SPIDER-MAN: ONE MORE DAY SKETCHBOOK (2007) 1
March 3, 2020,, 688 pages
Concluding Marvel's once-in-a-lifetime Omnibus collection of every astonishing tale of suspense by the inimitable duo of Stan Lee and Steve Ditko! Their collaborations birthed the Amazing Spider-Man and Doctor Strange, and in these pages you'll find the concepts, the themes and the very creative origins of those iconic super heroes. They're packed inside tight five-page thrillers, stories covering everything from aliens with outsized agendas to down-on-their-luck gutter bums. Stories that sought to raise the bar for comic book storytelling. Stories that plumb the human condition, expand the language of comics – and shock your pants off . Extensively researched and painstakingly restored, this, True Believer, is the collection you've dreamed of – and a testament to two of Marvel Comics' greatest creators.
COLLECTING: JOURNEY INTO MYSTERY (1952) 74-96, STRANGE TALES (1951) 92-109, 112-113, TALES TO ASTONISH (1959) 27-48, TALES OF SUSPENSE (1959) 25-44, 46, AMAZING ADULT FANTASY (1961) 7-14, AMAZING FANTASY (1962) 15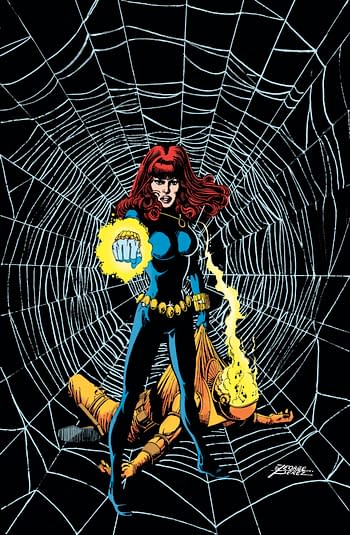 Black Widow Omnibus
April 7, 2020 Pages: 872
Collecting the complete early adventures, solo series and rare graphic novel appearances of the Black Widow! From her debut as a Russian spy through her early days with the Avengers and her character-defining solo series, the story of Natasha Romanoff is one of comics' most captivating. She evolves from villain to teammate and finally into a hero all her own. She plays the spy game and fights in the dark corners of the Marvel Universe. And not one of her foes will soon forget the sting of the Black Widow!
COLLECTING: TALES OF SUSPENSE (1959) 52-53, 57, 60, 64; AVENGERS (1963) 29-30, 36-37, 43-44; AMAZING SPIDER-MAN (1963) 86; AMAZING ADVENTURES (1970) 1-8; DAREDEVIL (1964) 81; BIZARRE ADVENTURES (1981) 25; MARVEL FANFARE (1982) 10-13; SOLO AVENGERS (1987) 7; BLACK WIDOW: COLDEST WAR (1990); PUNISHER/BLACK WIDOW: SPINNING DOOMSDAY'S WEB (1992); DAREDEVIL/BLACK WIDOW: ABATTOIR (1993); MARVEL COMICS PRESENTS (1988) 135; DAREDEVIL ANNUAL (1967) 10; FURY/BLACK WIDOW: DEATH DUTY (1995); JOURNEY INTO MYSTERY (1951) 517-519; MATERIAL FROM AVENGERS (1963) 16, 32- 33, 38-39, 41-42, 45-47, 57, 63-64, 76
Oh and yes, there's a lot of Black Widow about as well as that Omnibus… well, there is a movie on the way.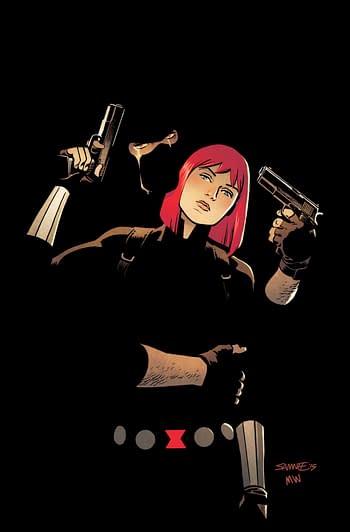 On Sale: March 17, 2020 Pages: 272
The award-winning creative team supreme that wowed you with DAREDEVIL will send your jaws to the floor with Black Widow! Mark Waid and Chris Samnee are taking Natasha Romanoff to new heights – by forcing her out on the lam! The world's greatest superspy has a lifetime of secrets – and when some of the darkest ones are made public, nobody is safe. As S.H.I.E.L.D. turns on its once greatest asset, the Widow seeks out her own answers in a knock-down,drag-out tale of action and espionage! But will Natasha's hunt for the Weeping Lion send her back to the one place she never wanted to go? There's an all-too familiar room, with a dark new name, in the Widow's future. And there awaits the deadly Recluse – who's fixated on proving her worth by killing Natasha!
COLLECTING: BLACK WIDOW (2016) 1-12
March 24, 2020, 208 pages
The world's greatest super-spy in her finest team-ups – alongside Spider-Man, the Thing, Daredevil and more! First, terror group the Sword of Judgment threatens the end of the world – unless Natasha Romanoff and Ben Grimm can stop them! Then, Spidey and the Widow form an arachnid double act to take on the Silver Samurai! But when they meet again, why does Natasha think she is a teacher named Nancy Rushman?! Maybe Nick Fury and Shang-Chi can help unravel the mystery of the Widow's double life! Plus, when a young man is wrongfully accused, Natasha must cross paths with old flame Daredevil. And it's all-out action when the Black Widow teams up with Silver Sable and Darkstar!
COLLECTING: MARVEL TWO-IN-ONE (1974) 10; MARVEL TEAM-UP (1972) 57, 82-85, 98, 140-141; MATERIAL FROM MARVEL COMICS PRESENTS (1988) 53,70, 93
March 17, 2020 84 pages
Marvel's international superspy, the Black Widow, stars in sensational postcards you can mail from your own globe-hopping adventures! Featuring key moments from throughout Natasha Romanoff 's history, as illustrated by many of Marvel's greatest talents – including John Buscema, John Romita Sr., Gene Colan, George Pérez, Frank Miller, J.G. Jones, Phil Noto, Chris Samnee and more! Whether she's on a solo espionage mission, working with S.H.I.E.L.D., joining her Avengers allies in battle or hanging out with one of her old flames like Hawkeye, Daredevil and the Winter Soldier, the deadly Black Widow is always the center of attention! And that's certainly true of these picture-perfect postcards that you can keep all for yourself or share with your friends. Send them from North America, from Europe – or from Russia with love!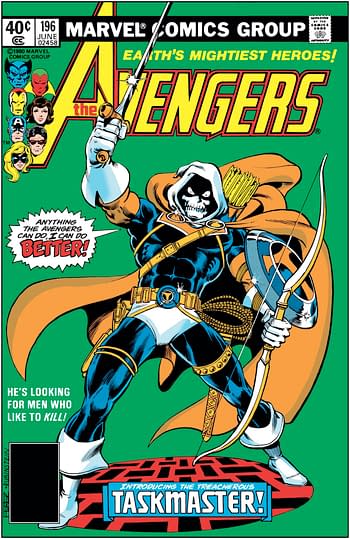 March 3, 2020 Pages: 352
He's the skull-faced villain who can copy any action he sees – whether it's Spider-Man's agility, Daredevil's fighting moves or Captain America's skills with a shield! That makes Taskmaster more than a match for anyone – even the Avengers! And to make matters worse, Taskmaster runs a training school for villainous henchmen! With the sweetest moves around and an army of thugs eager for extra credit, watch as Taskmaster clashes with a who's who of the Marvel Universe – including Spidey, Cap, Daredevil, Iron Man, Falcon, Hawkeye, Ant-Man, the Thing and Deadpool! Can any of them take him to task?
COLLECTING: AVENGERS (1963) 195-196, 223; MARVEL TEAM-UP (1972) 103, 146; THING (1983) 26; AMAZING SPIDER-MAN (1963) 308; IRON MAN (1968) 254; DAREDEVIL (1964) 292-293; DEADPOOL (1997) 2; HAWKEYE: EARTH'S MIGHTIEST MARKSMAN (1998) 1; AVENGERS (1998) 26; CAPTAIN AMERICA (1998) 44; MATERIAL FROM CAPTAIN AMERICA ANNUAL (1971) 11
Then we have the hardcover Marvel Masterworks volumes…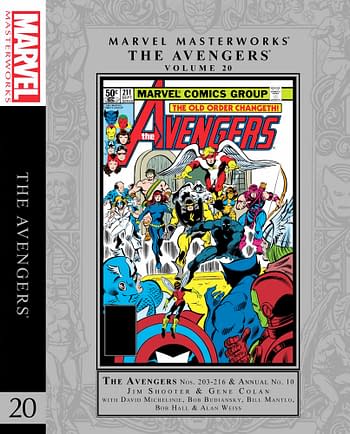 Marvel Masterworks: The Avengers Vol. 20
April 28, 2020 Pages: 384
It's a new era for the Avengers! The order changeth and a host of creative luminaries, including Jim Shooter, force Earth's Mightiest Heroes to contend with their most harrowing challenges ever! Skrulls, the Yellow Claw and the ancient Berserker are just the warm-up. The Avengers will also face a Ghost Rider bereft of any humanity – and the near-infinite power of the Molecule Man in a character-defining story! A whole new lineup, including surprise inductee Tigra, will emerge (but not without Moondragon's meddling) before the Avengers must put one of their own on trial after Hank Pym suffers a tragic breakdown. Also featuring Chris Claremont and Michael Golden's classic Annual co-starring Ms. Marvel, Spider-Woman and the X-Men – and introducing Rogue!
COLLECTING: AVENGERS (1963) 203-216, ANNUAL (1967) 10, MATERIAL FROM MARVEL SUPER ACTION (1977) 35-37
March 31, 2020 368 pages
Celebrating the women of Marvel, we present the debut of the one and only Dazzler! Leaping from the pages of X-MEN and AMAZING SPIDER-MAN, Alison Blaire, A.K.A. Dazzler, debuted in her own series – one of the comic book direct market's very first exclusive off erings – and put audiences on their feet. Equal parts pop star and super hero, Dazzler broke new ground and faced some of the Marvel Universe's greatest powers, from the Hulk to Doctor Doom and Galactus – all while fighting against a wave of anti-mutant hysteria! And as if that's not enough, Dazzler also pits her sound-based powers against Klaw, finds herself fighting for her life in prison and contends with every creep in the record business. Don't hold back, go for it – reserve your copy today! COLLECTING: X-MEN (1963) 130-131, AMAZING SPIDER-MAN (1963) 203, DAZZLER (1981) 1-13
March 3, 2020 448 pages
Chris Claremont, together with an absolute dream team of art talent – John Romita Jr., Arthur Adams, Barry Windsor-Smith and Dave Cockrum – brings you an indisputable Marvel Masterwork! Beginning with the earthshaking return of the Juggernaut, tensions rise as Professor X's health fails, a crisis of faith strikes Nightcrawler, and Storm ranges across the African savanna in the second "Lifedeath" masterpiece! Meanwhile, the X-Men and New Mutants are whisked away to Asgard to battle Loki and his minions in the all-time great "Asgardian Wars," illustrated by the incomparable Arthur Adams! Finally, the day of reckoning arrives as an international tribunal tries Magneto for crimes against humanity. Also featuring a swashbuckling saga starring Nightcrawler by X-Men icon Dave Cockrum!
COLLECTING: UNCANNY X-MEN (1981) 194-200, ANNUAL (1970) 9; NEW MUTANTS SPECIAL EDITION (1985) 1; NIGHTCRAWLER (1985) 1-4; MATERIAL FROM BIZARRE ADVENTURES (1981) 27
There are the Epic paperback big books…
March 31, 2020 496 pages
Cap like you've never seen him before! First, it's Captain America's landmark 400th issue – and while Operation: Galactic Storm rages around him, Steve Rogers must face a gauntlet of his most formidable foes! But will the cosmic conflict's fallout sunder the Avengers? Then, prepare for one of the wildest stories the Sentinel of Liberty has ever seen, as Steve is transformed into a howling mad Cap-Wolf! Other werewolves including Man-Wolf, Werewolf by Night and the New Mutants' Wolfsbane join the fur-flying fun – as do Wolverine and Cable! But who will be the leader of the pack? Plus, when Diamondback is captured by Crossbones, it's Cap and Falcon to the rescue! But where's D-Man? And Steve Rogers joins Frank Castle in a brutal battle for blood and glory!
COLLECTING: VOL. 18: CAPTAIN AMERICA (1968) 398-410, PUNISHER/CAPTAIN AMERICA:BLOOD & GLORY (1992) 1-3
March 24, 2020 464 pages
Magneto tears Wolverine's world apart! First, Logan intervenes in a Hydra experiment, but a nanite infection has unexpected effects on him! Then, Wolverine takes Rogue and Jubilee on a mission to the Savage Land – where Sauron has risen again! And in Australia, Wolverine and Jubilee battle a suddenly sentient Sentinel – and Jubilee confronts her past! Logan's world tour continues when he is lured to Tibet by a group seeking to claim his remarkable abilities! And Sabretooth takes the spotlight – but what is his surprising connection to Mystique? Finally, the X-Men face off against Magneto in a truly savage showdown – but when Magneto crosses a horrifying line, will Wolverine ever be the same again?!
COLLECTING: VOL. 6: WOLVERINE (1988) 69-75, WOLVERINE: INNER FURY (1992) 1, WOLVERINE: KILLING (1993) 1, WOLVERINE: GLOBAL JEOPARDY (1993) 1, SABRETOOTH (1993) 1-4, X-MEN (1991) 25
And then there are the writer-ficused Complete Collection lines…
March 10, 2020, 328 pages
The Daywalker returns to his never-ending hunt for vampires – courtesy of Marc Guggenheim and Howard Chaykin! Explore Blade's mysterious past and sink your teeth into his present – featuring Spider-Man, Dracula, Doctor Doom and…Santa Claus?! As Civil War rocks the Marvel Universe, Blade's blades clash with Wolverine's claws…but why does Logan seem so familiar? Then, because you demanded it: Hannibal King returns – and fangs are sure to fly in their mismatched buddy cop-style team-up! Blade heads to England seeking answers – but when all he finds is trouble, somebody's gonna pay! Guest-starring Union Jack! Plus: Not a hoax! Not an imaginary story! The death of Blade! And when Logan returns for a special rematch years in the making, there will be blood!
COLLECTING: BLADE (2006) 1-12, WOLVERINE VS. BLADE SPECIAL (2019) 1
March 3, 2020, 440 pages
One of the most powerful villains the Marvel Universe has ever seen changes everything for the Children of the Atom and Earth's Mightiest Heroes! Behold the psionic force of nature known as Onslaught – but what dread foe could terrify the unstoppable Juggernaut? As Cable battles Post, herald of the oncoming doom, Nate Grey faces a ghost from his past- and Onslaught gathers his forces! The Avengers join the X-Men to work out a battle plan – but could the answers lie with finding Magneto? And Charles Xavier has a troubling proposal for the Fantastic Four. But when Onslaught's identity is revealed, who will be the traitor to the cause?
COLLECTING: CABLE (1993) 32-33, UNCANNY X-MEN (1981) 333-335, X-FORCE (1991) 55, X-MAN (1995) 15-17, X-MEN (1991) 53-54, X-MEN UNLIMITED (1993) 11, ONSLAUGHT: X-MEN (1996) 1, AVENGERS (1963) 401, FANTASTIC FOUR (1961) 415
March 24, 2020 496 pages
Marvel's First Family encounter deadly new threats as they adventure across time and space! Like Hala's mightiest – the Kree Avengers! But who are the four familiar faces that lurk in the Negative Zone's Shadow City – and what will happen when they clash with Lockdown and Rosetta Stone? But the biggest threat of all comes from the FF's most fearsome foe, as Doctor Doom returns from Counter-Earth! He didn't come alone – and their cataclysmic clash will leave Mr. Fantastic in a dangerous and unexpected situation. But why is the Invisible Woman announcing her marriage to Doom?! Plus, Annihilus seeks revenge, the Ruined target Paris, the Frightful Four return, Namor the Sub-Mariner makes his play, the Shadow Hunters strike – and the truth about Valeria is revealed!
COLLECTING: FANTASTIC FOUR (1998) 16-32, ANNUAL 1999-2000
Another for the Mutant Milestones..,.
March 31, 2020
The biggest and best adventures of Marvel's mighty mutants – these are the X-Men Milestones! With no more mutants being born, the future of Homo superior has never looked bleaker. At the seeming end of their evolutionary cycle, a miracle arrives – in the form of the first child born with the X-gene since the tragic events of M-Day! But this sudden source of hope spawns a bloody, violent – and tragic – conflict for control over the baby girl's fate. It is a battle in which every mutant on the planet has a stake. The fight is on! Messiah Complex mines the rich tapestry of X-Men history for a dizzying thrill ride of suspense that sets a new course for the future of mutantkind!
COLLECTING: X-MEN: MESSIAH COMPLEX ONE-SHOT (2007), UNCANNY X-MEN (1981) 492-494, X-MEN (1991) 205-207, NEW X-MEN (2004) 44-46, X-FACTOR (2005) 25-27
The Legends paperback line gets another…
March 24, 2020 128 pages
Legendary storytellers come together to tell new tales featuring classic Marvel heroes from the world of the Avengers! As Peter David and Dale Keown reunite with their signature icon, Bruce Banner is tired of life and about to lose all hope, until a miracle occurs: a fight worthy of the Incredible Hulk! In the wake of his classic saga of the siege of Avengers Mansion, Roger Stern reassembles Earth's Mightiest Heroes to face their oldest foe, Loki – with reality itself at stake! Roy Thomas returns to World War II with the ever-valiant Invaders: Captain America, Namor the Sub-Mariner and the original Human Torch! And experience the myth and majesty of immortal Asgard – and the mighty Thor!
COLLECTING: INCREDIBLE HULK: LAST CALL (2019) 1, AVENGERS: LOKI UNLEASHED (2019) 1, THOR M80 (2019) 1, CAPTAIN & THE INVADERS: BAHAMAS TRIANGLE (2019) 1
And the artist spotlight titles…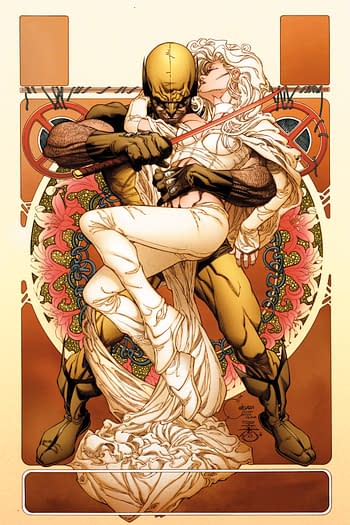 March 3, 2020 Pages: 12
Legendary creator and artist Joe Quesada has left an indelible mark on comics from AMAZING SPIDER-MAN to DAREDEVIL and more! Now, Marvel proudly presents twelve gorgeous, full-color reproductions of some of his most iconic works from the House of Ideas – all in a stunning hardcover case.
March 24, 2020, , 120 pages
Co-creator of GENERATION X, Chris Bachalo has proven himself to be one of the most popular artists in comics. His distinctive, quirky style has brought DOCTOR STRANGE, UNCANNY X-MEN, THE AMAZING SPIDER-MAN and more titles to many-splendored life for Marvel. The Marvel Monograph series captures the magic of Chris Bachalo's oeuvre from every angle in an artist study that will be a keepsake for your art book collection.
And a collection of Marvels that includes the new Epilogue
March 31, 2020
The timeless classic that changed the way we look at Marvel super heroes celebrates its 25th birthday in style! Kurt Busiek and Alex Ross' original tour through the early history of the Marvels – as captured through the lens of photojournalist Phil Sheldon – is collected in full, together with dozens of pages of brand new commentary from the two iconic creators! Then, Busiek and Ross reunite for an amazing new epilogue featuring the all-new, all-different X-Men in deadly battle against the Sentinels- with the now-retired Phil and his daughters caught in the middle! Plus, a behind-the-scenes look at the creation of the epilogue; scripts, sketches and scores of other bonus features; and a stunning gallery of MARVELS 25th Anniversary Tribute variant covers!
COLLECTING: MARVELS ANNOTATED (2019) 1-4, MARVELS EPILOGUE (2019) 1, MARVELS 25TH TRIBUTE VARIANTS