His run on Star Trek: New Visions may be wrapping up as IDW joins the comics industry in turmoil, but fans of legendary artist John Byrne will pleased to know that more Byrne goodness will be available in July. John Byrne's X-Men is getting an Artifact Edition from IDW, highlighting Byrne's work on the run with Terry Austin and Chris Claremont that remains one of the most popular of all time. From the press release:
Now IDW Publishing is proud to present John Byrne's X-Men Artifact Edition, a gorgeous 12" x 17" Artist's Edition style book featuring more than 100 pages of Byrne's X-Men work, each and every one scanned from the rare and valuable original art. The only way you could have a better look at these originals would be if you were sitting next to Byrne as he was drawing them!
"Even after all these years, it's the X-Men work I did with Chris and Terry that still resonates the most with fans." said Byrne in a rare public statement issued outside of his secluded ByrneRobotics internet fortress or ByrneRobotics' propaganda arm, the JohnByrneSays twitter account. "Hopefully when you all see the pages in this format you'll still feel the same way!"
"It doesn't get much bigger and better than John Byrne's X-Men," added editor Scott Dunbier. "This truly will be an event, one absolutely not to be missed!"
For a taste, check out the cover below: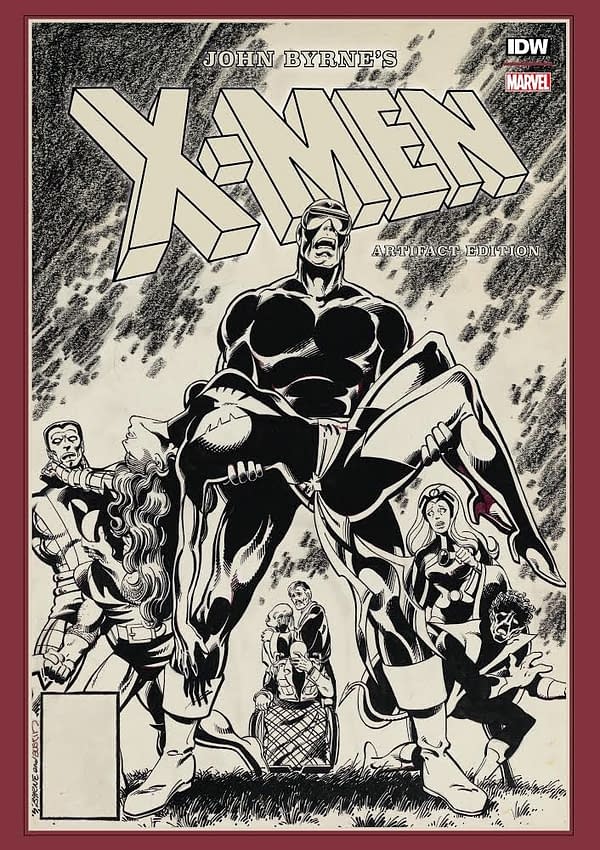 Enjoyed this article? Share it!