John Wagner Plans To Kill Off A Major Judge Dredd Character In 2000 AD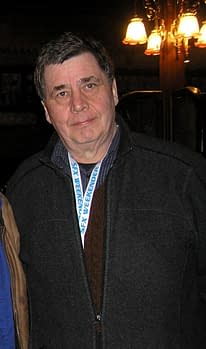 The co-creator of Judge Dredd, John Wagner, has said that he plans to kill off a major character.
Speaking on the latest episode of The 2000 AD Thrill-Cast podcast, Wagner said that although he tries to avoid killing beloved characters, he intends to dispatch a fan favourite in the near future.
"I'm about to kill an important 2000 AD character, but I don't normally do that anymore," he says in the latest Thrill-Cast episode.
"I've learnt my lesson about killing popular characters," he adds, referencing his and Alan Grant's decision to kill off popular mutant bounty hunter Johnny Alpha in Strontium Dog in 1989. "But one is going soon – I'm not going to say who – but watch out."
Wagner and Grant's killing off of Alpha was such a shocking event in 2000 AD history that it was even referenced in Simon Pegg, Jessica Hynes and Edgar Wright's award-winning sitcom Spaced. On the Thrill-Cast, Wagner admits it was because he and Grant wanted to put him beyond the reach of other writers, though he has subsequently brought Alpha back – a new series of Strontium Dog is currently running in 2000 AD.
There has long been fan speculation that Wagner plans to kill of his most popular character, Judge Dredd and in the latest episode the writer addresses his desire to see off the futuristic lawman. First published in February 1977, the strip in 2000 AD runs in 'real time' so Dredd has become a year older for every 12 months the comic has been published; now in his 60s or 70s, what the future holds for Dredd continues to be a hot topic of debate amongst readers.
The three-part Thrill-Cast interview with Wagner is one of the most extensive interviews with the Scottish-American writer, touching on everything from his early career in children's comics with Scottish publishers DC Thomson and his love/hate relationship with the industry, to his non-comics influences and plans for the future.
The Thrill-Cast is available on iTunes as well as Soundcloud and Podomatic.