Joker's Daughter Coming to Nightwing?
Since Scott Lobdell was announced at the new writer of Nightwing (with Fabian Nicieza scripting) in the wake of Benjamin Percy's sudden departure, fans have been wondering how Scott might make his mark on the book. Would we get a Starfire in a bikini? The return of Jonathan Carroll as he pushed his way up from being buried under Lois Lane's patio? What about a cameo from Bunker?
Well, all those things may well happen. But first, we have another of his favourites for the DC Universe making an appearance, the Joker's Daughter, first created by Bob Rozaskis and Irv Novick, the character who also posed as the daughter of Catwoman, Scarecrow, Riddler and Penguin before revealing she was Two-Face's daughter, Dualla Dent, and later taking the name Harlequin and joining the Teen Titans, and was an inspiration for the character Harley Quinn.
She was reinvented for the New 52 by Ann Nocenti and Scott McDaniel as a psychotic young woman living in the sewers who had found the severed face of The Joker and claimed the name for her own, and having the face stitched onto her own. She was a large part of the Red Hood/Arsenal comic written by Lobdell. She was also recruited as part of the Suicide Squad, much to Harley Quinn's objections.
Versions of the character have also appeared in the likes of DC Bombshells, Tiny Titans and Ame-Comi universes.
But she hasn't appeared in DC Universe continuity for a number of years. Well, looks like she will be back in upcoming issues of Nightwing, if this Chris Mooneyhan leaked cover is anything to go by.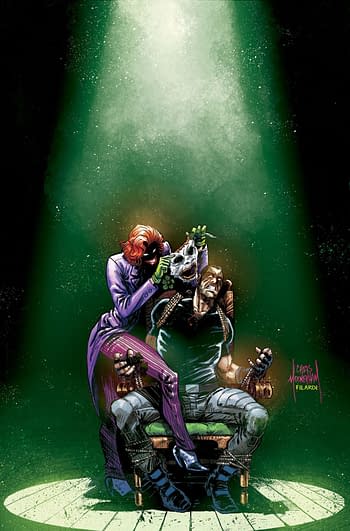 February, maybe? And hey, Ric Grayson, why so serious?
Originally invented by