Jumanji Meets Dungeons & Dragons with Image Comics' Debut of Die #1
The Wicked + The Divine writer Kieron Gillen teams up with artist Stephanie Hans and letterer Clayton Cowles to debut another tale of real world meets fantasy with their new collaboration from Image Comics, Die #1.
Hans hits the ground running with a visually striking cover and art to match from beginning to end, knocking her first ever series art debut out of the park. Strictly a cover artist on previous works such as Image Comic's Black Magic and DC's Batwoman, Hans lends an edge to this comic with her Alex Ross-esque cover and an aptitude for consistency from panel to panel.
Gillen sets the tone for the story initially set in 1991, where we are introduced to "The Stafford Six" – a group of tabletop roleplayers who disappear at the start of their campaign only to pop up on the side of the road worse for wear two years later. However, when six enter the game and only five return, readers are just as perplexed as our heroes when one bloody D20 die returns twenty-five years later. Now the game is back on, and they reluctantly reunite to enter the game and hopefully find the answers as to what happened to their ill-fated 6thparty member.
Arming each of The Stafford Six with a die and a character, the comic ends with a cliffhanger and an introduction to this new world of fear of fantasy.
Mystery and nostalgia intertwine for this fast-paced read, which will appeal to both gamers and comic fans alike. Initially inspired by the 1980's Dungeons & Dragons animated series, Gillen wanted to answer the question of "whatever happened to the D&D cartoon kids?" Hans succeeds with art that pulls the reader in as successfully and Gillen's writing, which feels like a Jumanji meets Dungeons & Dragons mashup.
Die releases monthly and is definitely worth the spot in a hold box, especially for readers who enjoy fantasy and nuance elements in their comics.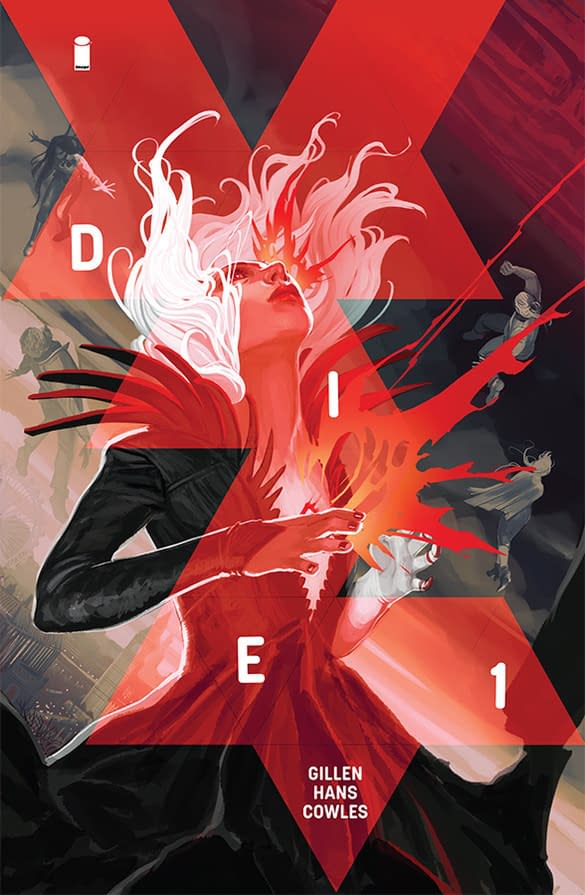 DIE #1
Written by KIERON GILLEN
Art by STEPHANIE HANS
Cover A by STEPHANIE HANS
Cover B by Jamie McKelvie
$3.99 | 31 pgs. | M
On Sale DECEMBER 5, 2018