Is This the Missing Justice League Comic? (Justice League of America #29 SPOILERS)
In a previous issue of Justice League Of America, the foundations were set.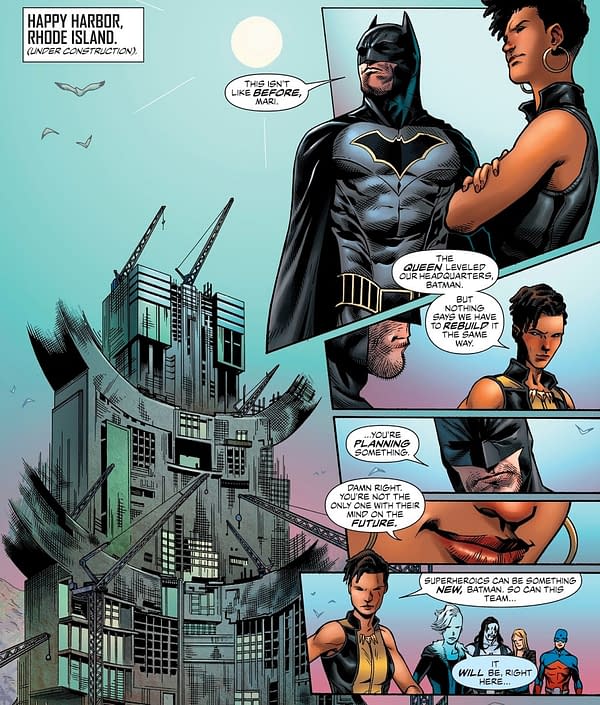 Ahead of the No Justice series, Justice League of America has been… postponed? Cancelled? It won't be back in this form, certainly. Well, the final issue, Justice League of America #29 out today has given a name and an idea to what may be coming…
JUSTICE LEAGUE OF AMERICA #29
(W) Steve Orlando (A) Hugo Petrus (CA) David Williams
"DAWN OF TIME" finale! Chronos has won. Super heroes are non existent in the new timeline he's manipulated into existence. The League will have to find each other, reform and fix the time stream or all of time will be at Chronos's command.In Shops: Apr 25, 2018
SRP: $2.99
With a little push from Promethea…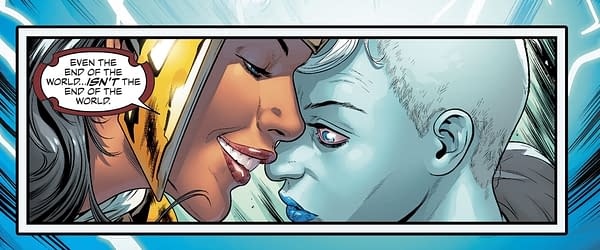 Vixen and Killer Frost talk about what is to come. A new Justice League based at Happy Harbor. The original home to the Secret Sanctuary headquarters of the Justice League of America from 1960. And somewhat separate from the Hall Of Justice being rebuilt – but could there be a dimensional door? But the JLA will no longer be a superhero team in the traditional sense of the word…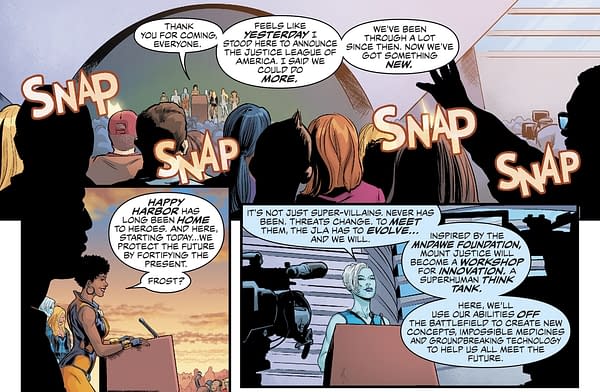 And we have a name and a cast-list. Lobo begone, but it looks as if this is what writer Steve Orlando – or whoever – may be steering out the other side of No Justice and the new Justice League series.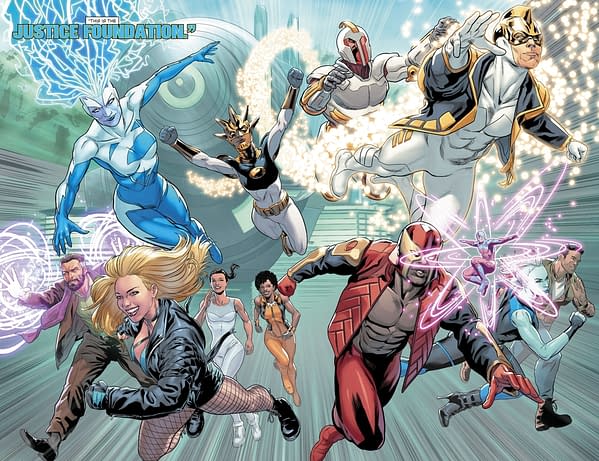 The Justice Foundation. Less a superhero team, more a workshop, a think tank, creating medicines, technology and solutions. But still for some reason, always running towards things with speedlines. Shame DC can't decide what to do with Poison Ivy, she'd be perfect for this…
DC Fresh Start?
Oh and yes, that's Mndawe Foundation as in Dominic Mndawe, the Freedom Beast created in Grant Morrison and Chas Truog's Animal Man, and turning up in a number of Steve Orlando comic books…
So… who wants to be the bunsen burner?