Justice League Annual #1 Lays Out The Immediate Future of the DC Universe
If today's Marvel Knights 20 #6 reminds you of The Matrix Revolutions (and it really does…) then today's Justice League Annual #1 has quite the Pirates Of The Caribbean: At World's End feel to it, as the eight Pirate Lords Justice Leaguer gather to release the god-like being who was captured and imprisoned time immemorial ago, Calypso, Perpetua.
Sorry, wrong clip. There she is.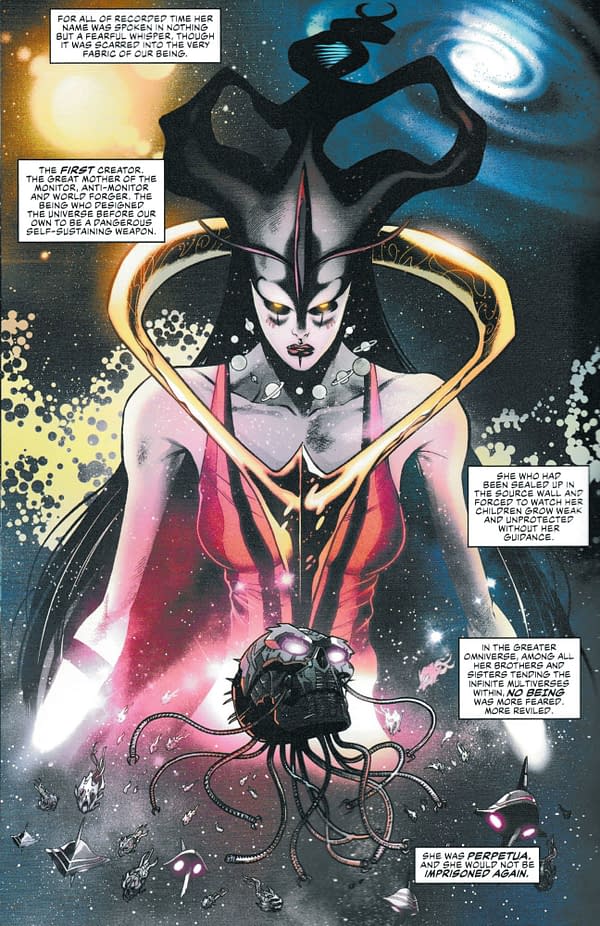 And DC Comics has a new most-powerful character in the omniverse. And the Source Wall is aflame. And this is how it's breaking out all over the DC Universe as a result of… cosmic stuff.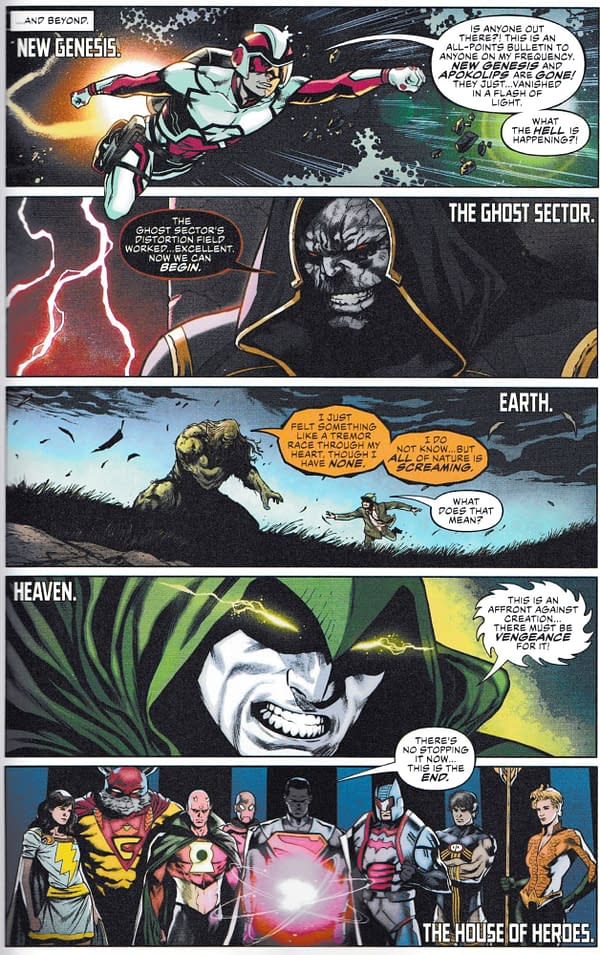 So… the worlds of the New Gods have gone, the Ghost Sector of Justice League Odyssey are hiding themselves, Swamp Thing is having a stroke over in Justice League Dark, Heaven will be taking vengeance on the DC Universe, and the Justice League Of The Multiverse are back.
Say, you know when we said there would be a new Spectre series written by Peter Tomasi? Could this be where it begins?
JUSTICE LEAGUE ANNUAL #1
(W) Scott Snyder, James TynionIV (A) Daniel Sampere, Juan Albarran (CA) Yanick Paquette
The Source Wall has degraded too much, and the League must patch the hole right now or the whole Multiverse will collapse! Our heroes scramble for a solution and turn to the only thing that might work: the Omega Titans! The only problem? They killed the Entropy Titan back in JUSTICE LEAGUE: NO JUSTICE. Whoops…but never fear! Kyle Rayner, Miss Martian and Steel-from the non-planet-eating Titans team-guest-star with a plan to create a new Entropy Titan…one that's so crazy it just might work.In Shops: Jan 30, 2019
SRP: $4.99