Today sees the release of No Justice – and in all DC Comics titles out today, they get this Brainiac teaser, Omega Titans Live, talking about the new threat to the DC Universe… and setting up the threat of four big pre-creation gods competing with each other for who seeded best. Basically, it's like competitive parents on sports day. If they then ate the kids afterwards.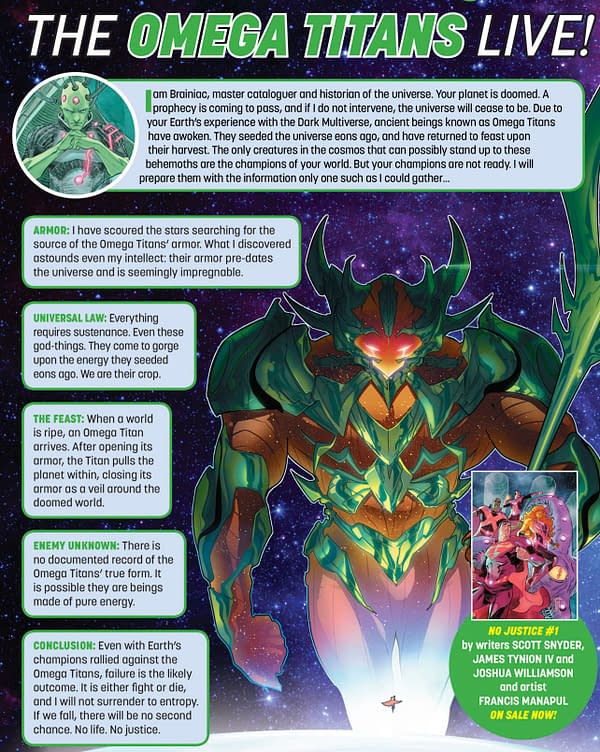 Okay so, purely guesswork but… I presume that the Omega Titan in question is vulnerable when in mid-feast and its armour is opened up. Which might be handy given Amanda Waller's action in No Justice #1.
Okay, there are small spoilers for Avengers: Infinity War here. And, for that matter, for No Justice #1, out today. Specifically the role of Amanda Waller, head of Task Force X, or Suicide Squad.
And, as Earth's mightiest heroes and villains are gathered to take on the Omega Titans somehow, Amanda Waller does her best impersonation of Star-Lord in Infinity War.
Who, at the moment when everyone was working together and were just about to seize victory, taking the Infinity Gauntlet from the almost omnipotent, gets all up in Thanos' grill, knocks Mantis away from having mental sway over the Titan and sees Thanos grab the Gauntlet back.
So, in No Justice, Brainiac sets out the threat to all those assembled.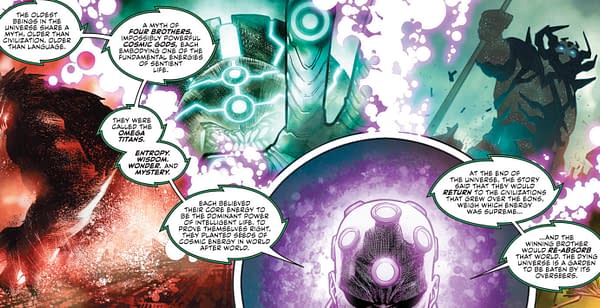 With the Entropy, Wisdom, Wonder and Mystery Omega Titans.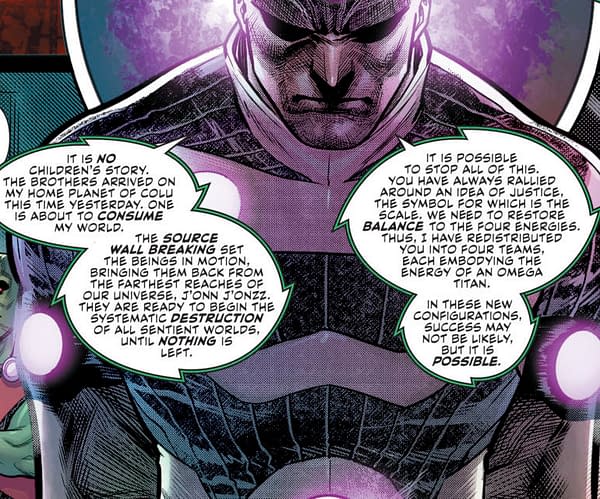 And the plan is coming together. Brainiac has worked out the one way in which the heroes can win against seemingly impossible odds. Except he hasn't countered on one other aspect.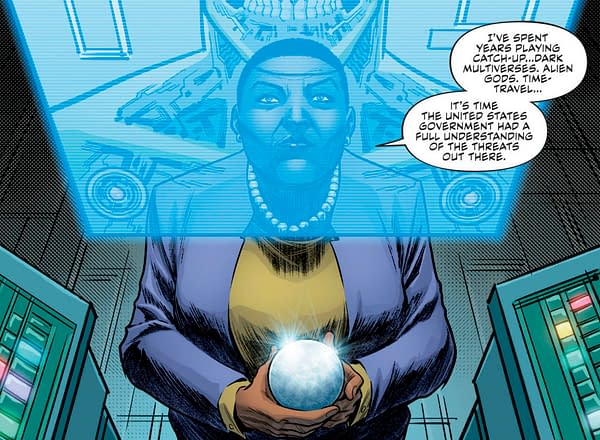 Oh Amanda…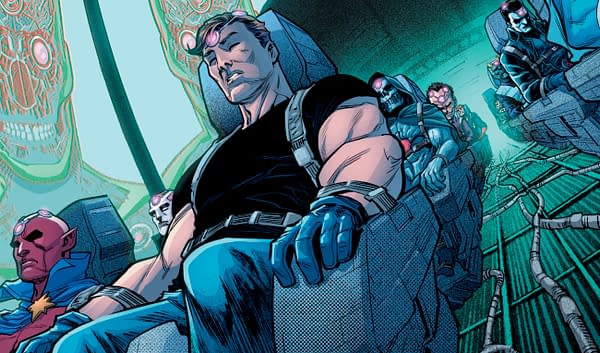 …you totally had to Star-Lord this, didn't you?
JUSTICE LEAGUE NO JUSTICE #1
(W) Scott Snyder, James Tynion IV, Joshua Williamson (A/CA) Francis Manapul
DARK NIGHTS: METAL left the DCU transformed in ways both terrifying and wondrous-and only the Justice League is strong enough to face the threats to come…or are they? Four giant beings comprised of the universe's major energies-Mystery, Wonder, Wisdom and Entropy-who sustain their life force by devouring planets are on their way to destroy the planet of Colu. The only way to take down this unimaginable threat is for the superhero teams of Earth to forget everything they thought they knew and form new alliances. What secrets of the cosmos will Superman, Martian Manhunter and Team Mystery discover? Will Zatanna, Wonder Woman and Team Wonder awaken alien magic they cannot put back to sleep? What can Harley Quinn possibly have to teach the rest of Team Wisdom? And most importantly…why the heck is Beast Boy on Team Entropy with Lobo and Batman? Find out all this and much more in the most exciting, bombastic event of summer 2018! In this kickoff issue to the four-issue miniseries, after Brainiac systematically takes down all of Earth's super-teams, the last thing the League expects is for him to ask for their help! Without their aid, his home planet and the universe are both doomed! In Shops: May 09, 2018 SRP: $3.99
Enjoyed this article? Share it!