At the IDW and Hasbro panel at San Diego Comic-Con today, IDW revealed some upcoming creative teams for transformers comics. Writer Sam Maggs tweeted a photo of the teams, revealing that she will write a storyline for Transformers: Galaxies spinoff series which launches in September. In addition to Maggs' story, which appears in Transformers: Galaxies #7-9, the series will see a storyline in Transformers: Galaxies #5-6 by Kate Leth and Cohen Edenfield, with another storyline in Transformers: Galaxies #10-12 by Brandon Easton.
ALSO: ENHANCE!!!! pic.twitter.com/5fbfiWO7uf

— Sam Maggs (@SamMaggs) July 18, 2019
Leth also commented on the announcement, tweeting:
Ohhohoho you thought I had no SDCC announcements, but I do – @skullmandible and I are writing a Transformers story! Together!!! https://t.co/Viv2y2Eatc

— Kate Leth 🏝 (@kateleth) July 18, 2019
They are also extremely good at robot jokes, I cannot stress that enough

— Kate Leth 🏝 (@kateleth) July 18, 2019
More details could be forthcoming over the weekend, so stay tuned to Bleeding Cool for all your San Diego Comic-Con needs.
TRANSFORMERS GALAXIES #1
JUL190686
(W) Tyler Bleszinski (A/CA) Livio Ramondelli
Cybertron, a planet of vast beauty and extraordinary cities, wasn't always so perfect. After the War Against the Threefold Spark, Cybertron was decimated, and new bots-the Constructicons-emerged to help rebuild it grander and more amazing than ever before. But where are these bots now? Why have they been erased from Cybertron's history? And what are they planning to do about it? Find out in "Constructicons Rising," Part One!
* Written by one of the founders of Vox Media, Tyler Bleszinski!
* An all-new series set in-universe, exploring the many characters and ideas in the Transformers galaxy!
* A spotlight on the Constructicons and their ultimate destructive form-Devastator!
* The bold new era continues!
* Exploring the Transformers universe beyond Cybertron!
In Shops: Sep 25, 2019
SRP: $3.99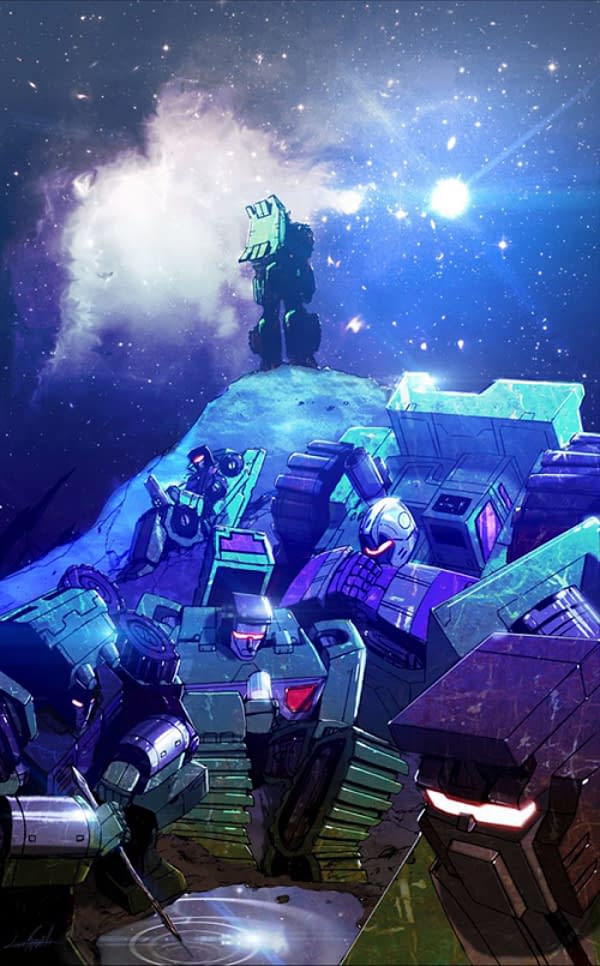 Enjoyed this article? Share it!