Keeping The Massive Secret With Brian Wood – Writer's Commentary On The Massive #28 Brian Wood writes,
MAJOR SPOILERS AHEAD – I'd advise anyone to not only have read the series up to this point, but also this week's #28 before going any further. The Massive is a 30-issue series leading up to a very specific reveal, and today we're going to be talking about this reveal.
I wanted to write a few words about these last three issues. I'm pretty proud not only of the comic we've* all worked hard to produce, but also proud of the fact we've kept the secret of the book to ourselves for all this time. I tell people: the ending of The Massive IS The Massive, it re-frames the whole book and puts everything into a new context.
(*And by "we", I mean Garry Brown, Jordie Bellaire, Jared K Fletcher, John Paul Leon, Kristen Donaldson, Gary Erskine, Declan Shalvey, Danijel Zezelj, Dave Stewart, Sierra Hahn, Jim Gibbons, Spencer Cushing, and everyone else at Dark Horse Comics that help this book month in and month out.)
Pages 1-3 The slabs. It's the best term of all the internal, unofficial words I've used to describe these things. What the hell are they? I'll get into that in #29. This issue is mostly about the Mary part of the mystery.
Next time you see Garry at a convention, strike up a conversation about ugly, creepy crawly sea creatures. He loves them.
Seriously, what are the odds of two people, Garry and I, writing a series about the ocean when both of us are so profoundly terrified of it that we won't wade in past our shins?
Pages 4-5
When I was ending DMZ I used to think to myself how happy Riccardo Burchielli will be to never open a script and see the phrase "full page splash of a wartorn New York City" again. Same applies here with Garry and "huge tsunami wave".
On the title page, this was an idea that came to me late in the game and I wish I could have made an entire arc about it. The idea of brand new land, I mean really pure land appearing in the middle of an environmental crisis, and in the span of HOURS, mankind completely ruins it forever. It's the perfect encapsulation of the last couple hundred years of human abuse of the environment.
Page 6-7
Lars and Ryan are The Massive's power couple. I like them because they are young and so stupidly idealist. Lars has been on the ship for longer, but they both represent the idea of Ninth Wave, and are probably most loyal. But they've gotten dragged around for thirty issues by their elders who keep muddying the situation with their demons and past sins. Still, if there is a future for Ninth Wave and for the ship, it probably lies with Lars and Ryan.
Fact: the number of emails I've gotten asking how Ryan maintains that hair color during a global collapse: 3
Page 8-11 This is some really meaty stuff, a really difficult scene to write as the "father" of these two characters. There's so many emotions on display here, and as someone who had lost a loved one to cancer, I have experienced ALL of these emotions, taken all of these points of view at one point or another. I sweated my way through this script. But not literally, that would be gross.
The shortest version of Mary and Mag's history is rooted in jealousy. Mag and Callum go back much further, sharing a 'brothers in arms' bond and there is a older/younger brother relationship that borders on father and son. Mary, who is newer on the scene, is Callum's second in command and most trusted advisor. Mag is delegated to "security" and resents the hell out of it.
Callum's dying. They're here walking through a drowning South African township looking for drugs to make his death as painless as possible. Mag's in a tremendous amount of pain. Mary, to her credit, absorbs his anger and lets it run its course.
Page 12-13 This is a deep flashback. You have to go back to the second short story in Dark Horse Presents, or the back of the first trade, to see the bit when young Mag nearly drowns, and it saved, or so it seems, by some ocean spirit. In the original story, this ocean spirit appears as a woman sharing Mag's Sri Lankan features.
Here, its Mary. It was always Mary. In the same way that Mary was present at the point of Callum's enlightenment to the plight of the earth, Mary was present for Mag's. She's always been there, for the both of them.
Page 14
Only logical reaction is to puke your guts up. Because there are two ways to look at this: Mary as a benevolent guide, a guardian angel. Or Mary as a total puppet-string puller, having manipulated Mag for the last thirty years of his life… to some end, as per some agenda?
He fears it's the latter. Page 15-17
Humans ruin everything.
Page 18-22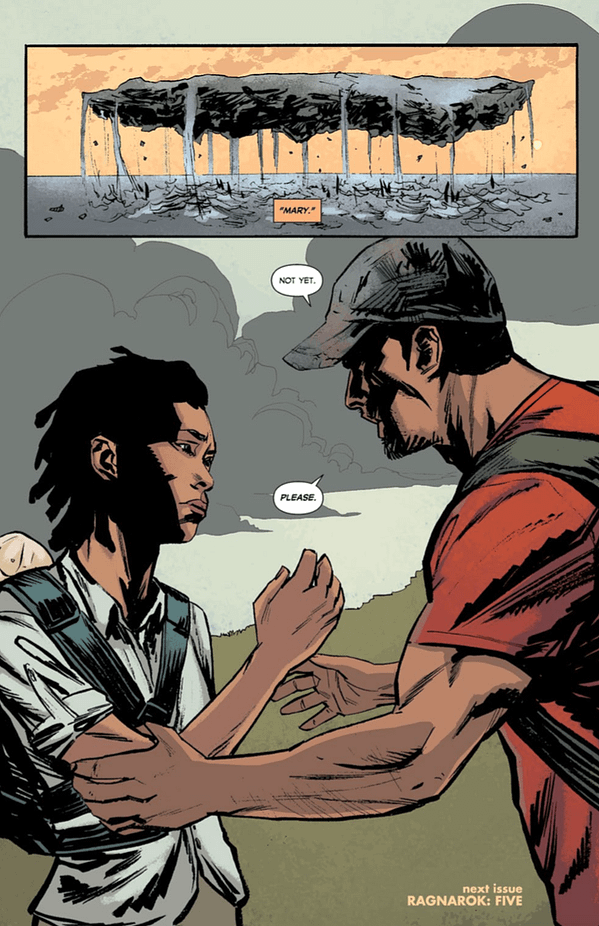 This is the tip of the big reveal ending, like I said. Mary not as a Gaia figure or a Mother Nature goddess… its more plain cloth than that. In my original pitch I described her as a sort of "surface buoy" for …something underneath the water, keeping an eye on conditions, monitoring the actions of this new species, humans, who seem to be acting recklessly.
This is profoundly "sci-fi" for a series that didn't seem to start off as one. But this was the series bones from conception to now, and if you are so inclined, skim back and spot all the clues – some obvious, some less obvious, that function as a big blinking arrow pointing right at this scene here.
It's the start of the re-branding of The Massive as a post-apocalyptic action comic to something that resembles creation mythology. With Mary in the pivotal role.
"Mary."
More on that, and the answer to Mag's question, next issue.
The Massive is published by Dark Horse Comics.