The first issue of Kick-Ass by Mark Millar and John Romita back in 2008 went to four printings. Although that last was known as the Umpteenth Printing. Because it was sillier that way.
Ten years later, the new Kick-Ass by Millar and Romita, featuring a new Kick-Ass in the suit, has a new #1. And a new series out this week. And a new sell-out and second printing…
Look for it in stores on the 14th March, a week before Kick-Ass #2 is out.
KICK-ASS #1 CVR A ROMITA JR
(W) Mark Millar (A/CA) John Romita
KICK-ASS IS BACK-ready to wipe out the city's criminal lowlives, destroy its gangs, and save its communities from decay. But there's a new face beneath the old mask, a new figure wearing that famous green and yellow spandex. Who is this new vigilante superhero? Who can fill Dave Lizewski's shoes? WHO IS THE NEW KICK-ASS? Find out in the first issue of this new, ongoing monthly series. Comic book legends MARK MILLAR and JOHN ROMITA, JR. reunite for the next chapter of the greatest superhero comic of all time.
SRP: $3.99
KICK-ASS #2
(W) Mark Millar (A/CA) John Romita
KICK-ASS IS BACK.
Patience returns from combat to find her husband gone and her neighborhood in ruin. By day, she waits tables and goes to college. By night, she pulls on a mask and becomes Kick-Ass-serving justice to local scumbags and taking a cut of their cash. With every bust, her list of enemies gets longer, and the city's worst criminals are out for her blood. Hyper-violent, high-octane brilliance KICK-ASS team, MARK MILLAR and JOHN ROMITA JR.In Shops: Mar 21, 2018
SRP: $3.99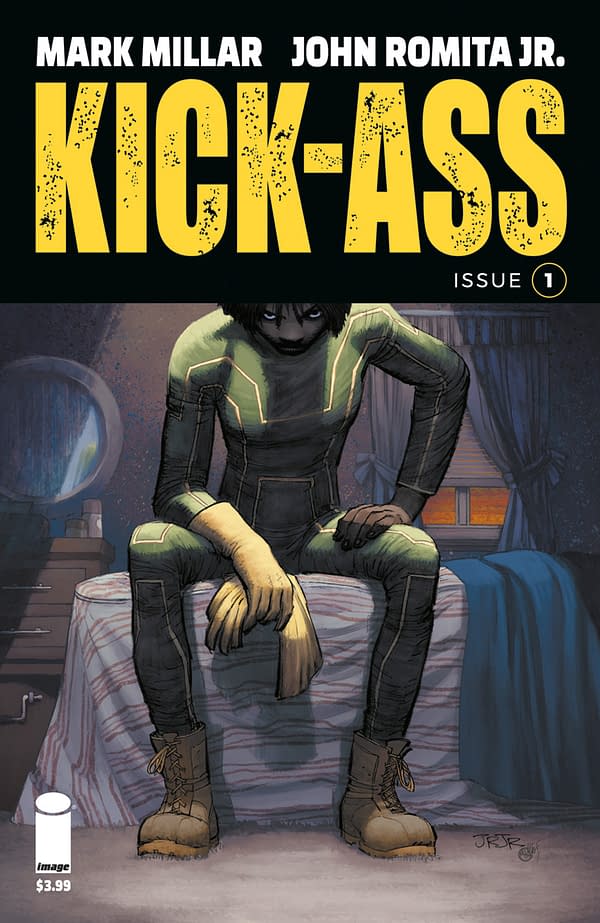 Enjoyed this article? Share it!