Bleeding Cool's Kickstarter Correspondent, Shawn Demumbrum has lead three Kickstarter campaigns to launch comic books, two successfully funded and one that wasn't. Each week he will point out some of the unique Kickstarter projects that wouldn't normally be published by the big comic book companies, but deserve your attention. Shawn is the Manager of Comic Book Programming for the Phoenix Comicon. He is currently working on the Nothing Can Stop Me Now: Stories Inspired by the Songs of Nine Inch Nails.
Kickstart From The Heart is not associated with the Kickstarting From The Heart panel at San Diego Comic Con. They didn't even invite Shawn…
This week, we talk to Sanford Green. Sanford is known for his Anime style of art that you may have seen in his previous work on Marvel Adventures: Spider-man or Ame-Comi Batgirl. His latest project, 1000, is microseries of animated shorts based upon his creator owned property. We talk to him about the Kickstarter project and his personal motivation to bring it to light.
Tell me about 1000.
1000 is a world where aliens, warlocks, zombies, warlords, ancient beasts, and all manner of entities exist. These entities have each carved out territories around the world that they call their own. A cold war stands between them and casts the rest of the world into chaos.
Dragon Son, a supreme entity banished and sentenced to 1000 acts of repentance, is left to wade through the chaos. He is joined by six other protagonists who are all that stand in the way of keeping the cold war from obliterating the last remnants of civilization.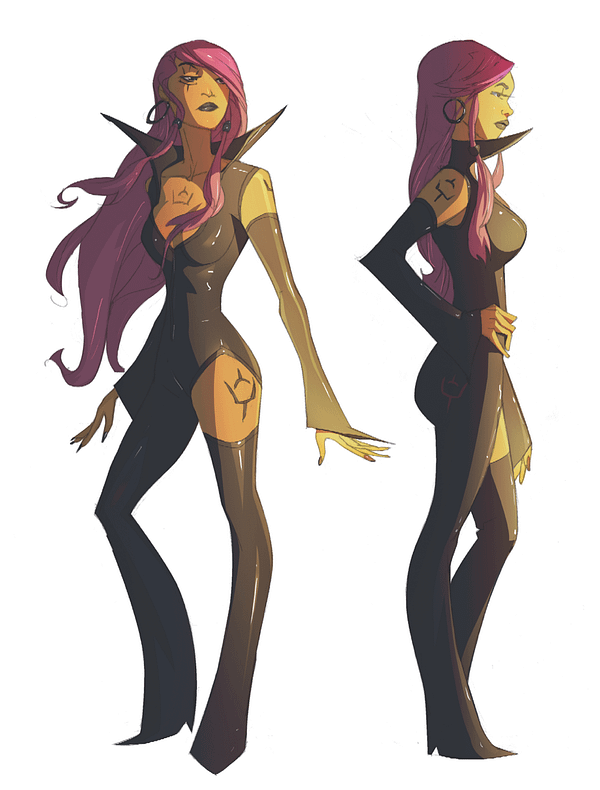 1000 seems to be a story of redemption for the main character and the team members. What role does redemption play in bringing together and binding these disparate characters? Was it always conceived as an animation project? What makes this right for animation?
The concept of redemption is always an interesting element when bringing a character or characters full circle. Dragon Son's original form is a dragon and he along with his kind reside peacefully in the "Realm of Dragons". They are guardians and overseers to all kind. Dragon Son along with his kind keep what is left of Earth from spiraling into even greater depths. A reckless, selfish act has caused Dragon Son to be bound into the form of a man and exiled among human kind, who are considered the lowest form of species because of their recklessness and selfish nature. To return home and to his true form he must perform 1000 acts of repentance. His path of repentance will lead him to 6 other beings that are on a similar path. Those other beings are aware of Dragon Son's purpose. They are called "Agents" and are charged with secretly policing the world and Dragon Son because of what he could mean in the long run to the world.
"1000" was not always an idea for animation. I along with a close friend of mine, James Bruce Brown, came up the concept almost 20 years ago. Our plan was to create a comic or graphic novel. Sadly, he passed away from cancer and we never got a chance to see it come to fruition. As the years passed, I wanted to produce a comic or graphic novel to honor his memory, by producing the project we longed to do. That's when I had the idea of it being animated. I realized that it would be great animated because of the richness of the world. Every possible form of mythos exists in this world and it would be great to see that world come to life through animation as well as a graphic novel.
Why Kickstarter?
Long story short, we were offered a deal by an entertainment company that would have made it hard to maintain the quality in the animation we wanted. So, my studio and I decided it would be in our best interest to seek a better budget or funding. I noticed the success of many kickstarted projects. I began to study and ask tons of questions about the crowdfunding format Kickstarter offers. After a few months of information gathering, I began to execute a plan to launch my own campaign. The conclusion I came to as to why I needed to go this route is: 1) I can control my content on the ground level, build a fan base and maintain my rights. 2) I can employ my studio without the stress of only working on this project when they had free time. 3) I can honor my friend, Bruce, because this is something we did together and I want to feel like he is still apart of this.
There are 8 animation shorts. 7 shorts that introduce the characters and 1 short that shows them as a team. Are these shorts the beginning of a bigger animation project?
That is our hope. Once we are done with these 8 shorts, we can then revisit any other opportunities. We may have an announcement about some future opportunities at Comic Con.
One of the rewards is a soundtrack to 1000. Are these original songs? How did this come together? How does the trip hop relate to the mood of the story?
All of the songs are original and produced by a good friend of mine who prefers to go by his producer name "Dose". I had the idea to create a soundtrack because I wanted "1000" to have more depth to it. Soundtracks are great because they are like a continuation of the story. I was always fascinated by how well produced the anime soundtracks were. I saw the animation "Samurai Champloo" and was blown away by soundtrack. That was a huge influence for me to produce a soundtrack to accompany the "1000" animation and graphic novel. I have known Dose for a while and always loved his style of production. So, I reached out to him and we came together. I showed him the animated shows "Samurai Champloo", "Afro Samurai" and a few others. We discussed the marriage between hip hop, animation and comics. He was also blown away. Dose was always interested in doing a project like this. He is a comics fan as well so that gave us both extra motivation to make the soundtrack happen. He took my design, illustrations and story premise and began to produce music that was based on the mood and thoughts that came to him as he read the concept. I thought it would be great to make it feel like it's an anime/hip hop soundtrack. Once we agreed on the sounds, we had a completed soundtrack!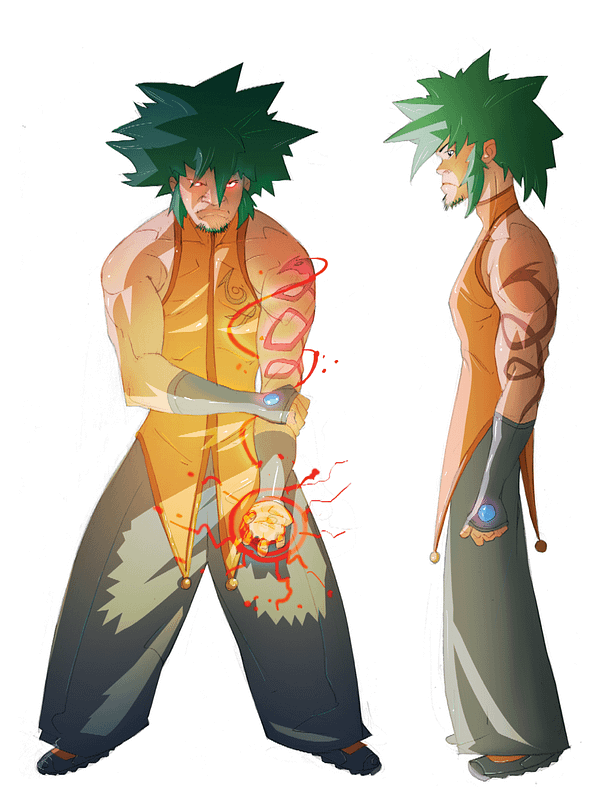 Some Kickstarter projects get funded in a few days and others take the full campaign time to get funded. It appears, according to Kicktraq, that your projects is slowly and steadily making its way toward the goal. What are you doing to maintain that steady momentum?
We are working diligently to get the word to as many people as possible through Tweeting, Facebook posting, and Instagraming several times a day. I have podcast interviews with Word Balloon, Comic Geek Speak, Pat Loika, The Dollar Bin, this awesome site called Bleeding Cool News, and much more! I am also doing some promotional things for up coming Comic Con that we will be announcing in the days ahead. It doesn't hurt to make a few phone calls as well.
What would you say to someone sitting on the fence about your Kickstarter project to convince them to pledge?
The last few years since my friend passed away were a roller coaster of emotions deciding where to go with this project. It dawned on me that I must do it myself in order to see it come to light sooner than later. The more I began to create, the more I wanted to make this happen and the more it started to become a reality. There's nothing more gratifying than putting in all your efforts into something you believe and the see it come to fruition. That's a story that anyone could relate to. I hope with all of your help we can in some way all relish in that feeling of accomplishment!
You can see pictures and bios of the other 1000 characters at Sanford's Kickstarter project page.
Enjoyed this article? Share it!