Timothy Westfield writes,
In 2013, a comic book publisher named Jesse Grillo, operating as Bleeding Ink Productions, used the crowdfunding platform Kickstarter to fund several comic books with a promise on several campaigns to deliver those books to the backers that supported each campaign. Unfortunately for many people that pledged money to support these campaigns, Bleeding Ink Productions failed to deliver and ultimately closed its doors while simultaneously walking away with the money that was pledged to those campaigns.
These types of practices have made it much harder for legitimate indie creators and publishers who use crowdfunding platforms like Kickstarter responsibly to have successful campaigns.
In 2017, another publisher named Vince White, operating as The Powerverse, employed similar practices as Bleeding Ink Productions by funding multiple campaigns for comic books without delivering. The only difference is that The Powerverse focused on creator owned titles, and used the creators for the books populating The Powerverse as tools for marketing each campaign with The Powerverse collecting all of the money and promising to handle fulfillment. Facing backlash from supporters of the campaigns and feeling wronged by the false promises of Vince White and The Powerverse, creators Nigel Flood, Alfred Paige and Daniel Kalban transitioned their titles, The Globalists, C.H.E.S.S. and American Dreams (respectively) away from The Powerverse to indie publishing company Short Fuse Media Group who showcased a proven track record of releasing their books and completing fulfillment from their crowdfunding efforts.
The team at Short Fuse Media Group wants to make sure that the backers of those previous campaigns from The Powerverse at least receive the books that they were promised. To assist in this effort, Short Fuse Media Group has returned to Kickstarter with a mini (two weeks only) Kickstarter campaign called "Bringing ALIGNMENT to the Indieverse". One of the campaign highlights revolve around reward tiers for "Previous Backers" that offer the printed or digital books for just $1.00 (plus a small shipping fee). As with many of their previous campaigns, Short Fuse Media Group promises that rewards will begin shipping the week that the campaign ends. The campaign was 100% funded in its first two days and is scheduled to end on July 1st.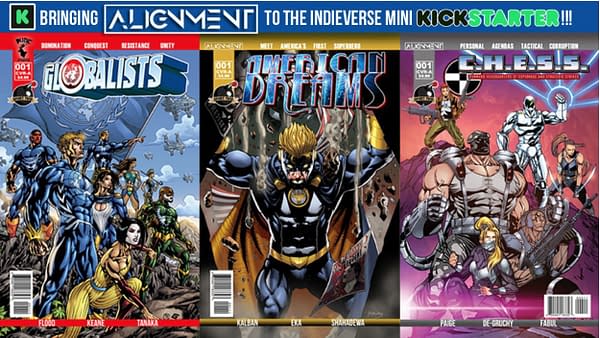 Enjoyed this article? Share it!