Kieron Gillen and Dan Mora's Once & Future #1 Limited Edition Debut at SDCC is $65 on eBay
Last week we told you that it's Doctor Kieron Gillen vs The-Then-Not-Yet-A-Doctor Kieron Gillen as Once & Future #1, kicking off his new series with Dan Mora from Boom! Studios, was tracking to potentially eclipse Die #1, the 2018 launch from Image Comics with Stephanie Hans. But not its sivth issue.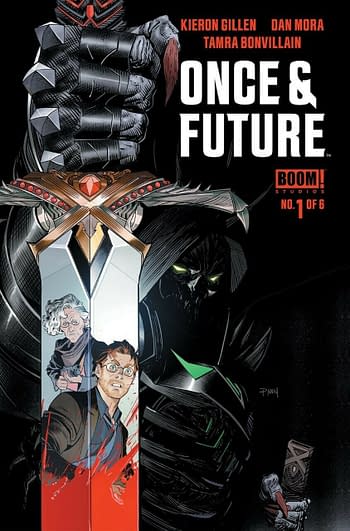 And then the next day Image Comics announced a new printing of Die #1 after their previously announced "Final Print."
As Boom! Studios and Image Comics fight to one up each other at SDCC with Kieron Gillen appearing at both their booths, panels and meetings, here is Boom!'s latest volley. The publisher recently sent this to members of their Boom! Guarantee Program in their weekly newsletter:
We're nearly 1 week away from SDCC, and I hope to see you either at the ComicsPRO annual meetup or the Diamond Retailer Appreciation Lunch! If you are there, please make sure you find me at the Diamond Retailer Appreciation Lunch as we will be giving retailers an Exclusive Advance Edition of ONCE & FUTURE #1 ahead of FOC to inform your orders — and give you a fantastic read for the journey home!
I'm told this is the full version of issue #1, with the same cover as Once & Future #1 though with some messaging to indicate it's an advance version. Boom! Studios promised no variant covers on the series as a challenge for retailers to "buy into what you believe" and I suppose this technically doesn't break that promise since it's an advance copy that's available in very limited amounts at SDCC before the comic even FOCs on July 22.
But speculators are clearly seeing it differently… because that comic is already listed on eBay with bods of $65 with three days to go.
For the fans who want to get their hands on this advance edition, there's some hope at SDCC – namely the Boom! Studios: Discover Yours panel from 3-4pm on Friday where it seems safe to say the surprise they're teasing panel attendees will be getting their own free copies of this book nearly a month before it goes on sale.
And perhaps some of you lot will remember your Uncle Rich and fetch him a copy?
Once & Future #1 is on-sale in comic shops August 14th. And free to a very limited amount of you this week at SDCC, it appears.
Your move, Image Comics…