Kitty Pryde – the New Red Queen of The Hellfire Club?
The Marauders is one of the six titles spinning out of House Of X and Powers Of X, by Gerry Duggan and Matteo Lolli.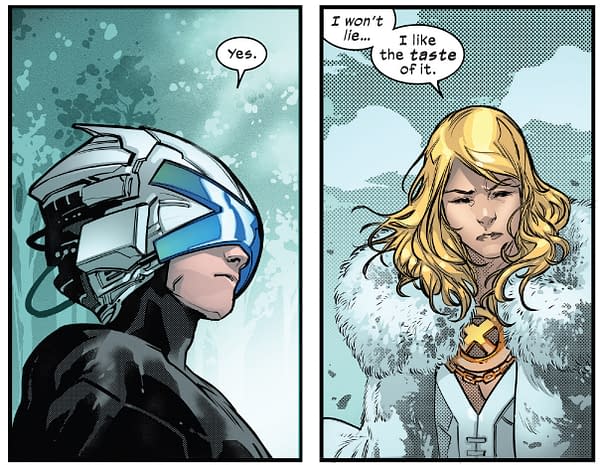 And today's House Of X establishes a new Quiet Council of Krakoa.

With Emma Frost and Sebastian Shaw for the Hellfire Club.

Well, Emma Frost demanded one more seat for her co-operation.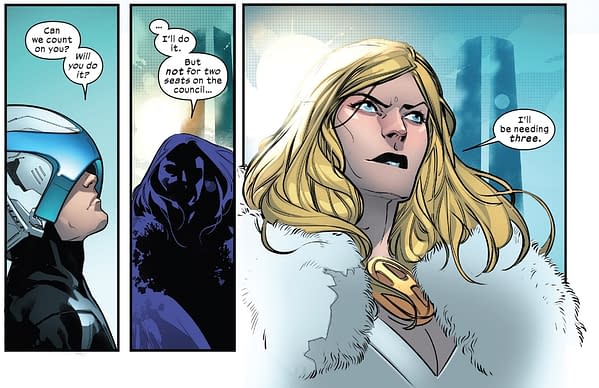 But the membership is blacked out on the accompanying verbiage.

Well, solicitations for The Marauders may suggest who that might be. Solicitations that is, and the writer of The Marauders, Gerry Duggan…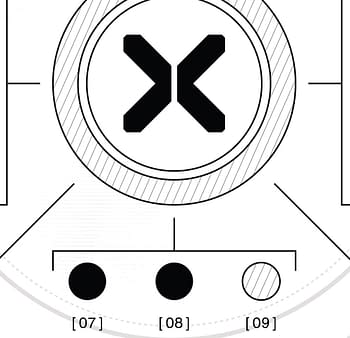 Who tweets out the word, just as The Marauders #1 is going to Final Order Cut-Off this weekend…
So that's Kitty Pryde then. Sorry, Kate Pryde. Krakoan Quiet Council member and Captain of the high seas, of the Hellfire Trading Company…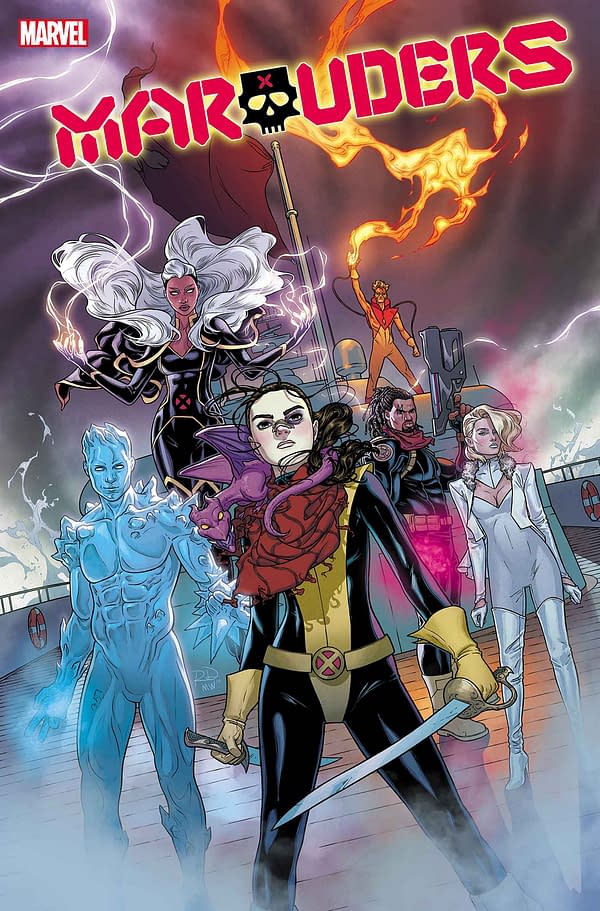 MARAUDERS #1 DX
(W) Gerry Duggan (A) Matteo Lolli (CA) Russell Dauterman
THE X-MEN SAIL AT DAWN!
Even in this glorious new dawn, Mutantkind faces hardships and oppression from their human counterparts. Led by Captain Kate Pryde and funded by Emma Frost and the Hellfire Trading Company, Marauders Storm, Pyro, Bishop and Iceman sail the seas of the world to protect those hated and feared!
Rated T+In Shops: Oct 23, 2019
Final Orders Due: Sep 30, 2019
SRP: $4.99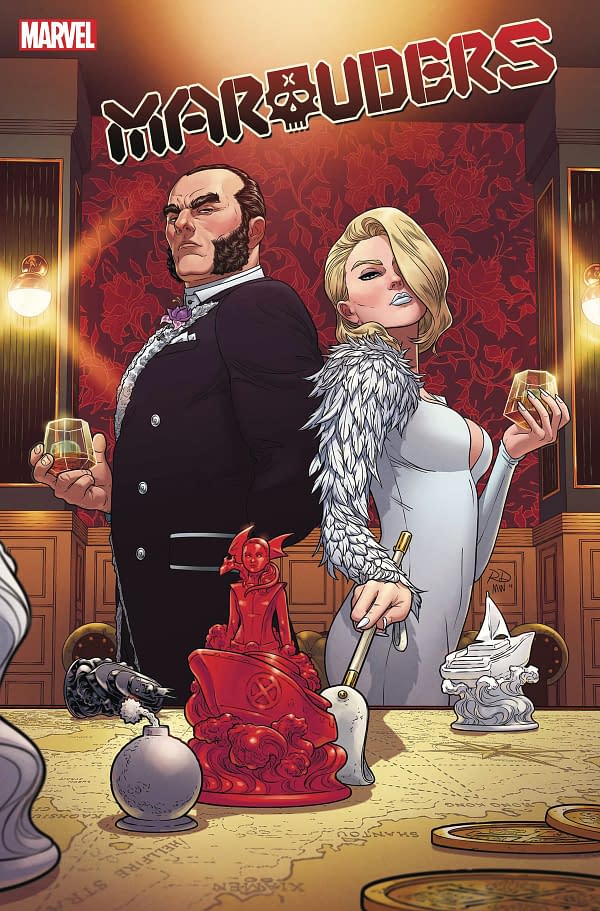 MARAUDERS #2 DX
(W) Gerry Duggan (A) Matteo Lolli (CA) Russell Dauterman
The Hellfire Trading Company has control of Mutant trade on the seas… but that doesn't mean its Inner Circle is done stabbing one another in the back. As Captain Pryde and her Marauders sail on, the real cutthroats are back home…
Rated T+In Shops: Nov 20, 2019
SRP: $3.99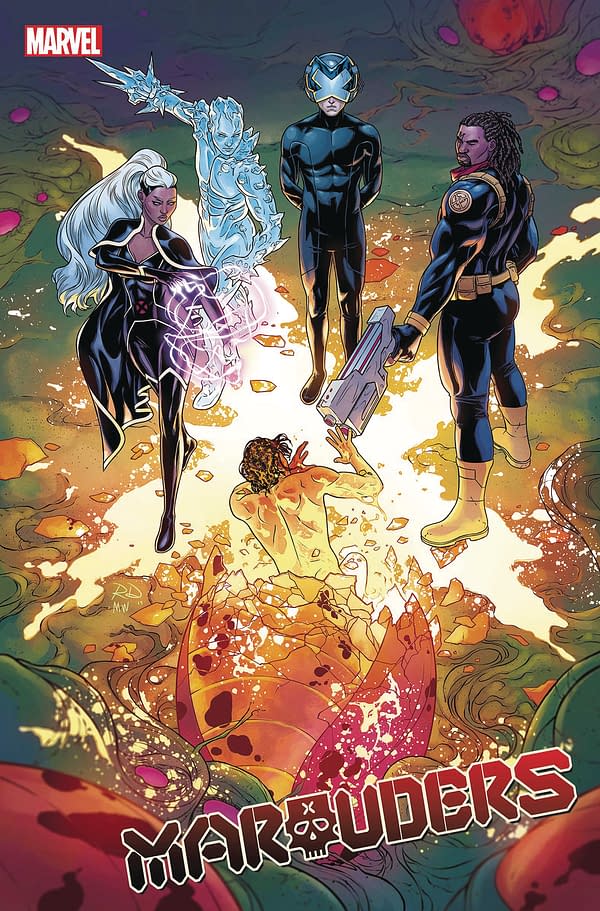 MARAUDERS #3 DX
(W) Gerry Duggan (A) Michele Bandini (CA) Russell Dauterman
SALT WATER & HELLFIRE! THE NEW BLACK BISHOP OF THE HELLFIRE CLUB!
Sebastian Shaw recruits a new Black Bishop continuing with his machinations against the two Queens of the Hellfire Club! Meanwhile, Captain Kate and her Marauders wreak havoc on the high seas from the Atlantic to the Pacific in the name of the mutant cause!
Rated T+In Shops: Dec 04, 2019
SRP: $3.99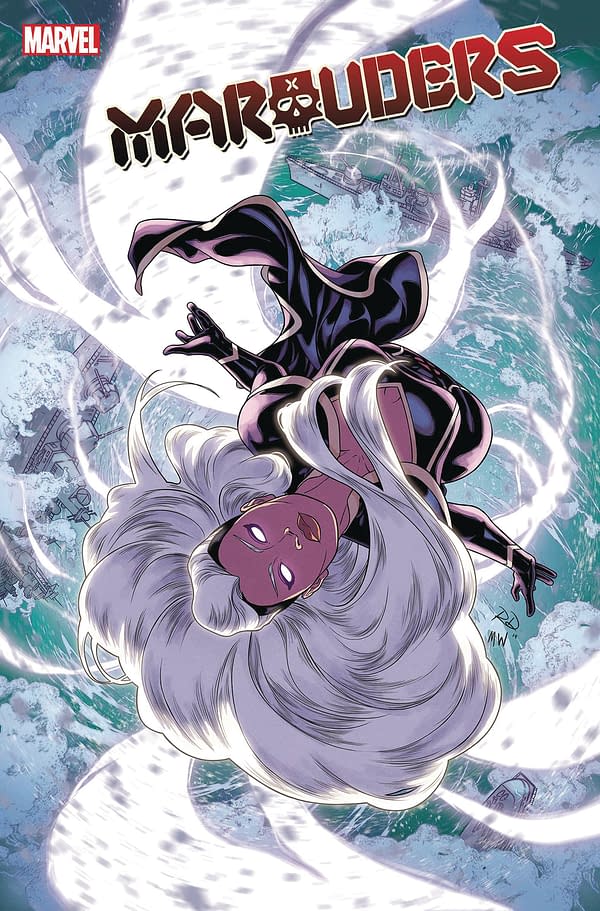 MARAUDERS #4 DX
(W) Gerry Duggan (A) Lucas Werneck (CA) Russell Dauterman
SALT WATER & HELLFIRE! THE NEW BLACK BISHOP OF THE HELLFIRE CLUB!
Sebastian Shaw recruits a new Black Bishop continuing with his machinations against the two Queens of the Hellfire Club! Meanwhile, Captain Kate and her Marauders wreak havoc on the high seas from the Atlantic to the Pacific in the name of the mutant cause!
Rated T+In Shops: Dec 18, 2019
SRP: $3.99