The largest publisher in Japan, Kodansha, has been involved in publishing manga for decades. The large company is associated with Walt Disney and serves as an official sponsor for Tokyo Disneyland and established Kodansha Comics in 2009, bringing its immense manga library to many other countries. Three months ago, izeno, an international online platform, added some Kodansha manga to its library. Now, that library of Kodansha titles on izeno has expanded to four hundred different titles available on the platform.
Kodansha's library of manga titles is known worldwide. From Attack on Titan to Fire Force, Battle Angel Alita, Fairy Tail, Ghost in the Shell, The Seven Deadly Sins, Space Brothers, and izeno will include these and many more in several different languages worldwide. izeno can be accessed at its website and on the izeno ap on iOS and Android devices as well as the Nintendo Switch and Android TV. However, to access the full library contents, an izeno premium subscription will be required.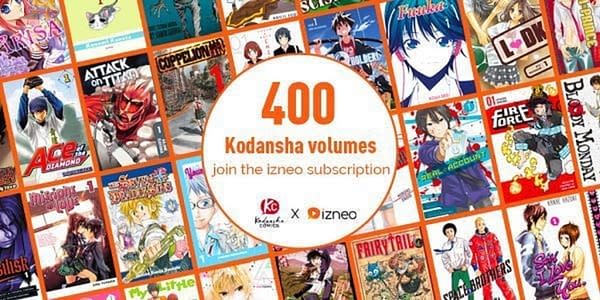 As manga publishers have tried to continue to keep profits up with a shrinking print publishing market in Japan and worldwide, this move makes sense for Kodansha as they try to expand their online presence. The izeno, service in addition to Kodansha's vast manga library, offers comic books ranging from Transformers to G.I. Joe, to comics based on the Pathfinder RPG (titles published by IDW and Dynamite, in the U.S., respectfully). However, the service does not seem to be yet set up for U.S. subscribers as the cost is still set in Euros for English language usage.
The full press release follows below:
More Than 400 Kodansha Comics' Manga Joins The izneo Premium Subscription Scheme
June 25, 2020 — Paris, France / New York, NY – 3 months after the arrival of Kodansha Comics in its catalog, izneo, the global online comics platform offering Comic books, European Comics, Mangas and Webtoons, is proud to announce that more than 400 manga titles will join the 1800 digital comics already available in the izneo Premium subscription scheme.

The reader community will discover unmissable shonen series like Attack on Titan, Battle Angel Alita, FAIRY TAIL, LDK, The Seven Deadly Sins, Space Brothers, UQ Holder, and a lot more. Shojo fans will also be fulfilled by (re)discovering best-selling series such as Missions of Love, Fuuka, Arisa, and more.

All these manga titles can be read on the website izneo.com on the izneo app on Android, iOS, Nintendo Switch, and Android TV.

«We're thrilled to expand our support of izneo beyond our current library of fan-favorite titles, by offering more than 400 volumes as part of their izneo Premium all-you-can-read subscription service,» said Alvin Lu, Kodansha USA Publishing President, and CEO. «By giving manga fans the freedom to try as many Kodansha Comics & VERTICAL series as they can read, we're sure that they'll find several new series to fall in love with! »

«We are delighted to welcome these most prestigious manga series from Kodansha USA Publishing within our subscription scheme. They will undoubtedly allow us to reach new English-language digital comics readers on the many screens we are deploying our offer,» said Luc Bourcier, izneo Chief Operating Officer.

Readers can subscribe to izneo Premium subscription scheme and get unlimited access to over 2200 books from renowned publishers. Once they have subscribed, they can enjoy their readings on the website izneo.com, on izneo app Android, iOS, Nintendo Switch, and Android TV.
US and European Comics, Manga, Webtoons: Access to over 1,800 albums from amongst the izneo catalog!
New releases every week: Adventure, Heroic Fantasy, Romance, Sci-Fi, Children's: there's something for everyone!
No strings attached: Subscribe and stop the izneo Premium offer whenever you want.
A new reading experience: Choose the reading mode that's best for you: panel by panel using eazycomics, HD full-screen, or vertical scroll.
New adventures!: Read exclusive stories that are available only on izneo and are specifically designed for on-screen reading.
For more information about izneo premium subscription, head over to https://www.izneo.com/en/subscription.

You can also discover our full manga catalog here: https://www.izneo.com/en/manga.
About Kodansha USA Publishing, LLC
Established in New York in 2008, Kodansha USA Publishing (KUP) is a subsidiary of Kodansha, Japan's largest publisher. Its manga imprint is Kodansha Comics, which began by releasing Katsuhiro Otomo's Akira and Shirow Masamune's The Ghost in the Shell. Today, thanks to hits like Attack on Titan, Pretty Guardian Sailor Moon Eternal Edition, Noragami, and FAIRY TAIL, it is now the No. 2 manga publisher in the United States by revenue. VERTICAL, which publishes fan-favorite manga titles like Chi's Sweet Home and BLAME!, as well as the popular MONOGATARI novel series, is also an imprint of KUP. Both Kodansha Comics and VERTICAL are distributed by Penguin Random House Publisher Services. http://www.kodanshacomics.com
About izneo
Izneo is the first global online comics platform. Available at all times on the following screens; Computer, Smartphone, Tablet, Nintendo Switch, and Nvidia Shield, Izneo offers to discover, read and acquire the most extensive catalog of comics, European comics, mangas, graphic novels, and Webtoons. On top of an ever-growing catalog, Izneo also provides recommendations from other readers and the very best digital reading experience out there!
Enjoyed this article? Share it!