Attack On Titan Creator Declares He's in the Final 5% Stretch
The creator of Attack on Titan, writer-artist Hajime Isayama, declared on a Japanese talk show that he is currently at the final 5% stretch of the manga story.
As reported by Otaku USA Magazine, Isayama was a guest on Shin Joho 7days Newscaster when he said that there is currently about "5%" left of the manga to complete. He did not reveal how many pages or chapters that 5% translated into, though. The manga serial runs monthly rather than weekly like most manga, and each chapter takes up an average of 45 pages.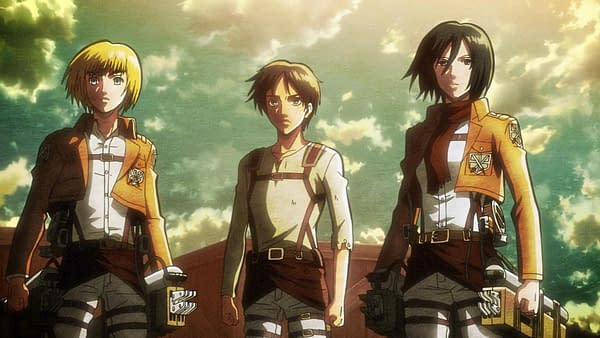 When asked how he feels about ending the series he started in 2009 that's become an international hit, Isayama said, "I feel like I want to finish it," and "It feels like I'm nearly at the end of a marathon."
The "last 5%" of a story in a manga series can mean anything, really. This is a comics scene that can devote tens if not literally hundreds of pages to a single fight scene to stretch the story out for as long as possible. The final two volumes of Lone Wolf and Cub were devoted to a single, final duel between Ogami Itto and Yagyu Retsudo that never let up. It was possibly the longest fight scene in the history of comics. It also achieved a sense of epic, tragic grandeur that novels and cinema often strive for. More lighthearted Shonen-oriented manga series like Dragonball, Bleach, and Naruto have continued that tradition of long, elaborately-orchestrated action sequences that last for dozens of pages. Dragonball Ultra, that series' latest iteration, is doing exactly that in its current serialization. These usually translate into fairly faithful anime adaptations, especially the action sequences.
Attack On Titan's long action sequences is possibly the most ambitious in current comics. They're emotional rollercoasters of hope, despair, last-minute rescues, unexpected twists, tragic downturns, then sudden searches of hope again, and not always in that order. The manga's later chapter is currently at 129 and features what's left of the Survey Corps in a desperate race against time as to escape from an island full of enemies and set sail for a destination to halt the end of the world. It's all very apocalyptic, as usual.
The next season of the anime adaptation of Attack On Titan will be its last. It'll be interesting to see whether it gets to adapt the same ending as the manga's.
Isayama also said on the show that he wants his next manga series to be a comedy, and he would like to build a sauna. He has grown to like saunas.
Attack on Titan is published in the US by Kodansha.