Today sees the publication of another three Dawn Of X comic books – X-Force #3, Fallen Angels #3, New Mutants #3 – but how much of a part of the ongoing Krakoan story are they? Well the books differ in tone and allegiance. Fallen Angels is probably the least so. Today's issue – as well as an art style that on occasion resembles stickers in a kid's book, with characters peeled off and placed over backgrounds…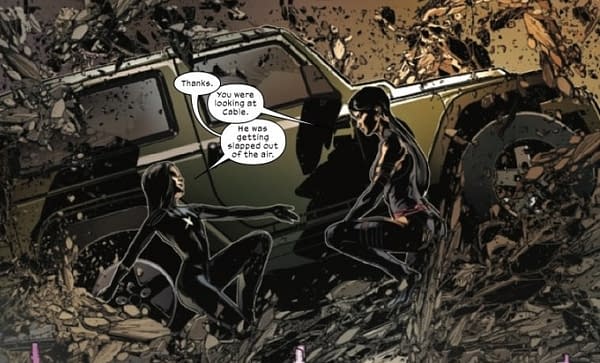 And then ripping a bit of the sticker off…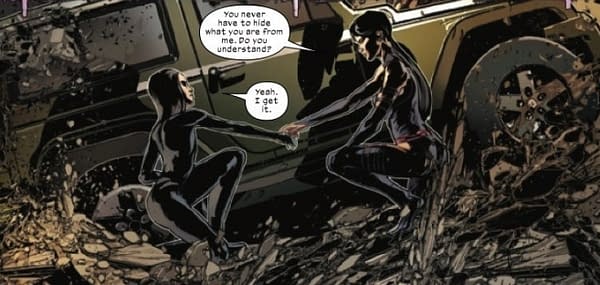 The book makes it clear that Psylocke and Laura's story as a separation to it not enjoyed by the other titles.
Whereas a book like New Mutants is very attached. We were told that this is foreshadowed for Sunspot…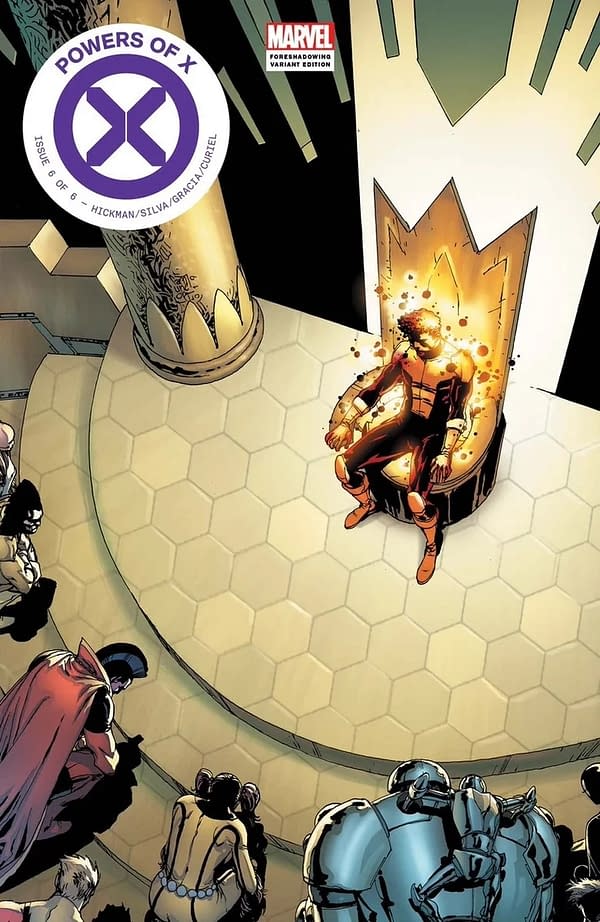 But issue 3 takes a break from the cosmic and gives us those left behind on Earth finding a couple of old friends.
Last time we saw Barnell Bohusk, the Dutch X-Man known as Beak, he was still depowered after House Of M and using technology to make up for his loss. He now appears to be all mutant again, with his wife Angel and their six children. Also he now seems to have a Nebraska family heritage rather than Holland but it is his other family which are calling from him now.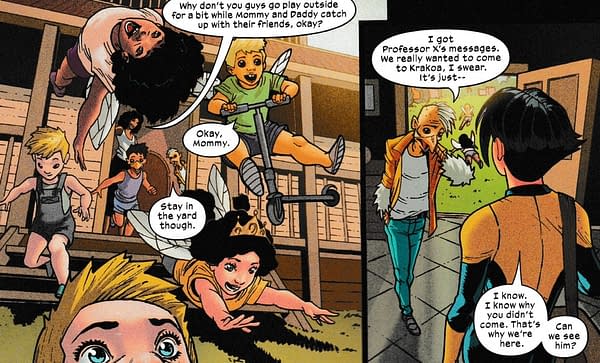 He does get the Professor's messages, but does he know what happened to Charles on the island? Maybe he doesn't have to, as it is JEan Grey who steps up to fill the role vacated by Xavier with his death.
And used her big chin to do what is necessary. And reminding us of her own history of death and rebirth.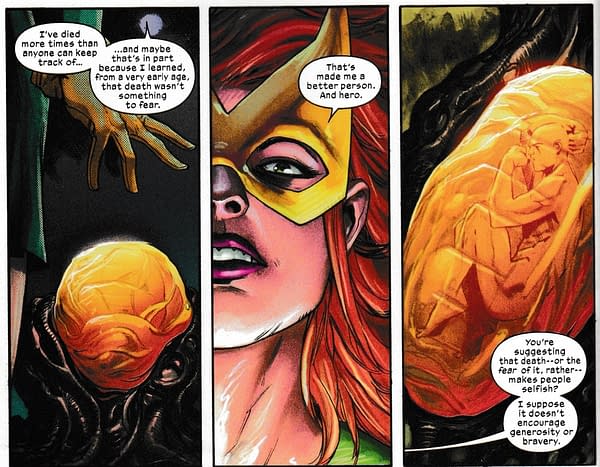 He dies. He gets better. But he does have much less of a pacifict nature than he ever had. Is something rotten in the state of Krakoa?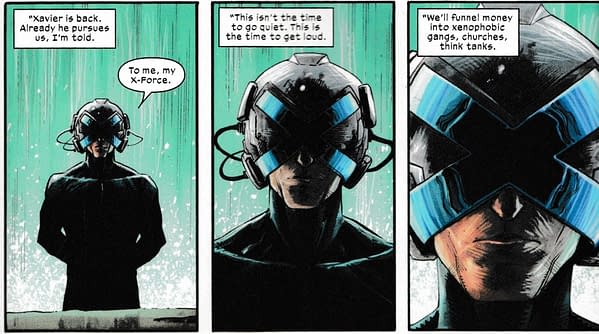 Is this a dagger he sees before him? The handle towards his hand?
You know, quote a few people who have liked to have seen that scene with Forge and the Professor drawn. In fact,I bet quite a few are doing their own version right now…
NEW MUTANTS #3 DX
(W) Ed Brisson (A) Flaviano (CA) Rod Reis
THE FUTURE COMES KNOCKING!
While the original New Mutants are off in space, the rest of the youth of Krakoa begin to make the future they want to live in. First up – Armor's outreach party, seeking young mutants who have chosen not to come to Krakoa.
Rated T+In Shops: Dec 11, 2019 SRP: $3.99

FALLEN ANGELS #3 DX
(W) Bryan Edward Hill (A) Szymon Kudranski (CA) Ashley Witter
APOTH APPROACHES! PSYLOCKE'S PAST THREATENS HER NEW TEAM!
Psylocke's past continues to haunt her as she molds her companions into a fighting force… But can they take on the children of Apoth?
Rated T+In Shops: Dec 11, 2019 SRP: $3.99

X-FORCE #3 DX
(W) Ben Percy (A) Joshua Cassara (CA) Dustin Weaver
THE BEST DEFENSE…
TARGET: ALL ENEMIES OF MUTANTKIND!
First, the new team strikes back against the humans who took one of their own. Then, with its orders established, the new X-Force hits the ground running, taking on deadly threats targeting mutantkind's rightful place in the world…
Parental Advisory In Shops: Dec 11, 2019 SRP: $3.99
Z-Force #3, Fallen Angels #3 and New Mutants #3 are published by Marvel Comics today in all good comic shops. I bought mine from Piranha Comics in Kingston-Upon-Thames. Piranha Comics is a small south London comic store chain with a small south-east store in Kingston-Upon Thames's market centre, which runs Magic The Gathering nights on Fridays, and a larger south-west store in Bromley, which also runs Magic nights and has an extensive back issue collection and an online store. If you are in the neighbourhood, check them out.
Enjoyed this article? Share it!