Now Lex Luthor Attacks Donald Trump in DC's Year Of The Villain #1 (Spoilers)
Today sees the beginning of DC's Year Of The Villain, and with Scott Snyder, Jim Cheung and Tomeu Morey showing us Amanda Waller of Task Force X, the Suicide Squad, on her way to speak with the President Of The United States in the White House about a certain Lex Luthor, a man who once in DC Comics continuity, sat in that chair in the Oval Office.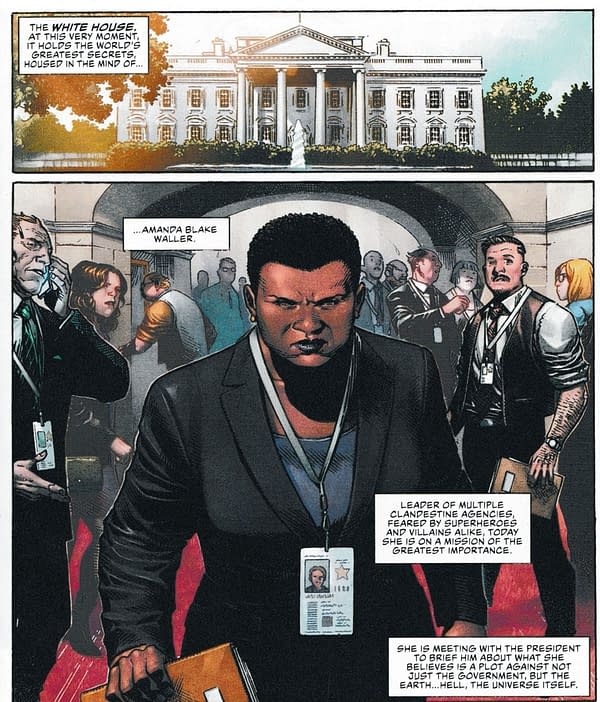 We've seen Trump as President of the USA in Suicide Squad before (below) but this time we don't even get to see the back of his head.

And Amanda Waller has shown some appreciation for Trump in office in Suicide Squad before as well.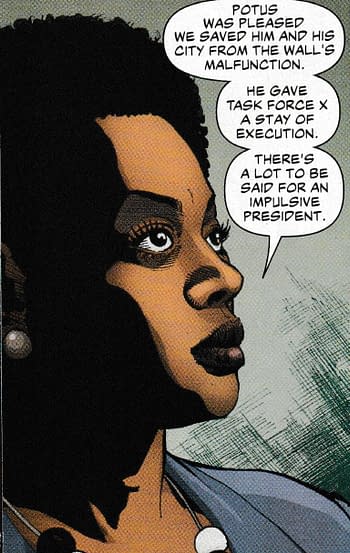 Now, Luthor has been compared to Donald Trump, a businessman and real estate magnate with ambition, and the Luthor graphic novel was even modelled on the Trump-ghost-written The Art Of The Deal.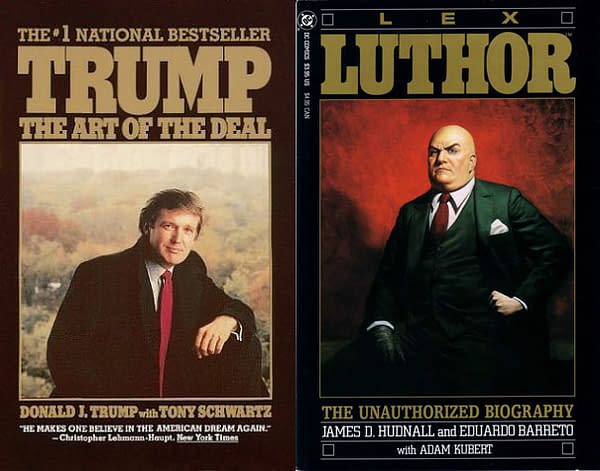 So how would Trump react to the word that there were problems with Luthor? Have a friendly word? Buy him off? Make him Secretary Of State? Grab him by the Catman? Well, it seems, in DC's Year of The Villain, he doesn't even get the chance to join in…
Stunning the President of the United States Of America? See, he can destroy the Source Wall and get away with it. But when he threatens Trump's Border Wall, it's a different story…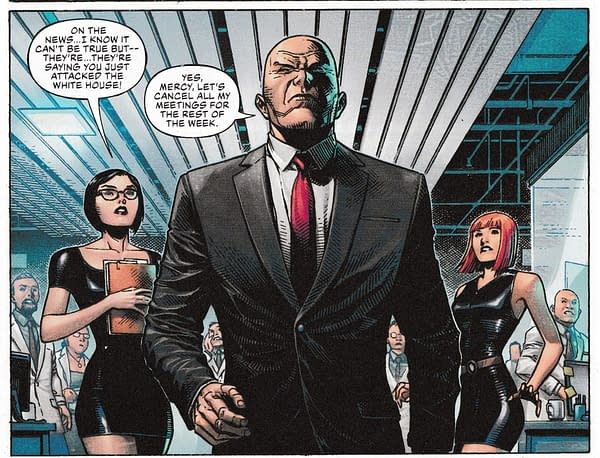 For Luthor., that's major.
DC's Year Of The Villain #1 is published today for 25 cents. Expect more spoilers today…. this is just where it begins.
DC'S YEAR OF THE VILLAIN #1
(W) Brian Michael Bendis, Scott Snyder, James TynionIV (A) Jim Cheung, Alex Maleev, Francis Manapul (CA) Greg Capullo
Evil is winning! Lex Luthor and The Legion of Doom conspire with Cosmic Gods, bending mankind toward a dark destiny. Elsewhere, the scourge of Leviathan spreads unchecked, seizing power in every corner of the world. And all the while the Batman Who Laughs busies himself in the shadows, aligned with no one-yet with sinister plans for all.
The carnage starts here as the badguys take center stage in "The Year of the Villain," the most treacherous event in DC Comics history. Some act with united goals, others with plans selfish and secret, every one of them on a monstrous collision course against Batman, Superman and the heroes of the DC Universe. And our heroes will fail us.
Don't miss the start of "The Year of the Villain," featuring the talents of writers Brian Michael Bendis, Scott Snyder and James Tynion IV, artists Jim Cheung, Alex Maleev and Francis Manapul and cover artist Greg Capullo-all for just $0.25!In Shops: May 01, 2019
SRP: $0.25