Everything Lex Luthor Knew Was Wrong – Justice League #17 Rewrites More DC History
Scott Snyder has been doing a bit of a Jonathan Hickman, it seems. Back in the day when he was working for Marvel Comics, Hickman created storylines involving parallel universes in Secret Warriors and The Ultimates that he continued into Fantastic Four, where they dominated the plot. Leaving that book to write the Avengers and New Avengers series, he continued that storyline with the new characters, in and out of the Infinity crossover event, before culminating in the Avengers' storyline Time Runs Out, which brought the titles to an end and kicked off the massive Secret Wars event.
It looks like Scott Snyder was taking notes.
Today's Justice League #17 is the latest in a line of books that has run from Batman through to Metal, No Justice, Justice League and… whatever follows. The influence of certain Metals in the DC Universe, that reveal its true history and shape, and suggest what is to come next. It's already one big story.
Already Justice League has rewritten Lex Luthor's father's story. But then it has been written and rewritten before. Back in the sixties, he was Jules Luthor, changing his name to Jules Thorel and dying in a car crash. The TV series Smallville reinvented him as Lionel Luthor, a successful billionaire businessman but abusive single father, dying of a heart-attack, caused by Lex.
In the noughties, Superman: Birthright would have him as Lionel Luthor but would die in a fire caused accidentally by Lex in an experiment that causes Lex's permanent hair loss. Superman Secret Origin would then have him die from an underlying heart condition was activated by an allergic reaction to medication. He was also revived briefly in Blackest Night #6.
In current continuity, he popped up in the DC Rebirth in Superwoman with his wife Leticia, as a drunk lowlife.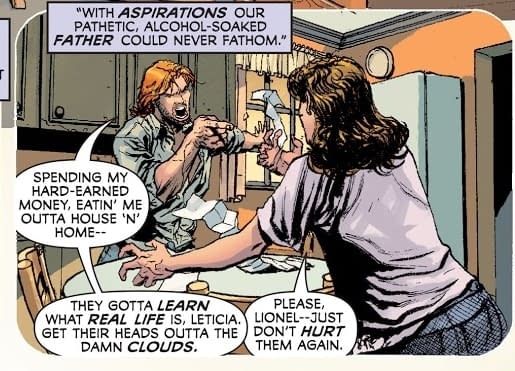 With his fate… left open.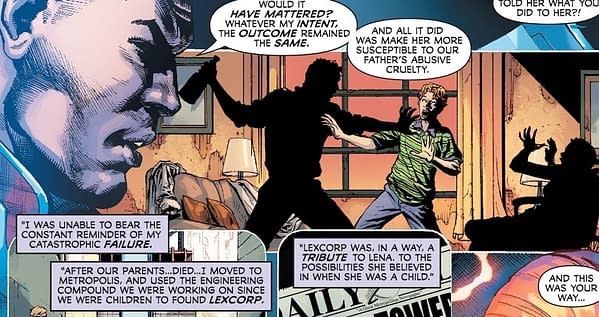 Even Scott Snyder made mention of this in Action Comics #1000 with Rafael Albuquerque.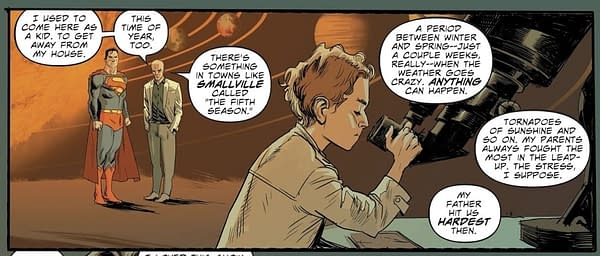 But Snyder, it seems was not leaving it at that. He continued this storyline when he relaunched the Justice League title with Jim Cheung, with Le receiving an invite to his father's old drinking club, The Legionnaire's.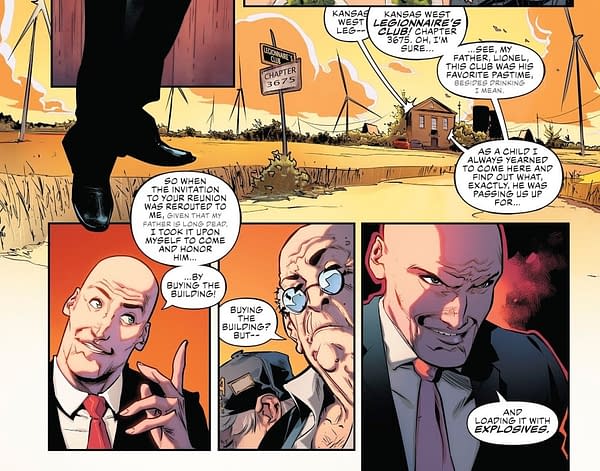 Which he bought and blew up. But inside the building he found the doorknob. The Totality. That led elsewhere.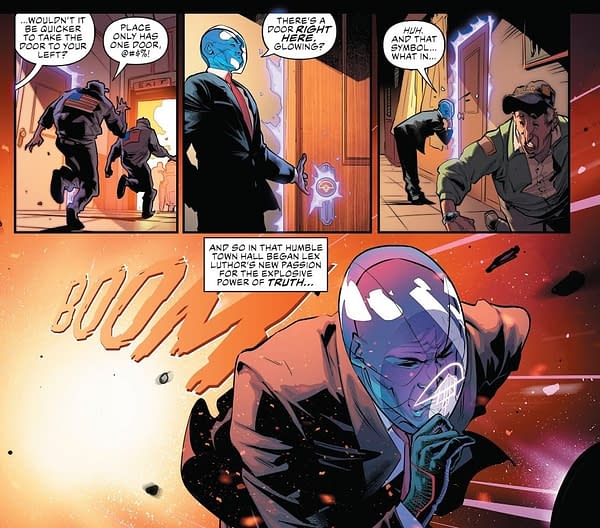 … suggested that there was something else going on with his father. And, as he then took a trip to the far, far villainous future…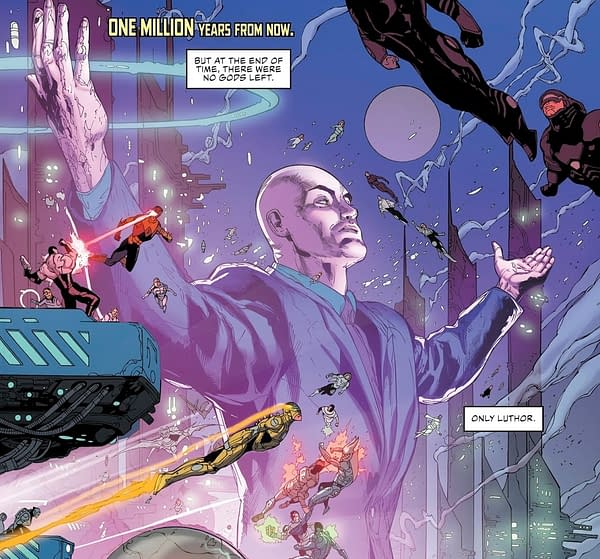 …he discovered he was famed for having missed something.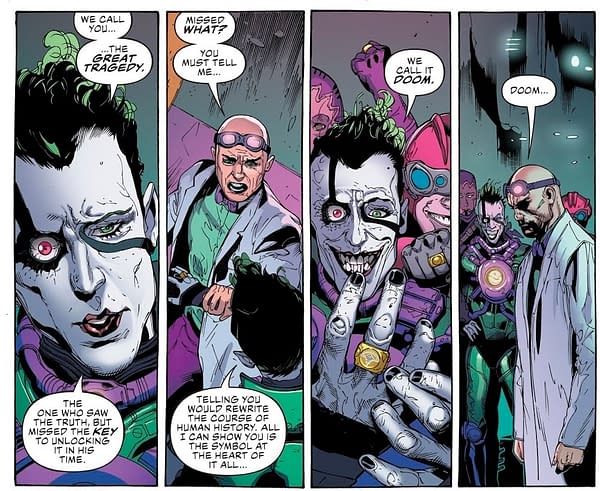 Determined to look again.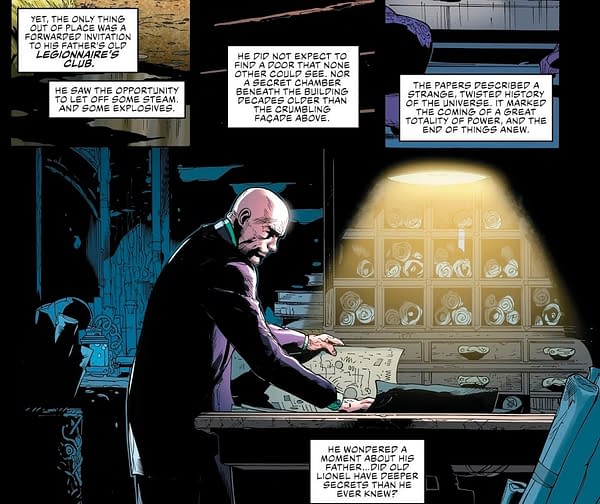 Deciding upon the doorknob…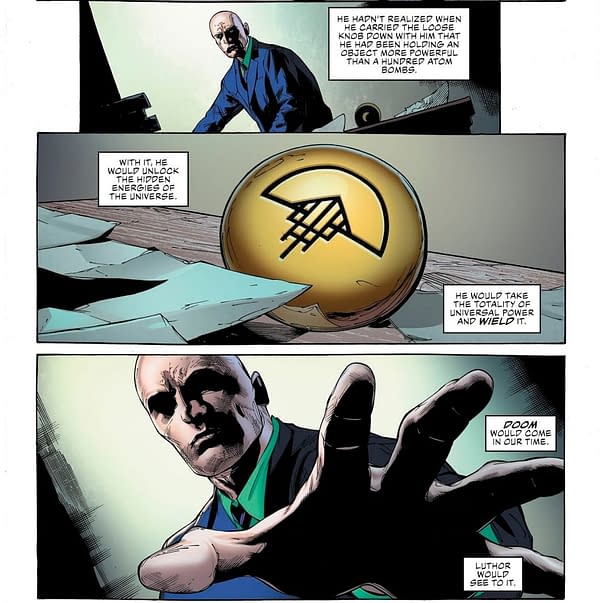 And using that to change reality. Form the Legion Of Doom. And end up becoming part of the recursive time loop that caused the Source Wall to break, and spit off the Totality back in time, turned into a doorknob and used by his father.
But what of his father? Well, today's Justice League #17 picks up that thread, following on from the Justice League Annual that changed also everything.
With Martian Manhunter and Luther meeting on the moon. And J'onn J'onnz telling his story.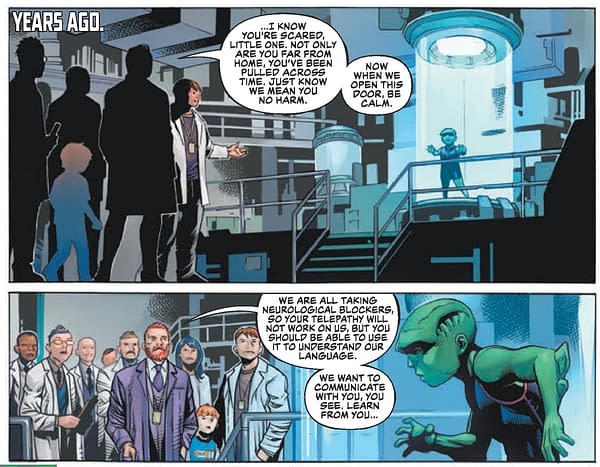 As a captured alien by an unknown group, meeting a small precocious child, nephew to the top scientist there…

…called Albie. Who seems very intelligent and showing other abilities as well…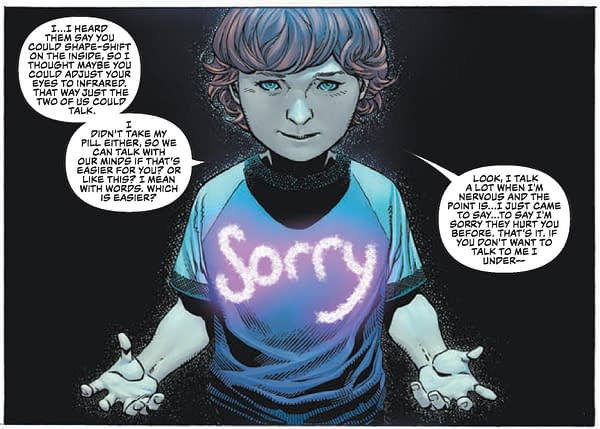 And who is responsible for saving J'onn from certain death, and revealing his real name.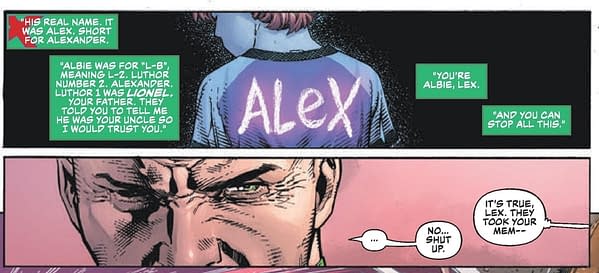 A father who was a mad, evil scientist after all. And whose memory was erased, as was Lex's.

And everything that Luthor knew was wrong.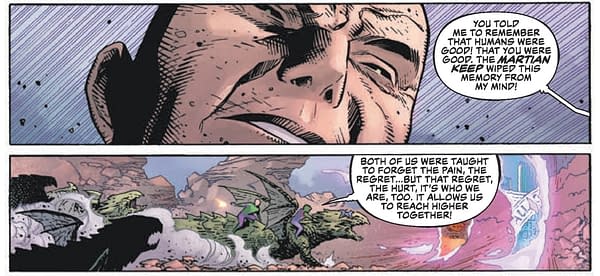 Was that the Legionnaires Club? Which also suggested the Legionnaires of the Legion Of Super-Heroes of the 30th and 31st Century. With an Alexander Luthor Jr hanging around?
Lex has already seen another villainous future, with the knowledge that he could have brought that legacy of Doom even sooner – which is what he's trying to do.
But will his very efforts defeat that? Will he end up being the hero he was when he was as a child, playing with J'onn J'onzz, and tried to be alongside Superman most recently? Will Martian Manhunter take Superboy's place in Lex's childhood? Because something is still coming which will need to be defeated… somehow.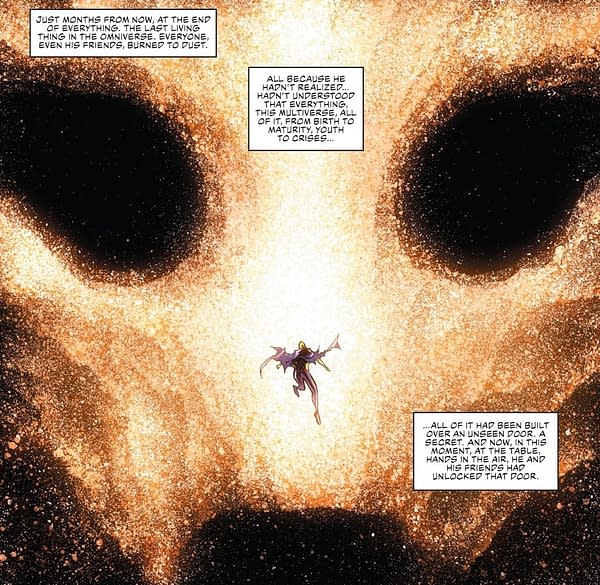 The door has been unlocked. And the doorknob is still in Luther's hands. Who was his father really?
And what is it with evil father's these days? At least he has something to bond with Batman and Superman over now…
JUSTICE LEAGUE #17
(W) Scott Snyder (A) Mark Morales (A/CA) Jim Cheung
After the disastrous events of the Justice League Annual, Martian Manhunter decides to take matters into his own hands and negotiate a peace with Legion of Doom leader Lex Luthor. Traveling to a distant moon, the two enemies face their intertwined pasts in a showdown for the fate of the Multiverse. However, before either of them can lay claim to the power of the Source Wall once and for all, an unexpected threat forces them to unite…or risk death at the ends of the cosmos.
RATED T+In Shops: Feb 06, 2019
SRP: $3.99
---
---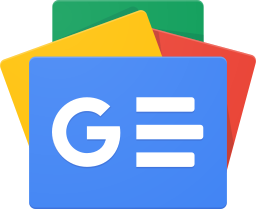 Stay up-to-date and support the site by following Bleeding Cool on Google News today!