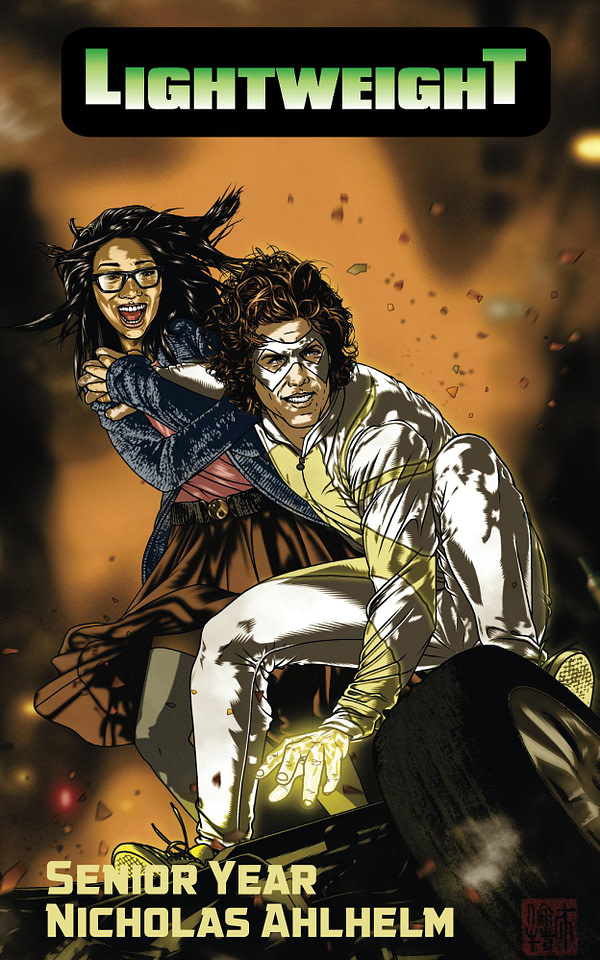 by Nicholas Ahlhelm
Every writer has a project they want to bring to life more than anything. For me that was always Lightweight.
I'm like many other geeky kid growing up in the 80s and 90s. I loved and read comic books. And while those comics weren't always superhero titles, it was always the superhero books that inspired me the most. And while some of the books in there were Marvel and DC titles (Alpha Flight, Ghost Rider, Aztek and New Teen Titans among them), many more were independent titles like Savage Dragon, Harbinger, Coyote and Astro City. I loved the width of fiction that would allow me to bring my own universe to life, even if it was concentrated around one specific hero.
Lightweight was that hero. I first came up with the character way back in 1991. He was first built around just a unique power set: gravity control. But over twenty-five years and multiple revisions, he's grown into a real human being with the same foibles and problems we all face everyday. Only now, he has to face them on an entirely different world.
I was proud to bring Lightweight to life through Kickstarter in late 2012. With the support of fans, I was able to produce ten short prose stories that are now collected in the books Lightweight: Senior Year and Lightweight: Black Death. But like all those great titles I listed two paragraphs ago, Lightweight's life doesn't end after the events of a couple books. He's built to have adventures over several years. He's meant to age and grow with the reader, as he becomes more cemented in his place as a costumed adventurer. So with that I returned to Kickstarter to fund his next run of adventures.
Lightweight: Beyond kick offs a second year of adventures as Lightweight's regular stomping grounds are replaced by a barren alien world in the midst of a galactic cold war. His arrival sets everything on edge and it won't be long until Lightweight must wield his control over gravity in a desperate attempt to save an alien world.
Back on Earth, his friends Millie and Andy try to carry on without him as Andy takes up the mantle of Lightweight and Millie does everything she can to find her lost friend. Their adventures will bring the return of a familiar foe from Lightweight: Senior Year and introduce the mystery of the Golden Age Lightweight!
Superheroes in prose are nothing new, but they do need the support of lovers of great fiction. Bleeding Cool has tons of great fans, many of which I got to know here in my years on the old forum. Any Bleeding Cool readers that back Lightweight on Kickstarter and message me the words LIGHTWEIGHT ON BLEEDING COOL will get a free bonus ebook with distinct ties to Lightweight's adventures!