The Lion Forge solicits are available now with their usual promising cavalcade of Catalyst Prime titles, new graphic novels, as well as Encounter, Wrapped Up, and Infinity 8. Plus, Voltron Legendary Defender Vol. 3 begins! Unfortunately, their covers are not yet ready with the exception of Little Tales of the Forest. Here is that cover. It is quite pretty.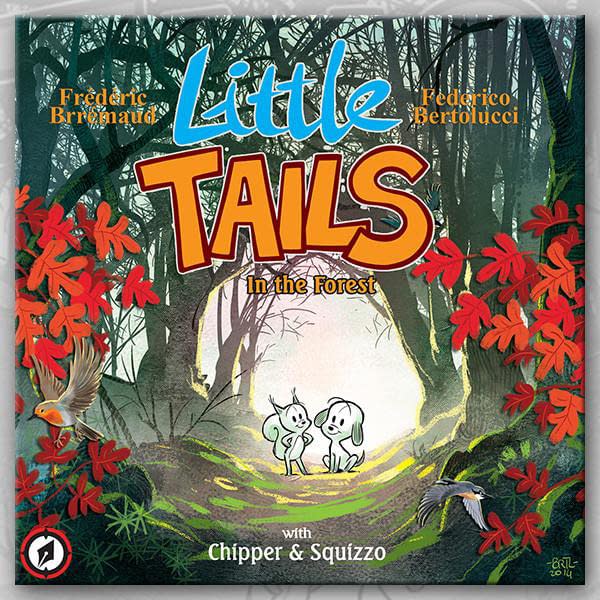 Here are the proper solicit entries.
MAY181835
SEA OF LOVE HC
(W) Wilfrid Lupano (A/CA) Gregory Panaccione
When an old fisherman fails to return after a storm, his doting wife goes on an adventure across the ocean to find him. (STL077859)
Item SRP: $24.99
MAY181836
HERAKLES HC BOOK 01
(W/A/CA) Edouard Cour
A colorful and fresh retelling of the classic Greek myth of Herakles, half-human son of Zeus, and his many adventures as an infamous demigod. (STL077864)
Item SRP: $19.99
MAY181837
ROCKET SALVAGE GN VOL 01
(W) Yehudi Mercado (A) Bachan, Jeremy Lawson (CA) Jeremy Lawson, Yehudi Mercado
Primo Rocket is a down?on?his?luck rocket racer, with two "kids" (one turns out to be his clone, another turns out to be . . . well that would give too much away) who finds himself mixed up in an intergalactic search for a rumored "ultimate weapon." Backwater gangsters, mad scientists, and two antagonistic governments end up in an epic showdown, and it turns out it's Primo's job to save the world. (STL077872)
Item SRP: $14.99
MAY181838
GHOST MONEY HC VOL 01 DEATH IN DUBAI
(W) Thierry Smolderen (A/CA) Dominique Bertail
The series looks at surveillance, clandestine military action, and class warfare in the twilight of the current War on Terror, all within the context of a thriller that ultimately seeks to find out what controls the global economy. (STL077862)
Item SRP: $24.99
MAY181839
VOLTRON LEGENDARY DEFENDER VOL 3 #1
(W) Mitch Iverson (A) Rubine, Beni Lobel (CA) Mariko Yamashin
The Galra have long held a number of slave planets in their grasp, and the Paladins have devised a plan to free them. To do this, Allura must first find a way to infiltrate SPRAWL, a group of closely guarded planets that are mined for many of the Galra's construction materials. Cutting off these resources is the first step toward bringing down the Galra. But the key to successfully finding a way in is to break the bond of the mysterious force that holds these planets together. (STL074892)
RES. from Previews Vol. XXVIII #1 (JAN181780)
7×10, 32pgs, FC SRP: $3.99
MAY181841
DREAM OF THE BUTTERFLY GN VOL 02 REVOLUTION
(W) Richard Marazano (A/CA) Luo Yin
Tutu is trapped in a valley of eternal winter, populated by talking animals and ruled by an oil?sputtering robot Emperor. She's sick of toiling in the Emperor's factory, which only hurts the valley with its pollution. If she can band together with a grouchy cat, rabbit spies, and a masked daredevil known as the Flying Bandit, her dreams could have the power to shape the world! (STL077860)
Item SRP: $12.99
MAY181843
LITTLE TAILS UNDER THE SEA HC VOL 06 (OF 6)
(W) Frederic Brremaud (A/CA) Federico Bertolucci
Dive into an underwater world of strange and fascinating creatures with the adorable adventure?seeking duo, Chipper and Squizzo! (STL077868)
Item SRP: $14.99
MAY181845
LITTLE TAILS IN THE FOREST HC VOL 01 (OF 6)
(W) Frederic Brremaud (A/CA) Federico Bertolucci
Chipper and Squizzo are a precocious puppy and squirrel who love to explore new and exciting environments, flying their cardboard box airplane to wondrous worlds full of fascinating animals and creatures. In each volume of this fun, educational series, they tour a different location, encountering the real-world animals found there in beautiful illustration and fun cartoon strip antics. This first volume takes them into the Forest, where they discover bugs, birds, bears, and more! A fun, lusciously illustrated series of wildlife discovery books for children of all ages. (STL047703) (JAN178830)
HC, 9×9, 32pgs, FC (1 of 6) SRP: $14.99
MAY181849
CATALYST PRIME ACCELL #12
(W) Joe Casey (A/CA) Damion Scott
Last issue saw Daniel going head?to?head with a new villain on the block, and this issue starts right in the middle of their continued smackdown! Daniel has his work cut out for him, but luckily he has the support of his friend Althea Morrison to aid him on his continuing quest of sorta being a superhero. (STL085043)
32pgs, FC SRP: $3.99
MAY181850
CATALYST PRIME ASTONISHER #9
(W) Alex De Campi (A) Pop Mhan, Alejandro Barrionuevo (CA) Dennis Calero
The final issue of volume two of Astonisher is here! A surprising new player from last issue released a new weapon upon the populace, so it's up to Magnus and Sasha to save his fractured family, his friends, and a bunch of other people who they don't even know. No pressure, right? The true challenge is Magnus facing his biggest fear: returning to space to face the very thing that caused his downfall in the first place. (STL085044)
32pgs, FC SRP: $3.99
MAY181851
CATALYST PRIME SUPERB #11
(W) David Walker (A) Alitha Martinez (CA) Anthony Piper
Kayla has taken on a new role as a rebellious freedom fighter in an underground resistance movement for people with enhancements. She is determined to bring down the evil of Foresight, but they're fast on her tail. (STL085047)
32pgs, FC SRP: $3.99
MAY181852
CATALYST PRIME KINO #8
(W) Joe Casey (A) ChrisCross (CA) Snakebite Cortez, Dean Haspiel
Strap in for the second-to-last issue of season two of KINO! Agent Gilmour is closer than ever to locating Alistair Meath and rescuing him from his virtual prison. Meanwhile, Alistair is shaking the confines of his mental prison with his abilities, releasing more energy and power than Aturo, his captor, may be able to keep contained. Alistair has realized he is trapped in his own mind, and when he breaks out, someone is going to pay. (STL085045)
SC, 32pgs, FC SRP: $3.99
MAY181853
CATALYST PRIME SUMMIT #7
(W) Amy Chu (A/CA) Federico Dallocchio
Valentina "Val" Resnick?Baker wants two things in her life: to help Fiona deal with the death of her parents, and teach physics to some of the brightest and youngest minds in the world. What Val gets in her life is Lorena Payan on her doorstep and a cocky company from Silicon Valley that goes by MAXGENZ attempting to steal away her team members. What does Lorena want? And is there something more sinister to MAXGENZ than Val realizes? (STL085046)
32pgs, FC SRP: $3.99
MAY181854
INCIDENTALS TP VOL 02 BALANCE OF POWER
(W) Joe Casey (A/CA) Will Rosado, Snakebite Cortez
The Incidentals team has dealt with a lot recently. Being brought together by billionaire Bo Vincent Chen as a would?be superhero team hasn't lived up to the ideal. Military?grade kidnappers, evil scientists, alien experiments, and secrets being kept from them by the very man who brought them together has left the team feeling disjointed and distrusting. So what happens now for the Incidentals? (STL077866)
Item SRP: $14.99
MAY181855
CATALYST PRIME INCIDENTALS #10
(W) Ramon Govea, Brandon Easton (A) Jose Jaro (CA) Ryan Brown
The Incidentals are making their mark in Hollywood! Marko is managing the group as the initial offering from Luminous Talent Agency-Bo Vincent Chen's latest entrepreneurial effort to recruit superhero talent. But rather than enjoy their new celebrity status, the Incidentals still struggle with their lack of communication, which threatens to unravel the team. Meanwhile, a mysterious new power player enters the fold with an eye to recruit our heroes . . . but can the Incidentals really trust him, or is something more sinister in motion? (STL085054)
32pgs, FC SRP: $3.99
MAY181856
INFINITY 8 #4 (MR)
(W) Lewis Trondheim (A/CA) Olivier Vatine
Special agent Stella Moonkicker is tasked with keeping the peace on board the Infinity 8 interstellar cruise liner, which is surprisingly easy with the peaceful, historical art society who has taken to the quaint philosophy of elegance and happiness perpetuated centuries ago by a mysterious group called "Nazis." Imagine how confused they are when the actual head of Adolf Hitler is found floating through space, only to be grafted onto a robot body in order to take violent control of this misguided army of simpletons in an attempt to take over the ship . . . (STL085062) NOTE: Not available in Germany.
MATURE THEMES
32pgs, FC SRP: $3.99
MAY181857
JAZZ MAYNARD VOL 2 #6 (MR)
(W) Raule (A/CA) Roger
It is a hunt like no other as Jazz and Teo are separated across the Iceland wilderness, chased by gunmen hell?bent on ending both of their lives. And at the front of the hunting pack is Max, a man Jazz grew up with like a brother. Will the tragedy that drove them apart end one of their lives for good? (STL085050)
MATURE THEMES
32pgs, FC SRP: $3.99
MAY181858
CELLIES #2
(W/A/CA) Joe Flood
Foot traffic is down at Job Mobile ever since the latest cell phone release. With things slowing down, Christian manages to get some interviews in between his workout selfies and Devin learns of a coworker's crush. (STL085048)
32pgs, FC SRP: $3.99
MAY181859
MAE VOL 2 #2
(W) Mark Waid (A/CA) Gene Ha
On her own after her separation from Abbie, Mae starts a booming business selling her Earthly "inventions" to the people of Cimrterén. That is, until she gets kidnapped and forced to make inventions far deadlier than some skateboards and yo?yos. (STL085051)
32pgs, FC SRP: $3.99
MAY181860
ENCOUNTER #5
(W) Art Baltazar, Franco (A/CA) Chris Giarrusso
Egads! UFOs have come to Earth, and they're all over the news! Barko and Kayla are ready to protect the city, but Encounter seems reluctant to face them. However, when these spaceships start colliding into buildings, someone MUST do something to keep the people of Earth safe! Can we depend on our yellow and green hero to come save us? (STL085049)
32pgs, FC SRP: $3.99
MAY181861
WRAPPED UP #9 MAIN MCMAHON CVR
(W) Dave Scheidt (A) Scoot McMahon, Aaron Pittman (CA) Scoot McMahon
Wiz is distraught. His best friend, Milo Mummy, has another friend-an age?appropriate one! This simply is too much to bear. This calls for drastic measures; Wiz must find new friends his own age. But not even dad friends can keep Wiz out of trouble on a Guys' Night. (STL085052)
32pgs, FC SRP: $3.99
Enjoyed this article? Share it!