Long Before Zack Snyder, When Superman First Wore The Black Suit
Action Comics #687 and Action Comics #689 are up for auction today, from the Reign Of Supermen days, thirty years ago. Does that make you feel old?
---
Action Comics #687 from 1993 is the first part of Reign Of The Supermen that followed 1992's Death Of Superman. Previously Adventures of Superman #500 ended showing four possible replacement Supermen to choose from, and Action Comics #687 focused on one of them. Made up of pure energy,a being appears in the Fortress of Solitude, with memories of Clark Kent's life, but not death. It initially merges with Clark's lifeless body, draws power from a Kryptonian Regeneration Matrix, and starts emanating entry blasts from his hands, but must wear a gold visor to protect his eyes, heat vision and X-ray vision no longer operation. The being is later revealed to be the consciousness of the Kryptonian android, the Eradicator, which had come to believe itself to be Superman, though as a far more ruthless individual.
Two issues later, Action Comics #689 began the serialisation of Reign Of Supermen, with the storyline jumping from one Superman series to another. Seeing the various Superfactions pitted against each other, this comic is especially notable for the first appearance of a resurrected Superman in a black Kryptonian bodysuit with a shield crest on his chest, but no S. It would be this look that Superman would sport in the Zack Snyder cut of the Justice League movie. And for the Snyderbronies among us, became a collectable comic book based on that alone.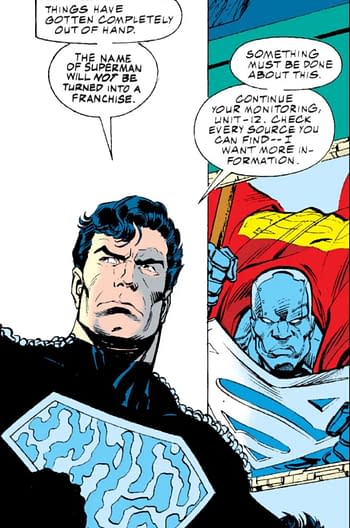 Now both those comic books are up for auction from Heritage Auctions, CGC slabbed at 9.8 each and going under the hammer today, currently with a combined bid of $31 so far. After all, you never know what might be happening with Superman in the future. Hey, James Gunn, any return to the black suit? Collectors would really like to know right about now. Before that hammer falls…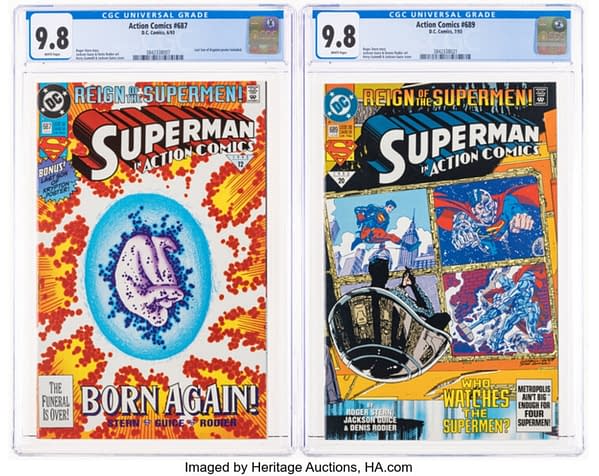 Action Comics #687 and 689 Group (DC, 1993) CGC NM/MT 9.8. Includes #687 (Last Son of Krypton poster) and 689. Featuring Superman. Overstreet 2022 NM- 9.2 value for group = $8.

Affiliates of Bleeding Cool buy from and/or consign to Heritage Auctions.