Long Lost #5 Review: Horror in Hazel Patch
Long Lost #5 is bold from the start, revealing the tragic backstory of Piper, Frances, and their mother. Without spoiling too much, the first few pages of #5 give you much more of an appreciation for the girls and their struggles. Their strained relationship with their mother, aunt, and town are easily explained in only a few short, emotive panels. Given all they've experienced, it says something about their determination to return to a place that's been the cause of so much hardship.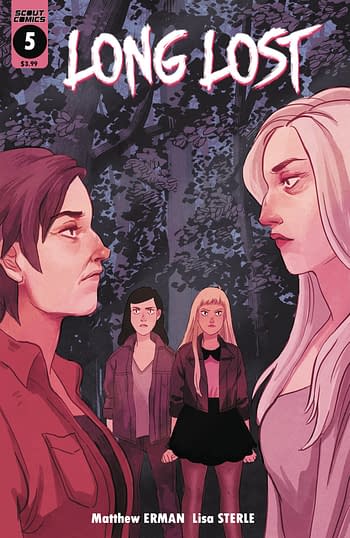 While the blossoming and broken relationships between family members are the main focus of #5, normally peppy Frances gets to vent some of her frustration as well. Though not the first time that she's lost her cool — she's certainly more of a hothead than her older sister — there's a stark contrast in tone this time around. She's doing what she normally does in standing up for herself and her family, but this time with more desperation and frustration. There's a hopelessness that is finally beginning to seep into her — yet another voice added to the somber tone Long Lost #5 takes.
While Long Lost #5 adds to the unsettling aura of Hazel Patch, it also falls into the same trappings of some of the other, more action-oriented issues. It's hard to find a good middle ground between the increasingly heart-pounding scenes and the more realistic portrayal of family dynamics. After so many issues of being tightly focused on Piper and Frances, it feels odd to take a step back and view Hazel Patch through the eyes of an insider. These transitions between the siblings and the rest of the town are a bit disconnected, but ultimately worth it. Our world is expanding along with our protagonists as together we search for the heart of the mystery driving this book.
There is always a hook that keeps me coming back to Long Lost — ever since Piper's dog went missing in the first issue, I haven't been able to put it down. #5 continues to sink its claws into unsuspecting readers with a spooky ending that offers new questions to replace the few that were answered. The Silent Hill vibe is strong with issue #5, though it ends on a much more ethereal note hearkening to the River Styx and the creature that set our plot in motion back in issue #1. Hopefully these pieces come together to give us a full picture sooner rather than later.
Long Lost #5 is a must-have in the series, offering one reveal after the other. Ultimately it does, however, feel like a bridge between issues. Something big is coming, and #5 feels like a stepping stone towards it despite all its intrigue. Matthew Erman and Lisa Sterle have plenty more to reveal; issue #5 is just a taste.
You can pick up Long Lost #5 now for $3.99.