Cosplay Spotlight: TaLynn Kel
The cosplay community is full of incredible people. It's a group built up by seriously hardworking, talented individuals. Few encapsulate this as much as the focus of our spotlight today: TaLynn Kel. With a resume that includes a variety of fantastic costumes, published essays, and her own incredibly intriguing website, this is one cosplayer you won't want to miss!
Check out her spotlight below, and be sure to keep an eye out for future articles featuring TaLynn.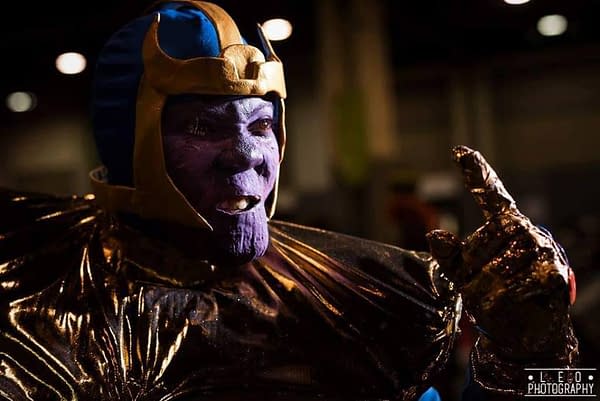 BC: How long have you been cosplaying? What interested you in cosplaying?
I've been cosplaying for around 13 years. I've always liked dressing up, but Halloween just wasn't quite right. Attending DragonCon, I got to see people who wanted to dress up for fun — not just repping their fandoms, but flexing that creative muscle that everyday life kinda beats out of you. When I saw people in costume walking the streets of Atlanta, I saw an opportunity for me to participate in something that gave me a fundamental sense of joy. And while there have been times where I've doubted myself, especially as I get older and see this influx of young people, it's still something that means a lot to me. I need to be creative in these ways, and it's helped me gain a sense of confidence and love for who I am.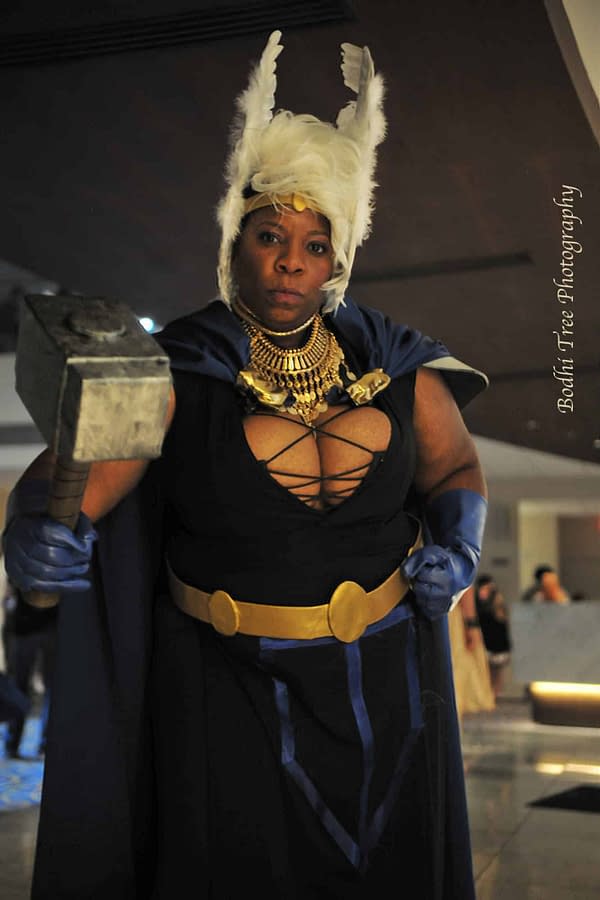 BC: What's your favorite cosplay?
The answer to this question changes a lot because I love most of my cosplays for various reasons. Right now, I'm really enjoying Storm. I love her different looks and the versatility of the character. I have a version with a huge white afro that I LOVE! I love that she's powerful and a leader.
BC: What do you find challenging about the cosplay community? What would you like to see change?
I would like to see less racist, sexist, ableist, sizeist, ageist gatekeeping. I'd like to see a community that is less toxic. Unfortunately, the cosplay community is just a microcosm of general society, so the issues we have in general are going to exist in this smaller community. And we see it. We see the same biases and ignorance and cruelty. We see the racism, misogyny, and rape culture. We see people with disabilities actively excluded from participating in events because it's not the "norm" to take everyone's needs into consideration.
I'd like all this to change, and I hope that by talking about it and amplifying the voices of those living these experiences can push those changes forward.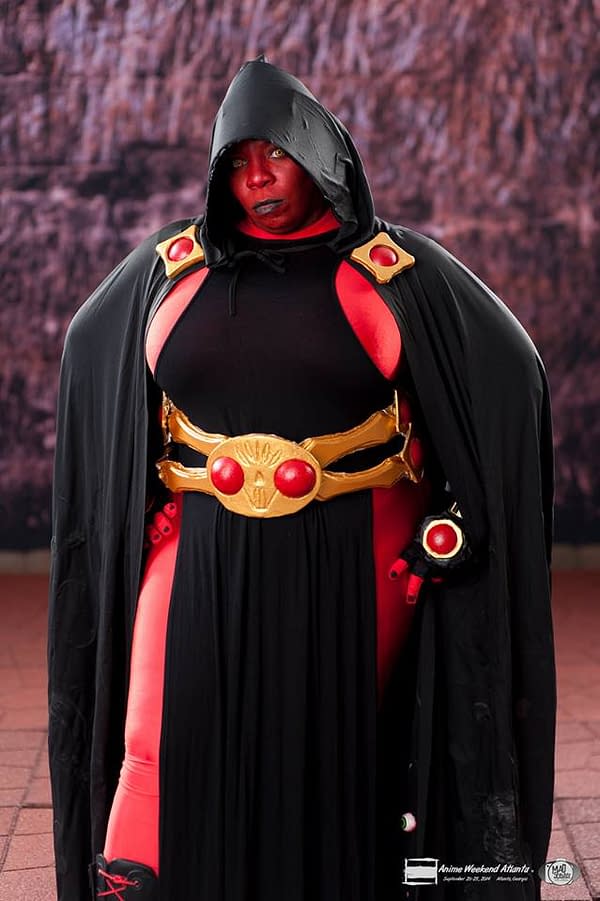 BC: What's your most memorable moment?
I can honestly say it was this year. I just returned from Mid City Micro-Con in Baton Rouge, LA where I participated on a panel called Body Positivity in Cosplay and Comics. I'm a fat, Black woman who cosplays and it's amazing how much of an anomaly I seem to be. During the convention, families walk past my table and you could see their heavier children light up when they saw me. More than one parent pointed me out or told me that their child wanted to take dance lessons or do some other activity that they were scared to try because they don't think fat people do those things.
After my panel I had people tell me that they felt better about being themselves and appreciated who they are with less shame. It's both painful and beautiful to hear these things. Painful because I wish people didn't feel so badly about themselves, but beautiful because if they are shifting and learning to love themselves then I'm glad they are reaching that point. I don't want there to be a need for people to see someone like me doing this in order for them to feel safe to do it. But honestly, that's how I decided to cosplay. I saw other people dressing up, learned they had made a safe space for them to do it, and they kept doing it. If I hadn't stumbled into that space, I probably wouldn't be the person I am today.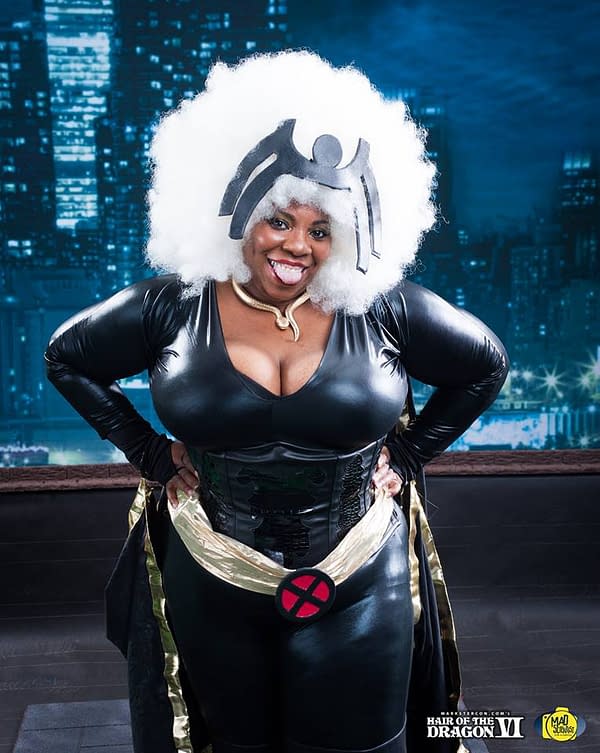 BC: So you're very active in more than just cosplay! You're a published writer and what I'd think of as an activist. Is that a word you'd use for yourself? Can you tell us a little about that?
So, I don't actually consider myself an activist. I've tried that word on several times and it doesn't seem to fit me. I'm not organizing anyone or anything. I'm just living my life and sharing my story. That doesn't feel like activism to me. I'm not exactly sure what to call it when being yourself is an act of resistance, yet, that's where we are.
I've always been a writer, but I've never had access to an audience the way we do with social media. I'm older, so I've lived through these drastic changes in access to information, access to people, and the growing and ever-changing forms of communication. I accidentally built an audience for a rant blog I had back in 2005, but fortunately for me the platform was terminated in 2009. It coincided with the passing of my father, so I missed the deadline to migrate the blogs to another site. At the time, I didn't think of it as a way to build a platform or have any influence on anyone. It was just an online diary. I see it a lot differently now.
In 2015, I was reading an essay about… I don't remember but I do remember thinking "they just publish any ridiculous thing, don't they? I should start writing…" And with that thought, I started my new blog. I didn't know what I would write about… I tried a lot of different things, but the stuff that really resonated with me was talking about making a space for myself in this messed up culture. I'm married to a white man and the U.S. started openly ramping up its racism within a year of our marriage. It changed me, which changed our relationship, and meant that he had to change, too. I was looking for people who shared my experience and I couldn't find any, so I wrote mine and quickly learned that I was not alone.
BC: What inspired you to merge your love of writing and cosplaying?
When I started my blog, I thought about what I should write about. In marketing, they teach you about branding so I knew I needed to pick an angle… but when I tried, I found that it didn't make sense to fragment myself that way. I am the sum of my experiences, and those experiences inform who and how I cosplay. Trying to parse that out was not only difficult, but dishonest. And I decided not to be dishonest in my writing, so I had to talk about it all.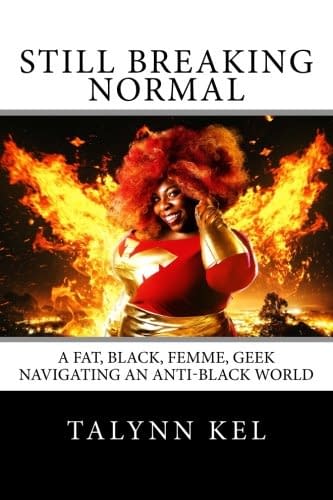 BC: You've already got an incredibly full schedule from the looks of things, but do you have any projects in the near future you'd like to mention?
I just published my second collection of essays titled Still Breaking Normal: A Fat, Black, Femme Geek Navigating an Anti-Black World. I'm super proud of it. I just started hosting tables at conventions, so that's an interesting endeavor that is constantly teaching me new lessons.
I co-host the New Wakanda podcast with Sorghum & Spear creator Dedren Sneed and Route 3 creator Robert Jeffrey II. I also have a YouTube show produced by Kecia Stovall of KYSS Photography called Time Out with TaLynn Kel, where I interview Black creators on their work.
It's a lot of work, but it is work that I love. Now the goal is to figure out how to make a livable wage doing it.
Isn't that always the dream?
You can also find TaLynn on FB, Instagram, Twitter, and her own website here.