Writer's Commentary: Marc Andreyko Talks Legenderry Red Sonja #1
Dynamite has sent us a writer's commentary from Marc Andreyko covering Legenderry Red Sonja #1, a new series set in the steampunk Legenderry world created by Bill Willingham. The issue has a cover by Joe Benitez with interiors by Igor Lima.
* * * * *
The last we saw of Red Sonja of the Legenderry world, she was living the pirate's life aboard her ship, The Nautilus. But times have changed. As she tries to rebuild her life once again, she must save the Big City from two houses divided and the star-crossed love bringing them to the brink of war!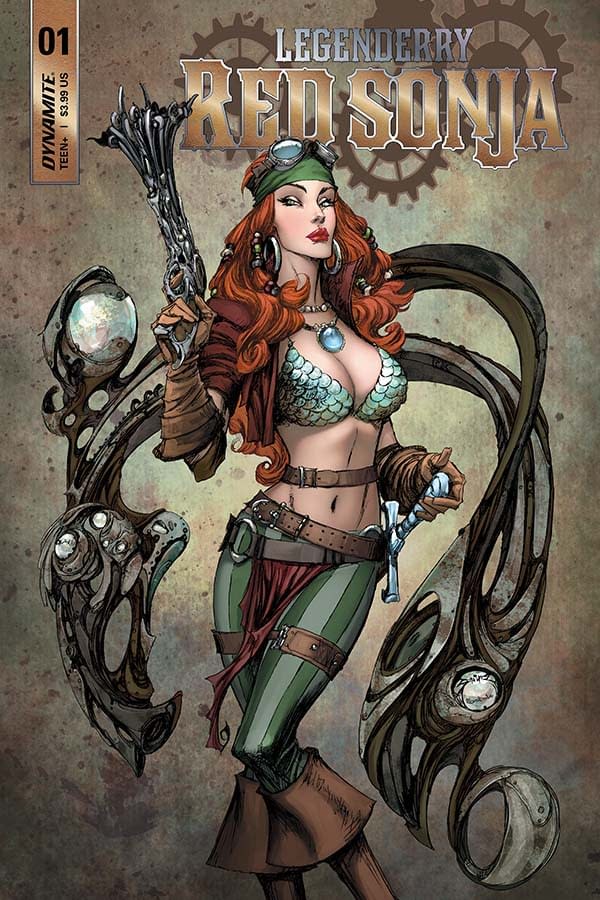 And now, the commentary!
*****
Pages 1-4:
Since Legenderry is all about swashes being buckled, I wanted to drop the reader right in the tail end of the poker game and its consequences. Since you have limited real estate in a mini, I decided to have this first issue be basically one long chase scene. And, as you can see, Igor Lima brought this to such vivid life.
And because Red is a pirate queen in the world of Legenderry, I made her interior monologue serve as an unreliable narrator.
(No one can beat you up as well as yourself!)
Pages 5 -10:
Now, we are out of the pub and racing across the rooftops of The Big City. Again, the feeling of acceleration, the chase, was important here. No time for Red to think, just for her to "do".
Here is where Igor did so much heavy lifting that I almost feel guilty. Cityscapes, steampunk tech, and a submarine?!? Easy for me to type, right? Look at the detail here. Igor never scrimps on anything (and I love him for it!).
Pages 11-15:
Still on the run from Thorne's goons, Red needs to get back to The Nautilus AND I need to set up the true engine of the story. Is the cloaked woman bad or good? And what is that thing around her waist? More Igor love here: he's serving as production designer, costumer and cinematographer. His detailed art makes each panel something to linger over, but never slows down the action of the story. His confident art makes the reader strap in and enjoy the ride.
And I am loathe to have scenes underwater. Too difficult to draw a "real" underwater feel oftentimes, but, again, Igor gets my script, smiles and says, "Hold my beer."
Pages 16-19:
Finally! Some time for Red and the reader to catch their breath! This scene not only is a bit of an info dump, but also reveals that Red has a heart (to her own detriment). You have to ask yourself as a writer: "Why this scene? Why now?" and I try to have multiple levels in every one. The obvious: Girl on the run from her dad. The middle: Is Red gonna get involved against her own instincts? And more subtly: Setting up clues about the future, the characters, getting the reader thinking.
Page 20:
The villain revealed!! I have used this full page reveal many times before (and will continue to) because it is ALWAYS effective. BAM! Bad guy! followed by "Oh, sh*t!" and in the Credit-Where-Credit-Is-Due Dept.: the first X-Men comic I ever read had this reveal set-up and it is a brilliant and economical device (especially as a cliffhanger).
And the X-Men comic I borrowed it from? Uncanny X-Men #111 by Claremont, Byrne and Austin. If you haven't read it, go read it now!
And I hope you come back next month because things only get crazier and we'll meet possibly the most unexpected guest start ever in a comic. No, not him. Nope. Trust me, you'll never guess.
Thanks for reading!