Marla Lesage is an artist, illustrator, writer, from New Brunswick, Canada, who works mainly in watercolour and ink. Last year saw her debut picture book, Pirate Year Round, published by Acorn Press. And she has now sold her first graphic novel, AWOL (Absent Without Leave), to Ruth Linka at Orca, to be published in the spring of 2022. It's not her first comic though, Lesage has previously self-published Cactus Comics about ordinary house cacti who decide to become superheroes, below.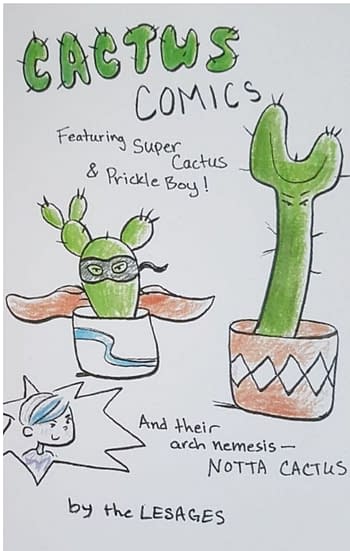 Publisher's Weekly describes it as "a middle-grade graphic novel about a military brat who is left alone (again) after her best friend's family is reassigned while navigating her father's unpredictable mood swings". Marla has been working on it for a while, back in September 2017 she tweeted "Turned on the radio to a #graphicnovel convo. Nice surprise. Luv the genre. Am working on my own – ton of work!" to reveal when asked "Working title – AWOL. Aimed at a middle grade audience (ages 8-12)." Looks like that working title worked out. Elizabeth Bennett at Transatlantic Agency negotiated the deal.
Founded in 1984, Orca Book Publishers of Victoria, British Columbia, is an independently owned Canadian children's book publisher with more than 80 new titles a year, focused on publishing Canadian authors and bringing them to a wider market as well as trying to provide reading material that represents the diversity of human experience to readers of all ages. They distribute their own titles and those of a number of other Canadian publishers throughout the United States, from a handy warehouse near Bellingham, Washington.
In terms of graphic novels, they publish the Billy Stuart series by Alain M. Bergeron, Sampar and Sophie B. Watson, and the Tank & Fizz series by Liam O'Donnell and Mike Deas, as well as several other stand-alone titles.
Enjoyed this article? Share it!