Ghost Rider was one of the comic books that had its comics issues delayed but not deleted, and Ghost Rider #7 was finally published ending on a cliffhanger. However, subsequent issues never came to be rescheduled and its Empyre crossover was also cancelled. Now it seems Ghost Rider #8 – and the planned Ghost rider annual will not be published, physically or digitally.
Writer Ed Brisson tweets: "As many have assumed, GHOST RIDER #7 was the last issue of the series. I loved writing it; had a hell of a time telling Danny and Johnny's stories; & introducing the Spirit of Corruption. As far as their continued adventures, that will continue elsewhere in the Marvel Universe. I should have done this sooner, but I wanted to also thank @AaronKuder, @juanmfrigeri and @bam_jason. The book would have been nothing without them.
Here are the solicitations for what once was: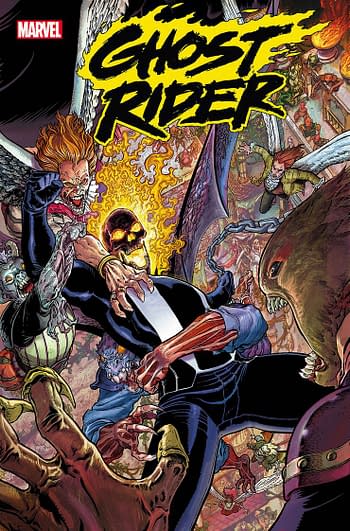 GHOST RIDER #8
ED BRISSON (W) • JUAN FRIGERI (A) COVER BY AARON KUDER
DARK MARVEL VARIANT COVER BY DECLAN SHALVEY
ENTER THE CITY OF THE DAMNED!
In a place beyond good and evil, Ghost Rider and Mephisto find a secret society of supernatural beings–and they aren't fond of visitors!
32 PGS./Rated T+ …$3.99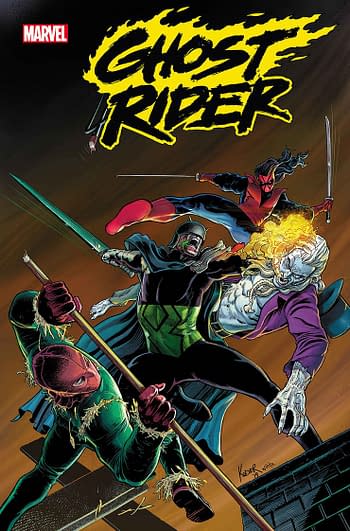 GHOST RIDER #9
ED BRISSON (W) • JUAN FRIGERI (A) • COVER BY AARON KUDER
Classic Ghost Rider villains return! Danny Ketch might have punished Scarecrow, Deathwatch and Blackout before as a Spirit of Vengeance, but can he do the same as the Spirit of Corruption?
32 PGS./Rated T+ …$3.99
However, I understand that in contradiction to other reports, the Ghost Rider Annual Howard Mackie, Ed Brisson and Javier Saltares is not cancelled and remains on the Marvel Missing In Action list – this is what it currently looks like:
Ghost Rider Annual #1
Darkhold Alpha
X-Men: Dawn Of X Saga
The Punisher Vs Barracuda
Children Of The Atom
Gwen Stacy
Amazing Spider-Man: The Daily Bugle
Morbius
Black Panther
Nebula
Atlantis Attacks
Marvel
The Marvels
America Chavez: Made In The USA
Widowmakers: Red Guardian and Yelena Belova
How To Read Comics The Marvel Way
Dark Agnes
New Warriors
Union
Infinite Destinies Annuals: Iron Man, Thor, Avengers, Guardians
W.E.B. Of Spider-Man #1
Doctor Strange
Dark Ages

Non

–

Stop

Spider-Man

Silk
Enjoyed this article? Share it!