Marvel Comics Challenge Another Punisher Trademark Application by Militia Group
Marvel Comics lawyers have been continuing to challenge a certain type of people who keep trying to trademark the skull image used by them for The Punisher for a variety of reasons. In 2015, they went after Molon Labe, a gun enthusiast group using the Punisher skull on arms-related products, who named themselves after the refusal of Diogenes of Sparta to Xerxes I of Persia when Xerxes demanded that the Greeks lay down their arms and surrender. And against Loyalty Bound, a company making beverage containers who also create Chris Kyle merchandise.
The latest is from the Three Percent Nation LLC for this image, for 'Online retail store services featuring a wide variety of consumer goods of others.'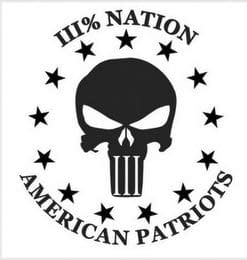 The Three Percenters is an American Militia group whose members pledge protestation and armed resistance against attempts to curtail constitutional rights, namely the Second Amendment. Basically, it's Holed Up. The group's name is apparently derived from the claim that only three percent of the population of the Thirteen Colonies fought against the Great Britain during the American Revolution. However, this is challenged by the estimation that approximately 375,000 people out of the 2.5 million colonists—or fifteen percent—served in either the Continental Army or state militias.
Yeah, I totally got all that from Wikipedia.
As I did, that The Three Percenters have made headlines for planned walled compound constructions, having members in the local police force show support, organising armed gatherings outside military recruitment centers despite the Army's wishes – oh, and saw members join in and provide security for the Charlottesville Unite the Right rally.
And, while the use of the III on the Punisher skull teeth is a neat design, it's not going to stand up against Marvel Comics lawyers over the exact same skull that they have trademarked for The Punisher, is it?
Our good friend Linda K. McLeod of Kelly IP, LLP in Washington, DC, working for Marvel, has had an extension to challenge the trademark granted and we will find out what Marvel plan in January 2019.
Molon Labe defaulted on their claim. Loyalty Bound abandoned their application. Will The Three Percenters run for the hills?