Marvel Comics will announce their full May 2020 solicitations this week, but as ever, we just can't wait, so have Frankensteined a few of them together, nice and early.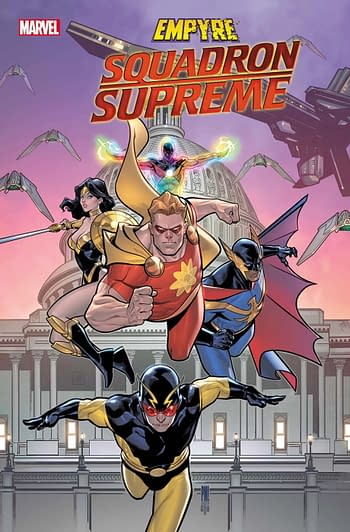 EMPYRE: SQUADRON SUPREME #1 (OF 2)
MARK WAID (W) • DIO NEVES (A) • COVER BY PACO MEDINA
The invasion has begun! But the alien invaders soon encounter resistance in the form of the Squadron Supreme of America! As the two forces clash, only one thing is clear…the fight for America's survival has begun!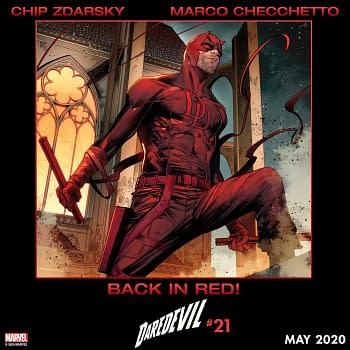 DAREDEVIL #21
(W) CHIP ZDARSKY (A) MARCO CHECCHETTO
Chip Zdarsky began his run on DAREDEVIL last year by having Matt Murdock hang up the suit and his super hero alter ego after tragedy struck. This May, Matt will suit up in his iconic costume once again when a lawless Hell's Kitchen needs his help like never before in the new story arc, "Truth/Dare.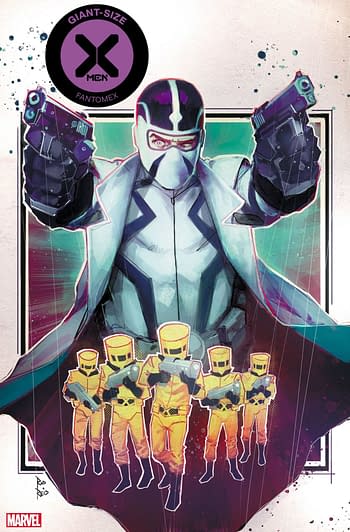 GIANT-SIZE X-MEN: FANTOMEX #1
Written by JONATHAN HICKMAN
Art and Cover by ROD REIS
The hit creative team of Jonathan Hickman & Rod Reis (NEW MUTANTS) turn their attention to the covert activities of the Weapon Plus program's Weapon XIII! A bred killer who chose the life of a gentleman super-thief, Fantomex has always defied expectations… For example, who would expect him to break into the World, the artificial realm of his creation? And then again? And then… again?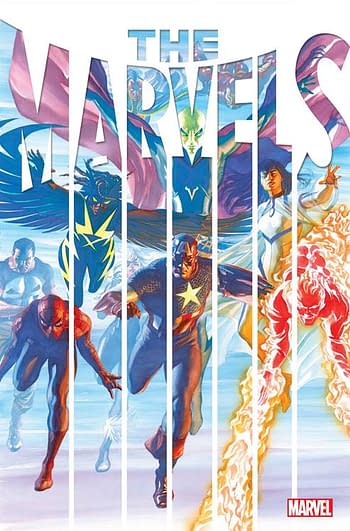 THE MARVELS #1
Written by KURT BUSIEK. Art by YILDIRAY CINAR. Cover by ALEX ROSS
ALL-NEW, ONGOING SERIES! Kurt Busiek (MARVELS, Astro City) is back, with the biggest, wildest, most sprawling series ever to hit the Marvel Universe, telling stories that span the decades and range from cosmic adventure to intense human drama, from the street-level to the cosmic, starring literally anyone from Marvel's very first heroes to the superstars of tomorrow. This first issue includes an invasion from orbit, a picnic in Prospect Park, super hero sightseeing in Manhattan, the All-Winners Squad in 1947, Reed Richards during his time in military intelligence, cosmic beings beyond space and time— and that's only for starters. Featuring Captain America, Spider-Man, the Punisher, the Human Torch, Storm, the Black Cat, the Golden Age Vision, Aero, Iron Man and Thor, and introducing two brand-new characters, all beautifully drawn by Yildiray Cinar (X-MEN, Legion of Super-Heroes, IRON MAN) in the opening act of a thriller that'll take us across the Marvel Universe…and beyond. Plus: Who (or what) is KSHOOM? It all starts here. And it goes…everywhere.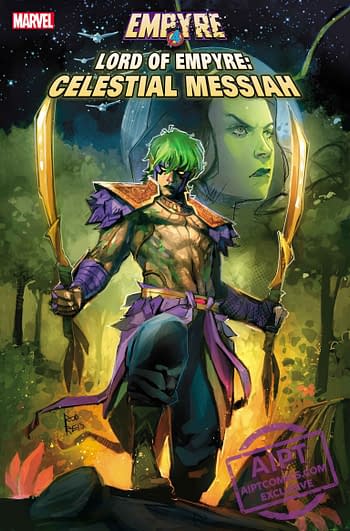 LORDS OF EMPYRE: CELESTIAL MESSIAH #1
Written by Alex Paknadel Art by Alex Lins Cover by Rod Reis
The eve of Quoi's ascension is at hand! But when the trials are interrupted by an unexpected interloper—Mantis—who will win this battle of wills? Don't miss out as mother and son go head-to-head, revealing secrets that will shape the course of the galaxy!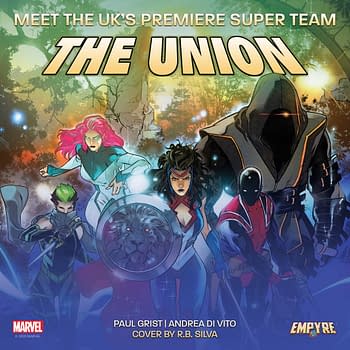 THE UNION
(W) Paul Grist (A) Andrea Di Vito (CA) RB Silva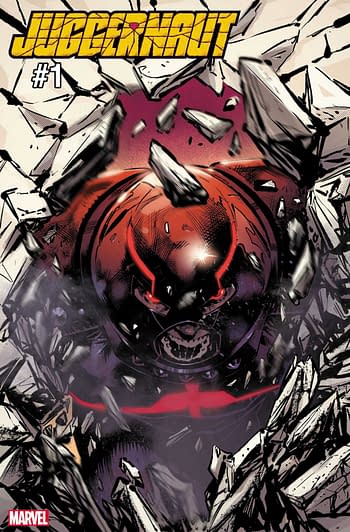 JUGGERNAUT #1
(W) Fabian Nicieza (A) Ron Garney (CA) Geoff Shaw
A mystic gem. A force of overwhelming power. Nothing can stop the Juggernaut. Except himself. Another building falls…but Cain Marko is done letting others pick up the pieces of the things he's destroyed.
So in this new era for mutantkind, will Cain Marko become a hero? A villain? Something else altogether?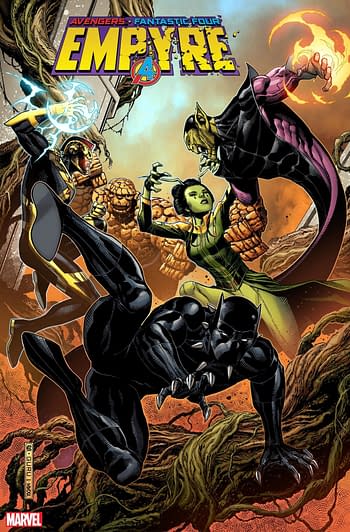 EMPYRE #3 (of 6)
Written by AL EWING & DAN SLOTT
Art by VALERIO SCHITI
Cover by JIM CHEUNG
The tag-team action comes home! Wakanda is the battleground – as the Avengers and the FF unite to prevent a Vibranium-powered threat to all life as we know it! A long-lost Avenger returns to active duty – but will that be enough to turn the tide? And in space, interstellar intrigue threatens the fragile Kree/Skrull alliance…and the repercussions might just doom planet Earth!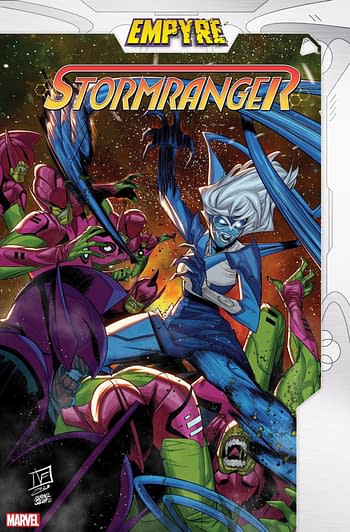 EMPYRE: STORMRANGER #1 (OF 3)
Written by SALADIN AHMED
Art by STEVEN CUMMINGS
Cover by FEDERICO VICENTINI
 The Kree nanosuit known as Stormranger was once bonded to Ms. Marvel…but after deciding Kamala's version of justice wasn't deadly enough, Stormranger rebelled against her. Now Stormranger is charting her own course – just in time for the united Kree/Skrull Empire to engulf Earth in a centuries-old conflict. Whose side is this ruthless space vigilante on, and how much havoc will she wreak before we find out?
EMPYRE: THE INVASION OF WAKANDA #1 (OF 3)
Written by JIM ZUB
Art by LAN MEDINA
Cover by DUSTIN WEAVER
The heart of Wakanda — its mighty store of Vibranium — comes under threat as the villains of EMPYRE launch their invasion of Earth! Black Panther's Agents of Wakanda form the front line against the alien invasion, but the enemy's powers are vast and unknown. With T'Challa off fighting alongside the Avengers, General Okoye is in charge — and even with the superhumans are her disposal, she may find herself outmatched.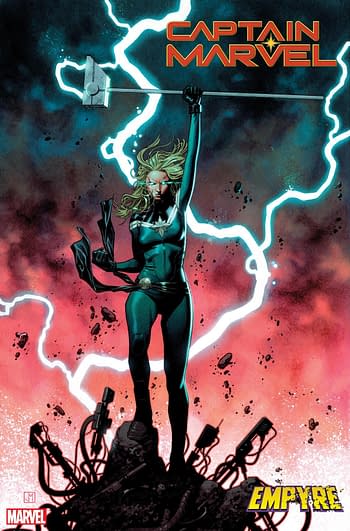 CAPTAIN MARVEL #18
Written by KELLY THOMPSON
Art by CORY SMITH
Cover by JORGE MOLINA
CAPTAIN MARVEL IS THE SUPREME ACCUSER!
In the throes of war, Carol finds herself with a bold new role – and a brand-new weapon – the Universal Weapon, in fact. When a Kree soldier bombs a unified city of the Empire, Emperor Hulkling sends his new Accuser to bring down the swift and necessary hammer of justice. But what at first seems like a relatively simple directive will end up challenging Carol on a personal level she had never imagined.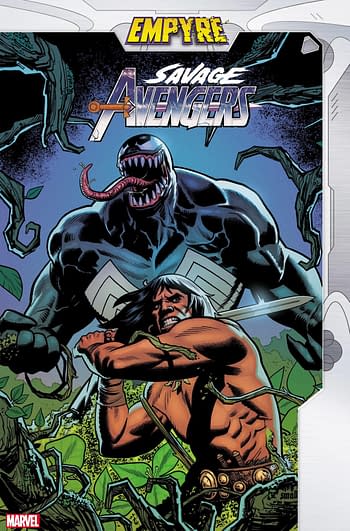 EMPYRE: SAVAGE AVENGERS #1
Written by GERRY DUGGAN
Art and Cover by GREG SMALLWOOD
In South America, Conan finds himself enslaved – which is typically bad news for those attempting to do the enslaving! But these enslavers come from beyond the stars, and they've got a singular and grisly end in store for the Cimmerian – one that only Venom can help him avoid!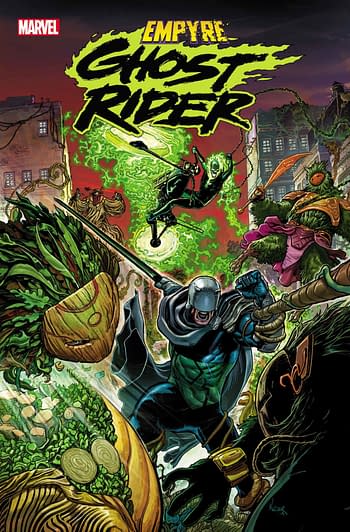 EMPYRE: GHOST RIDER #1
ED BRISSON (W) • JEFTE PALO (A) • COVER BY AARON KUDER
An intergalactic war comes crashing into a supernatural showdown between the Spirit of Corruption and the Spirit of Pollution! But who will be left standing?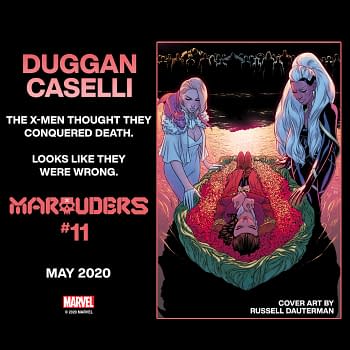 MARAUDERS #11
(W) Gerry Duggan (A) Stefano Caselli (CA) Russell Dauterman
The X-Men thought they'd conquered death. Looks like they were wrong.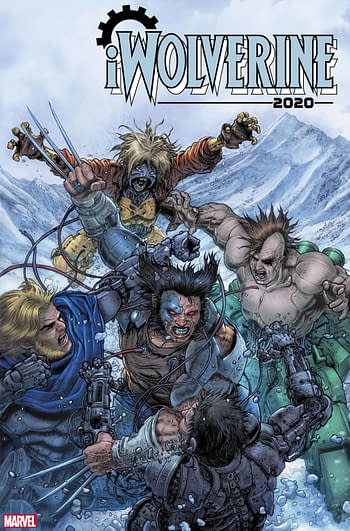 iWOLVERINE 2020 #1
(W) Larry Hama (A) Roland Boschi (CA) Juan Jose Ryp
Marvel in the year 2020 marches on! In the wake of Arno Stark's crusade against A.I.s, no robot is safe. Fearing of Elsie-Dee's safety in these tumultuous times, Albert, the robot Wolverine, goes to Madripoor to find her… but what he finds is a fight against Madripoor's criminal underbelly instead!
Enjoyed this article? Share it!