After the massive success of the Spider-Man: Into The Spider-Verse, Marvel Comics got round to collecting all the Marvel Tails and Peter Porker The Spectacular Spider-Man from the old Star Comics line aimed at younger kids. But it seems that what was considered All Ages back then may not be quite so All Ages now. Retailers have been told that the collection of kids comics from the eighties has jumped in classification from All Ages to T. Marvel define All Ages to be 'Appropriate for all ages' while T is defined as 'Appropriate for most readers, but parents are advised that they might want to read before or with younger children.'
What changed in the last thirty years? Characters smoking maybe? Racial stereotypes? Or Peter Porker eating a hot dog? We may never know… here's the previous listing.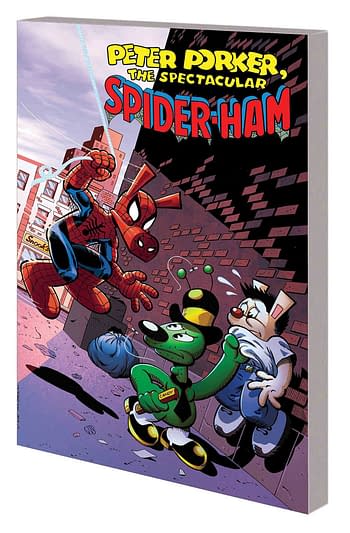 PETER PORKER SPECTACULAR SPIDER-HAM COMPLETE COLLECT TP VOL
(W) Tom DeFalco, Steve Mellor, More (A) Mark Armstrong, Steve Mellor, More (CA) Jose Albelo
Go whole hog with the Spectacular Spider-Ham's animal antics! What started as a porcine parody one-shot soon became a hilarious ongoing series full of anthropomorphized adventurers! Peter Porker is a photographer for J. Jonah Jackal's Daily Beagle – but when danger strikes, he fights crime alongside hirsute heroes such as Hulk Bunny, Captain Americat and the Fantastic Fur! Can Spider-Ham triumph over fearsome foes like Ducktor Doom, Bull-Frog, the King-Pig and the Bee-yonder – while keeping the young Beagle Brigadiers out of trouble and still managing to bring home the bacon? Plus: Thrr, Dog of Thunder stars in "Tails of Arfgard"! Here comes Deerdevil, Mammal Without Fear! Nick Furry, Agent of S.H.E.E.P.! Goose Rider! The invincible Iron Mouse! Croak and Badger! The astonishing Ant-Ant! And more zoological puns! Collecting MARVEL TAILS #1 and PETER PORKER, THE SPECTACULAR SPIDER-HAM #1-17. All Ages In Shops: Jun 26, 2019 SRP: $39.99
Enjoyed this article? Share it!