Last year, Marvel announced a new initiative, TapTapComics, to create comics using Marvel characters. But the devil was in the details. Any comics created grant Marvel "the perpetual, irrevocable, exclusive, royalty-free and fully transferable and sub-licensable right, for the full term of copyright protection available (including renewal terms), to use, reproduce, transmit, communicate to the public, print, publish, publicly display, publicly perform, exhibit, distribute, redistribute, license, sub-license, copy, index, comment upon, modify, adapt, translate, create derivative works based upon, make available, and otherwise exploit, in whole or in part, in all languages, anywhere in the world, by all means, methods, processes, and media formats and channels now known or hereafter devised, in any number of copies and without limit as to time, manner or frequency of use, without further notice to you, with or without attribution, and without the requirement of permission from or payment to you or any other person or entity."
Also, the comics stories you create were restricted including not to use "Content that could frighten or upset young children or the parents of young children… Prescription drugs or over-the-counter medication, vitamins, and dietary supplements, Contraceptives, "Suggestive or revealing images," including "bare midriffs" "Sensationalism," which is not defined but elucidated with the examples "killer bees, gossip, aliens, scandal, etc." "Obscenity, bad or offensive language" or "proxies for bad or offensive language." E.g. no "X@#%!" "Noises related to bodily functions." No politics, including "alternative lifestyle advocacies", Death, "Misleading language", "A copy or parody of current or past Marvel advertising creative", Any "controversial topics," including "social issues", Double entendres, Any amusement parks that aren't Disney amusement parks, Any movie studios that aren't "affiliated with Marvel" or Guns.
And now… how they make money. Charging $2.99 per character, save for Spider-Man, Moon Girl, Gewnpol, Bullseye or War Machine.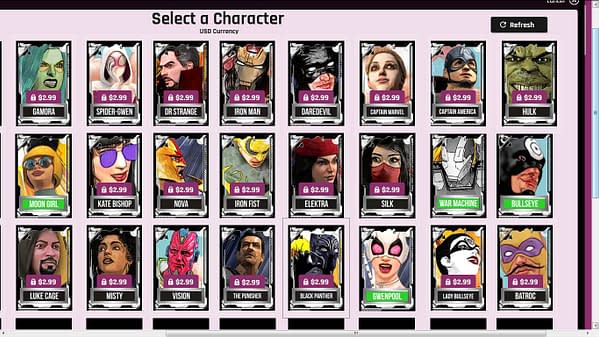 Hang on, I thought they said no aliens! What's Gamora doing there??? And no guns – how are you going to do The Punisher? And $2.99 for Baltroc The Leaper?
Play, bargain.
Enjoyed this article? Share it!