MARVEL: Cup o' Joe Panel at SDCC 2014
By Joe Glass
Coming live from the Marvel: Cup o' Joe panel where we're promised to see some pretty big stuff, so stay here to
keep up to date with all the latest announcements, and we'll update with images as quickly as we can too.
The panel is comprised Joe Quesada (naturally), Editor-in-Chief Axel Alonso, talent scout CB Cebulski, senior editor Nick Lowe, editor Jordan D. White and writer Dan Slott. We're also promised other Marvel guests too, but whom we do not know.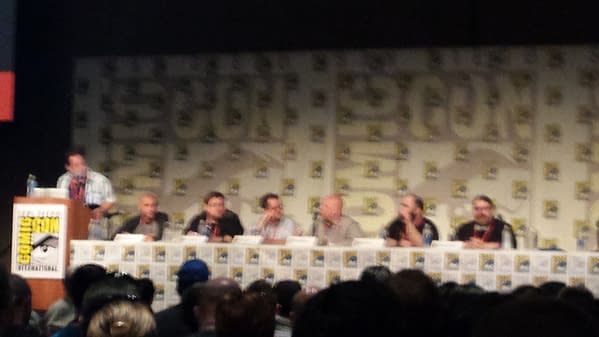 The panel starts in twenty minutes, though the much bigger hall is already filling up fast and more than the last DC panel I covered. I think there's a lot of people excited about the kind of things that may come up here.
So keep tuned, guys, this should be fun!
Clip shown of animated film Iron Man/Captain America: Heroes United, full CGI
Very much like the pair's relationship in the movies, as they face off against Hydra who are ransacking some kind of Helicarrier type ship. The film is out July 29th
Exploring the 75th Anniversary in October, including variant covers ith Hasbro toys recreating classic covers with the toys
Discussing The Legendary Star-Lord and Rocket Raccoon, with GotG out next week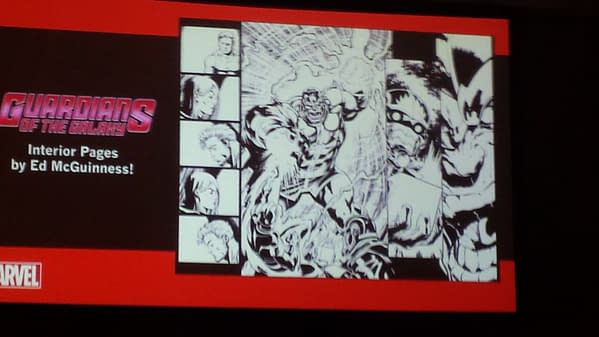 Discussing Guardians of the Galaxy 3000, featuring the original team, we move onto Silver Surfer
Slott will be fighting Galactus coming up, and going to whole sections of the Marvel Universe that are never touched on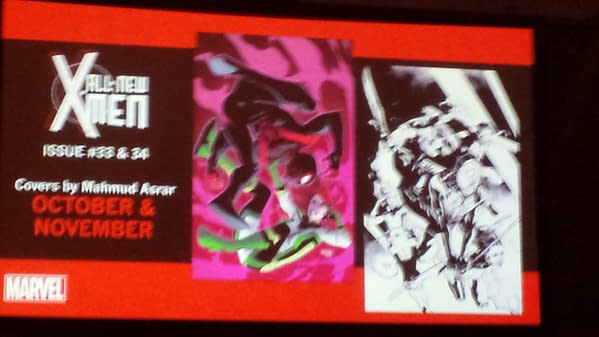 Miles Morales: The Ultimate Spider-Man, Katie, Miles' girlfriend has a big secret and it may nt have been wise for Miles to have shared his secret identity with her
"Miles & Jean Grey: let the shipping begin"….they might not all come home, as the All New X-Men team go to the Ultimate Universe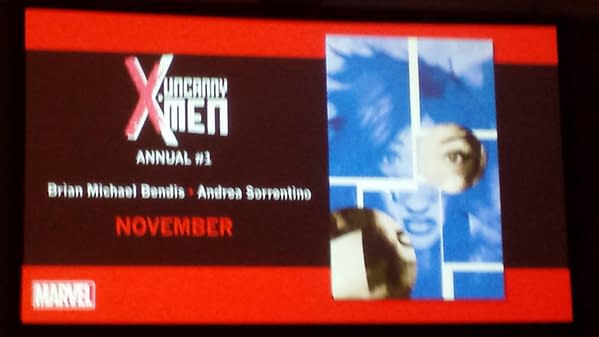 "Speaking of the internet yelling at me" discussing Dazzler, being angry and massive visual change. Massively praised Kris Anka, and announced new Annual coming that will finally discuss what happened to Tempus including X-Men 2099, Rawhide Kid and more guest stars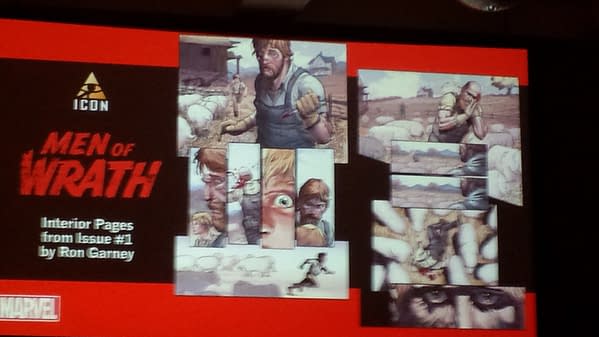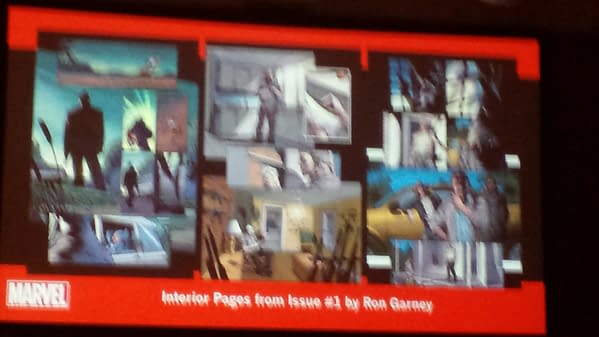 Then discussing The United States of Murder Inc, with issue 4 coming soon. Moving onto Kick-Ass, the final issue coming to a tumultuous ending. Painkiller Jane in August. Men of Wrath coming by Jason Aaron and Ron Garney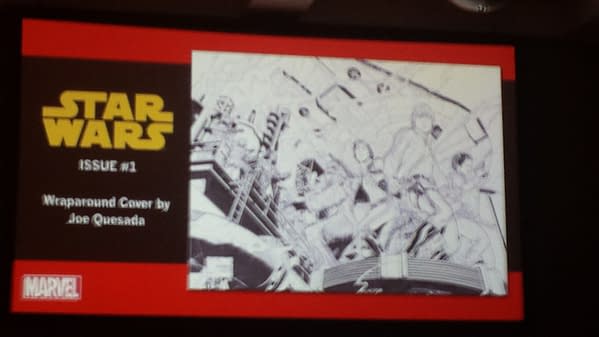 STAR WARS announcement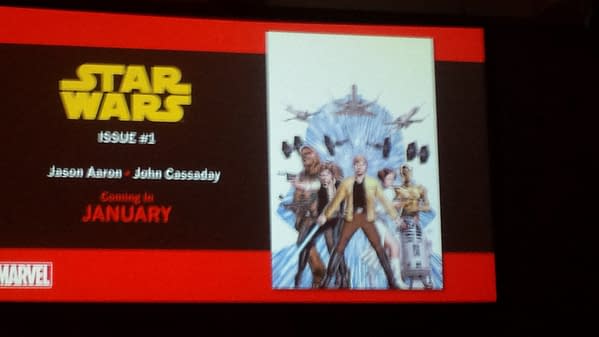 Like working on a direct sequel to the original film, Aaron is so excited to be working on it. Picks up right after Star Wars and before Empire Strikes Back, Cassaday too is a massive fan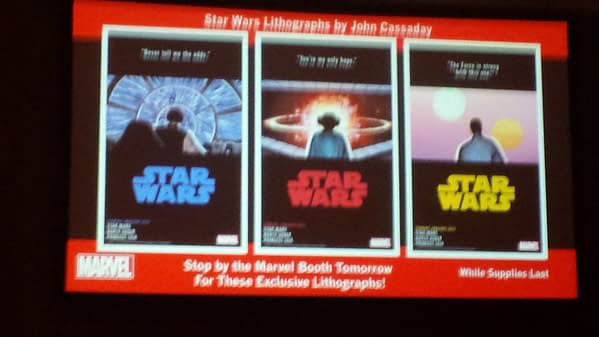 Alonso promises more announcements, and with the best and brightest talents
All your favorite characters at the height of their powers, and this will be all part of lucas film continuity too
Star Wars is an ongoing series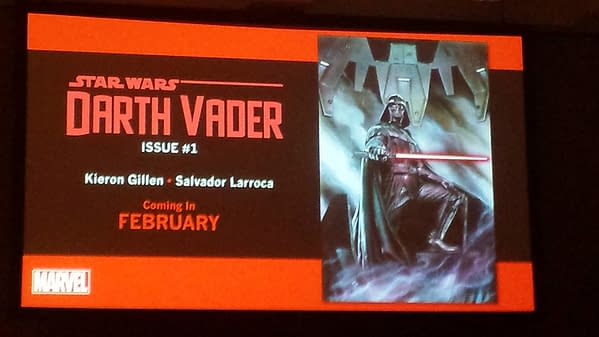 Also ongoing, Star Wars: Darth Vader, takes place at exact same time, and written by Kieron Gillen and art by Salvador Larroca, discussing how he went from being responsible for the massive loss to the Empire at the end of A New Hope to becoming even more powerful in Empire Strikes Back
Read Darth Vader for bounty hunters too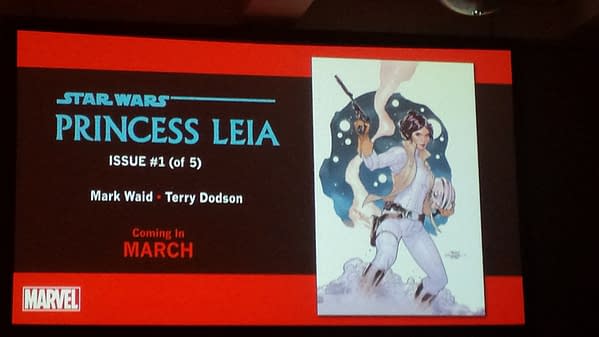 Star Wars: Princess Leia by Mark Waid and Terry Dodson, a limited mini series in March, as she finally can be seen mourning Alderaan and where she takes her responsibilities after her planet is destroyed. An ongoing series of mini-series, more announcements coming soon. Leia is a five issue series.
Now into the Q&A session
Boba Fett will definitely be seen in Star Wars comics, but no mini yet by the sound of it. Timeline wise, he wouldn't fit easily
Question about the expanded universe, White says its at the discretion of LucasArts film, as they are not set in that period, the comics have no plans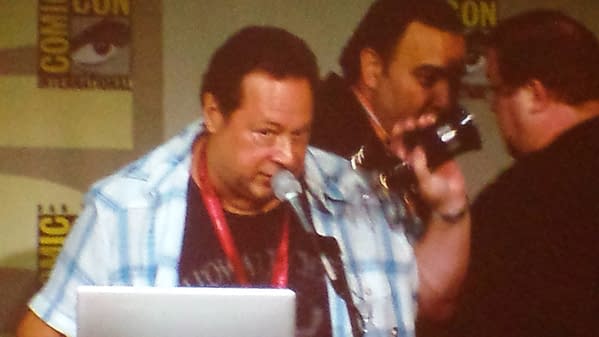 Maria Hill series? Bendis likes that idea. Quesada says it's never been suggested (though I bet I know a few people who'd love to do just that)
Alonso says they have some plans for SHIELD
There are plans for Shang Chi and his mysterious father, just discussed at recent retreat
Where to start with Marvel comics who only knows about the film and TV? Quesada recommends using the recommended reading sections of digital apps
Alonso suggests the Marvel NOW and ALL New Marvel NOW too
Will Daimon Hellstorm get a more prominent part in the MU? No plans
Can they talk about what got the ball rolling for Miracleman reprints? Far too complicated to discuss here, but as a huge fan, Quesada could not be more happy about it being at Marvel. It was a long, hard labor of love
"It was a miracle, man"-Axel Alonso
Will Angel get a larger role? Next few issues of All New are Angel focused, as Angel and X-23 hook up. Lot going to go on with him
Any trans characters or stories coming? Alonso, yes! You may be seeing something about that very soon
Cancelling X-Men or FF rumours? Alonso "We're not cancelling anything". They wouldn't be promoting the Death of Wolverine so much (which amazingly caused a gasp of surprise from one member of the audience), and equally with the Fantastic Four, at the recent retreat they discussed a massive event that will involve at least two of the team
Bendis says he just got off the phone with Mike Marts when the X-Men rumour first came out, after discussing plans taking the X-Men forward for ' a very, very long time'
There will be a lot of Superior Spider-Man in Spider-Verse
The next question comes from a Spider-Minion cosplayer, the first that Slott had ever seen. What happened to Doc Ock's body? Slott, maybe it wasn't one of the goblins, but we will find out. The Minion then gets taken up on stage
Why is there not a Deadpool animated feature? Lots of awesome Deadpool comics plans coming up, but no animated plans. Lots of great minis too.
Any plans to bring back characters from the last time Marvel had Star Wars, especially Jax the Bunny (?)? Aaron will try to slip it past White with every script
Bendis says the Ultimate Universe will be on people's lips a lot in the next 6 months, lots of shocks
What prevented the All New X-Men to return home will be an ongoing mystery, but Hank McCoy has done a lot of things he shouldn't have done, and Hank McCoy is going to pay for these things…look for the Trial of Hank McCoy coming very soon
Will we see Marvel Zombies coming back? Yes, lots of discussion at the last retreat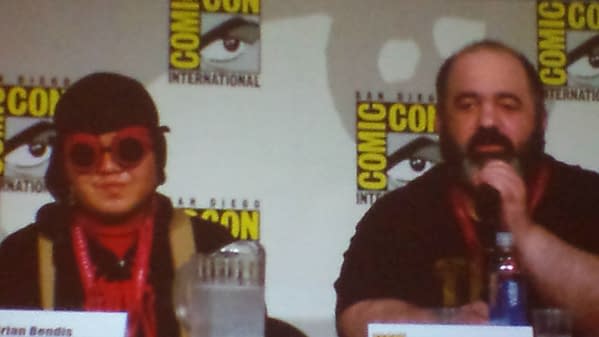 Question on OGNs? Mentioned the announced Avengers: Rage of Ultron coming next year, and went through the existing OGNs. Alonso says reception has been fantastic, they will do more and more adventurous ones too, and there are already more planned but they can't discuss now
Dazzler fan: any way there'll be a Dazzler ongoing? If the response to Dazzler in Uncanny X-men continues to go what it's like now, nothing to stop it – Bendis
Any talk of bringing back characters or eras from The Hidden Years? No plans yet, but love digging into unknown history
Question for the Spider-Minion: What do YOU think happened to Doc Ock's body? SLOTT: SILENCE!
The Darth Vader comic, will he portrayed as a fallen figure too? WHITE: obviously, it's part of it, it will all being taken into account, they can reference everything from the originals to the prequels
Vader will also be appearing majorly in the Star Wars comic too. AARON: He's still in our book as the main bad guy
Eddie from Comic-Con comes up now with a surprise for Joe. An Inkpot Award is presented to Joe Quesada. This leads to a massive standing ovation. A choked up Quesada gives an acceptance speech praising the talent who work beside him who he feels are the ones really deserving, he feels they got him where he is, and thanks them all.
Question about comics made for the digital medium, the panel bring up Infinite comics
Last Question: what can you share about the new Thor, is she actually called Thor? Yes, she will be called Thor, the new book is the evolution of the transformative mythology, you bet your ass it's a Thor story